FIFA 20
FIFA 20 FUT: Winter Refresh FAQ Brings New Players and Player Objectives Upgrades
The FUT Winter Refresh in FIFA 20 is meant to do as exactly what it says: refresh some stuff. So treat this as a basic guide, in conjunction with this article here, to make sure you know what to look out for during this new phase of FUT.
FUT Winter Refresh FAQ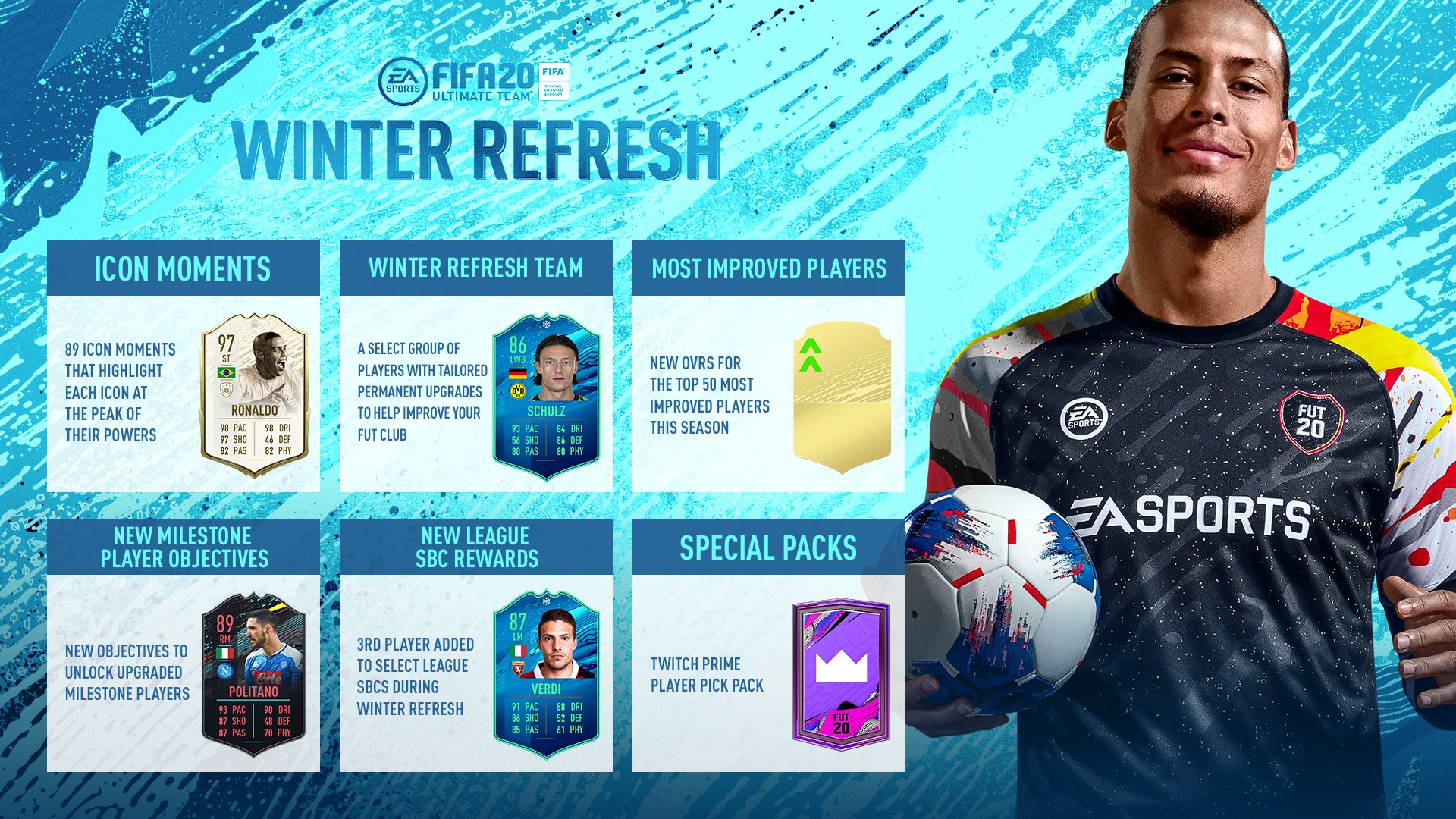 Icons
All 89 ICONS will receive a Moment item! pic.twitter.com/X6Kfc0Xfyp

— EA SPORTS FIFA (@EASPORTSFIFA) February 14, 2020
Look upon the vast number of Icons you either can't afford or don't want to get in your SBC pack. One card many players may have due to Icon Swaps is Sol Campbell, so here's a look at his upgraded version:
Player Upgrades
The top 50 players from around the 🌏 who have made the biggest improvement (+3 OVR or higher) have been upgraded.#WinterRefresh | #FUT20 pic.twitter.com/yS0DgxjxSw

— EA SPORTS FIFA (@EASPORTSFIFA) February 14, 2020
These are the 50 players who received new ratings. In addition, certain players who had in-form versions also got upgrades on those in-forms. This includes players like Timo Werner. The two card types that won't be upgraded are the Ultimate Scream cards and the Future Stars Objectives players.
On top of that, the FIFA team is adding a bunch of new players into the player pool or reintroducing them back into the player pool.
Winter Refresh Cards
Fill a position gap, help team building, add depth and increase the options of your squad with the #WinterRefresh Team 🙌

Available in packs now | #FUT20 pic.twitter.com/tSMuyiJgdD

— EA SPORTS FIFA (@EASPORTSFIFA) February 14, 2020
These are your special cards. They live outside the concept of the "ratings change" so they get different sorts of upgrades. You can see a couple below:
This slideshow requires JavaScript.
League Objectives Players Will Be Upgraded
Politano is first up, but if you've been doing the League Objectives for these various players, you'll get a chance now to do more objectives to get the even better version. The EA team will be periodically releasing these new challenges.
League SBCs Will Get Third Player
Lastly, the league SBCs now will have a third player pick. You do not need to do the other two players first to unlock the third. First up is Serie A and Verdi: