Last week, the highly anticipated Data Pack 2.0 (DP2) dropped bringing not only new licensed leagues (Serie BTK) and new faces (Chelsea/USA's Christian Pulisic) but also a host of gameplay tweaks. The dust has settled and after a good amount of time with PES 2020 we're finally ready to take a stand, starting first with what's new.
What's New
Kits
Manchester United, Bayern Munich, Juventus, FC Barcelona 3rd kits
A.S. Roma
Galatasaray S.K.
National Kits

Montenegro
Luxembourg
Ireland
Hungary
Cleats
Nike

Mercurial Superfly VII,

Phantom Venom

Phantom Vision

Tiempo Legend VIII

Puma

Future 4.1 Netfit

Puma One 5.1

UMBRO
Balls
Italian Serie BKT 

Superliga Argentina 
Legends
Rivaldo (FC Barcelona)
Deco (FC Barcelona)
Andy Cole (Manchester United)
Dwight York (Manchester United)

Heinz Rummenigge (FC Bayern Munich)

Bixente Lizarazu (FC Bayern Munich)
Trophies
Serie A (Italy)
Russian Premier League (Russia)
Updates And Additions
New league added: Serie BKT

Updates to some club & national team names

Updated face models & player/manager portraits

Updated uniforms

Updated stadiums data and media backdrops

Arsenal (England)
Universidad de Chile (Chile)
Player Faces
Over 100 new player faces:
There's some pretty big names getting updated (Messi, Ronaldo, Dybala, etc.) and some new ones added (Pulisic, Daniel James, Fati). Combined with a new league (Serie BTK) freeing up valuable edit file slots, there's a lot to like about the updates made by PES' art team. Let's see if gameplay holds true in the next section.
Gameplay
Player Switching & Loose Balls
An issue that prevented the super cancel technique from working as intended.

Improved the system that judges which player to put the cursor on in case of a loose ball.

Adjusted the way players react to loose balls. Regarding this issue, we want to provide some insight into how the AI works with regards to loose balls. When there is a loose ball on the pitch, the following happens:

The AI judges where you closest player is in relation to the opponent's closest player.

If it determines that your player has a good chance to get there before the opponent, it will make your player dash towards the ball.

On the other hand, if it determines your player is not likely to beat the opponent to the ball, your player doesn't make a play for the ball, and is placed under your control instead.

Adjusted the cursor change to target the player that is closest to a loose ball.

Originally, the AI was programmed to be extremely conservative when determining whether your player had a good chance to arrive first, meaning that more often than not, you would be put in control of the closest player instead of attacking the ball. We have now adjusted the algorithm to increase the number of situations in which the AI makes the player run towards the ball. The result of this is that players are more likely to attack a loose ball to try and gain possession.
A lot of attention was directed towards player switching, in particular how players reacted when it comes to loose balls (50/50 balls). Frustrating for both online and offline gamers, PES has long suffered from a lack of awareness by your AI teammates when it comes to things interceptions and deflected passes. What seems like an easy fix is actually a more complicated issue that requires a multi-faceted solution. Before we get into the fixes addressed in Data Pack 2.0 (DP2), let's take a look at the root issue pre-patch:
As you can see from this clip captured pre-DP2, Alexis Sanchez (#7 in red) has his sights on the loose ball before inexplicably ignoring the ball just outside the Boca 18-yard box.
Here is a similar play post-DP2 with "Semi-Assist" cursor change on:
As you can see from the above clip, a Tottenham player sends in a cross from out wide that just barely misses the head of Harry Kane. Two Liverpool players are in close proximity to the errant cross, Virgil van Dijk and Dejan Lovren. Virgil van Dijk initially fails to deal with it, but perhaps he was put off by the speed of the cross and Kane who was directly in his line of sight. However, Lovren proceeds to watch the ball roll across his path before I switch to him and chase down the errant cross. Equally terrible is Tottenham's Danny Rose watching the ball before finally deciding that Lovren is going to get to it. Poor AI awareness and poor player switching results in unrealistic scenarios, especially in leagues as fast paced as the Premier League.
The above clip demonstrates poor awareness from both User and CPU players. However, let's take a look at another clip where the CPU loses sight of the ball twice in a matter of seconds.
That's two Burnley players who completely let the ball roll by them, allowing me (Chelsea, duh) to further my attack before it fizzles due to a player touching the ball after coming back from an offside position.
Here's the same match but roughly 50 minutes earlier. You see the Burnley player running back to defend after the attack breaks down, only to pounce on an errant pass by Chelsea's Marcos Alonso that ultimately leads to a Burnley goal after a bit of a calamity inside Chelsea's box.
Now, a lot of PES players use the default setting for cursor change (Semi-Assist) that gives you more control over the player you will switch to, even more so when the "2nd player indicator" option is turned on. If you're quick with the switch defender commands, you can mitigate some of these issues. Still, after experimenting with "Assisted" cursor change, I've noticed that issues like this, especially for the human, can be mitigated and give you a better chance at not pulling your defenders out of position. An added bonus is that you lock on to your player earlier when trying to chase down a loose ball. Here is an example of it:
In this scenario, you'll see Tottenham's keeper initiate a goal kick. Notice the nice little change in CB positioning as a result of the newly implemented rule change allowing for less resistance when playing out of the back — a nice little touch Konami! When the keeper sends the ball forward, the game auto switches me to van Dijk to allow me to contest the long ball to Kane. I flub the header but it puts Kane's back pass off, which allows me to instantly lock on and pick it up with Firmino to play a pass to Salah near the danger zone. The player switch happens so smoothly that it doesn't cause me to alter my path to the ball as it can sometimes do on less assisted cursor change settings.
Bottom Line On Player Switching & Loose Balls
DP2 does not fully eradicate the loose ball conundrum and overall AI awareness issues, but its impact can be lessened with more assisted controls. While it takes some time to adjust to not mashing the switch button, the end result is worth the time it takes to learn a new way to defend. Super cancelling (R1+R2/RB/RT) — also addressed in this patch — is still one of the best skills you can master in PES. If you combine this with the aforementioned assisted switching, it can help you feel like your players are on the front foot. With the CPU still suffering from brain-dead moments, and Konami's tactical system (formations, advanced instructions and Attack/Defense levels) influencing so much, this issue will still be a problem until Konami takes a deep dive into how their game functions.
Fouls
Fixes
An issue that prevented obvious fouls from being flagged as fouls by the ref.

An issue where your opponent's yellow cards failed to display in the Game Plan menu.

Fixed an issue where goalkeeper fouls were not being called correctly. We noticed that sometimes the referee would forget to blow the whistle when a goalkeeper committed a foul. Examples of this included when your goalkeeper comes into contact with an opposing player, such as when attempting to tackle him, or when trying to catch/punch the ball. Now you will no longer have to scream for a penalty shot when your opponent's goalkeeper commits a foul.
Fouls are always a hot topic among virtual footy fans. Sim players can't get enough fouls and the online crowd only wants the occasional one. Regardless, one thing both sides can agree on is that when the obvious fouls happen, the referee should call them. Before we get into the fix, let's tell the story of fouls in eFootball PES 2020.
Demo
Oh, fouls were everywhere in the demo, and yes, some were indeed bad calls. However, the frequency at which they were called in general impacted the way you played defense — as they should. No longer could you spam the "call second defender" button and have the AI do the dirty work. Much like FIFA 20, you were inclined to defend on the ball. There were fouls called when you were just a bit overzealous: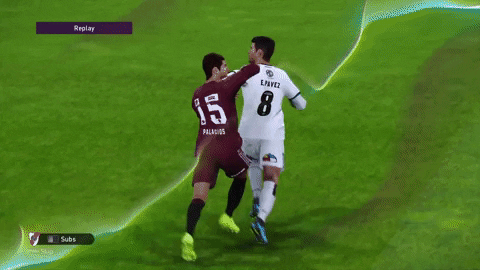 Official Release
Fouls were toned down a lot in the full release when compared to the demo. A combination of extra lenient referees and more passive aggression by the AI meant far fewer fouls. The calls you expected to get based off the demo were absent, as far too frequently you were a victim like me.
Post-DP2
Those of us who were hoping for a return to the demo have been left disappointed. Perhaps it was the rewarding demo dribbling system that helped cause more fouls, but it seems as if there are times when the game does a good job at recognizing fouls but misses some obvious calls:
I haven't seen many instances where the keeper commits a foul, specifically on a cross, but it's promising to know that at least in a video game a keeper can be held to the same standards as an outfield player when it comes to fouls (yes, I have 100 percent bias here).
Bottom Line On Fouls
They're pretty much the same as they were in the full release. It's disappointing that some obvious fouls still aren't being called or go the wrong way, but perhaps the toning down since the demo is due to the larger community backlash over some of the missed calls.
Positioning
An issue that caused the positioning of your defenders to become unnatural when a player marked under Mark Settings left the field.

Adjusted the positioning of midfield and backline players when defending.
When most of us read this on the PES Feedback Facebook page, we probably thought that Konami had finally read our wish list. Specifically, the space between the lines has been far too wide for far too long. Even during the full release, you'd see huge gaps such as this:
The thumbnail alone would get you sacked, but like a lot of things in PES, nailing down the fix is complicated because of all the variables: club-specific formations, fluid formations, attack/defense levels). In this update, Konami did a better job of replicating the compactness we see most clubs use in real life on defense, but only when playing against opponents who are set to the balanced attack/defense level or lower:
In this clip, LOSC Lille are on "blue" defense level, resulting in them dropping numbers back behind the ball in a 4-5-1. Unfortunately for that "1" it means a lot of running as his teammates drop back into their zones. As I move the ball around just inside of their half, they do a good job at defending as a unit, even all four players on the backline stepping up in unison in an offsides trap. Even if the fullbacks tucked in too much for my liking, that's pretty good defense and ultimately results in me losing possession.
Bottom Line On Positioning
For the most part, positioning in DP2 is solid. As long as you take off "deep defensive line" and try to not pull your players out of position, you'll see solid banks of 4 or 5. When you start getting more aggressive or going up against an AI with the same thought, you'll see those lines break and the fast-break pace returning as you get sucked into a counter-attacking battle. To get the most out of PES, you always need to tinker with tactics some — and I mean both yours and the AI's. Really in-depth option files with updated tactics usually don't come out until two or three months after release (mostly because folks need to get used to the new real-life team tactics). But if you get a proper formation setup with fluid formations and advanced instructions, you can get PES to play as well as it possibly can on a console. Down the line, it would be nice if Konami and EA spent a little more time post-release on tactics and a little less time on updating players who already have a face in the game. After all, one of those options actually impacts gameplay.
Other Areas I Like From Data Pack 2.0
Physicality
Physicality, through shielding and just general one-on-one battles, feels good. Hold-up players feel strong again, and conversely you feel like you can muscle weaker players while defending. Some of my favorite goals post-DP2 started out with physical battles playing out:
This is just a nice back-to-goal animation and play by Milan's ST Piatek as he dummies/scuffs his back-heel to Suso, who turns his defender with a nice ball drag and fights off two sets of arms before putting the ball near post past Roma's keeper.
Intelligent AI
There are moments when your AI teammates will just execute beautiful attacking football that make it all worth it.
Watch how Fabinho gets on his horse to nick it off Kane before starting an attack by Liverpool. He does his part and allows Henderson to advance it forward to the dangerous Mo Salah. Salah beats a defender with a sharp turn before finding the advanced Andy Robertson. Robertson plays it in quickly to Sane who so skillfully steps towards his own goal to find the space to receive the ball to his feet. A first-time back-heel to Salah who continued his run, this time centrally, attracts the defense's attention before slipping it into Firmino for the goal. Little moments like this go a long way towards a truly good simulation of the beautiful game.
Bottom Line On DP2
There are some good positives to take away from Data Pack 2.0. Player switching, overall responsiveness and improved spacing are immediately noticeable. However, there are still issues that need ironing out, mainly fouls and pass recognition. We'll most likely have to wait a little while before Data Pack 3.0, but that should give Konami more time to further address some of these legacy issues while also adding some new faces and updated cosmetic items.
How are you enjoying Data Pack 2.0?