FIFA 21
Top Five FIFA 21 Next-Gen Stadiums
One of the advantages of having a stranglehold on licenses is that authentic stadiums usually come along with them. As EA has focused its efforts on England, Spain, and Germany, more and more stadiums have been added to the series. Immersion in sports games plays a huge role, and while fans are not back in stadiums just yet, they're represented in FIFA 21. These fans also help to break up the monotony that often comes with playing in generic stadiums. A big match on the road where you're not only facing the opposition, but also thousands of passionate supporters with their own stadium sounds, can help make matches feel bigger. It's with that in mind that I present my top five favorite FIFA 21 next-gen stadiums.
Top Five FIFA 21 Stadiums
#5 – Signal Iduna Park
Home to Borussia Dortmund, Signal Iduna Park's atmosphere is unrivaled as it's home to the "Yellow Wall." A sea of black and yellow, the Signal Iduna is one of the larger stadiums in Europe with a capacity nearing 83,000. Reintroduced in FIFA for 2019, Dortmund's home returned to FIFA after a brief hiatus due to a partnership with Konami's PES.
As the second best club in Germany over the past decade, it makes playing through a career mode in the Bundesliga fun, especially considering that Bayern's Allianz Arena can only be found in PES. With a plethora of Europe's best young talent (Haaland, Sancho, Bellingham, Reyna, and so on), Dortmund became a favorite of underdogs everywhere under current Liverpool skipper Jurgen Klopp, and they are no strangers to career mode playthroughs with the aforementioned talent and instantly recognizable kits. Just look at how the stadium erupts on FIFA 21 next gen when the home fans see a shot ripple the net. 
#4 – San Siro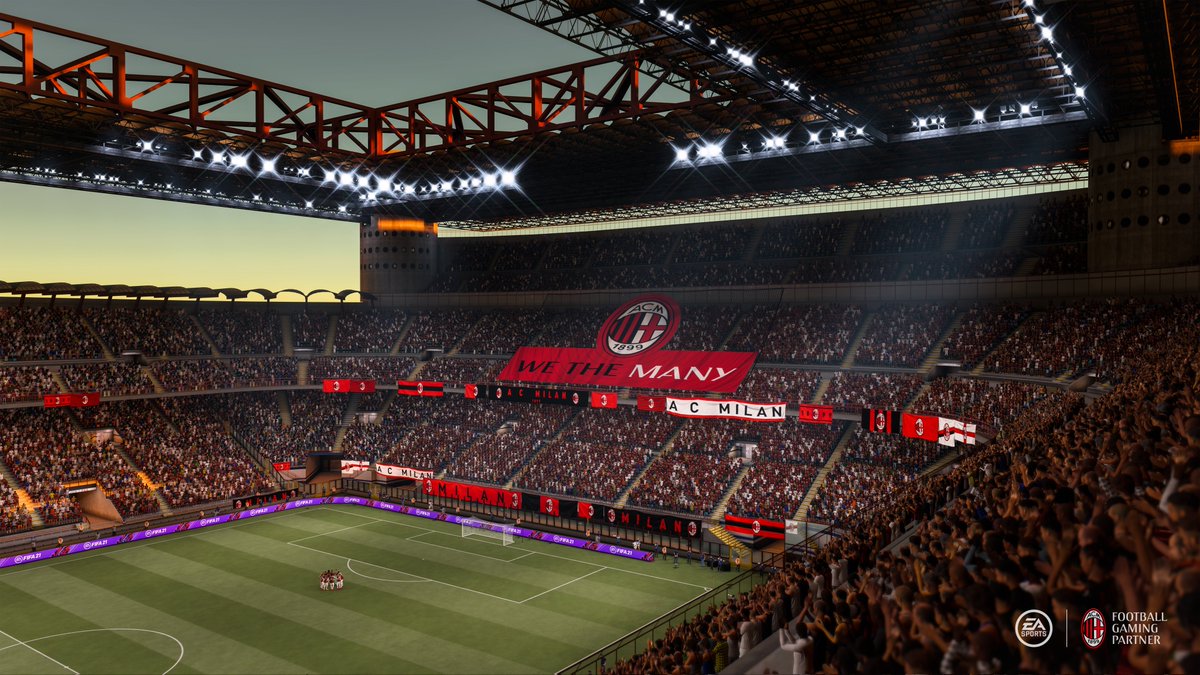 Another stadium that recently came to FIFA after a long partnership with PES, the San Siro is synonymous with Italian football. Home to both Milan sides, the San Siro oozes history and nostalgia from its pores.
Whether you're traveling to the San Siro for an away match or playing a Milan Derby, the atmosphere is going to let you know the magnitude of the game you're playing. Now that both Milans are having a good season and are looking to threaten Juventus' stranglehold on Serie A, the San Siro is a worthy inclusion on this list if only due to being the only licensed Italian stadium.
#3 – Wembley Stadium
Just typing the word "Wembley" gives me goosebumps. Home to the English National Team and English Cup Finals, playing in Wembley is always a special occasion, just ask one Didier Drogba. Perhaps it's the scarcity of matches played there, but I always felt like every time I played there in career mode I needed to put on a show. The iconic steel arch that seemingly extends to the horizons only adds to the spectacle of the event. Win at Wembley and you are immortalized.
#2 – Century Link Field
As an American I'm 100 percent biased here, but there's something to Century Link Field that makes it the premier MLS stadium. Sure, Atlanta United's Mercedes-Benz Stadium is new and shiny, but there's a bit of MLS magic encapsulated in the home of the Seattle Sounders.
With the trademark neon green and blue tifos, Century Link Field was designed with one thing in mind: atmosphere. The unique design that allows you to peak into downtown Seattle is unmistakable and home to the best rivalry in the MLS with its northwestern cousins, the Portland Timbers. Sure, EA still can't seem to get the MLS structure correct, but there's no denying that Century Link Field is a must visit in FIFA 21.
#1 – Anfield
Apologies to Man United fans, but while Old Trafford is a great visit, Anfield is special. As a Chelsea supporter, it pains me to write that but it's true, especially as of late. There's something special about Anfield, especially if you're lucky enough to travel there on a European night. Boosted by raucous supporters singing "You'll Never Walk Alone" in unison, Anfield has so much history that despite the recent troubles at home this year, it's still a must visit during your FIFA travels.
While recent expansions have boosted the seating capacity to roughly 50,000, it's not the size of the stadium that makes it so special. No, it's the loyal supporters who show up every match in full spirits. Merseyside derbies are always special but none more so than when they're at Anfield. The blue side of town will remind you that Anfield was their home first but that's ancient history now. When you're at Anfield, expect to be under pressure from both players and the crowd. 
What are your favorite stadiums to play at in FIFA 21?