Last month, I documented my first-time experiences with MLB The Show as a self-confessed "noob" of the series. Since then, I've spent most of my time in Road to the Show, embarking on a virtual career in a sport I'm not overly familiar with.
This is a recap of my first ever season in Road to the Show in MLB The Show 17. Prior to getting started, I opted for the zone hitting system, armed with the brilliantly accessible dynamic difficulty setting to aid my gradual progression both at the plate and in the field.
It was a season of highs, lows and endless discovery. Give it a read, let me know your thoughts and feel free to offer tips in the comments box below!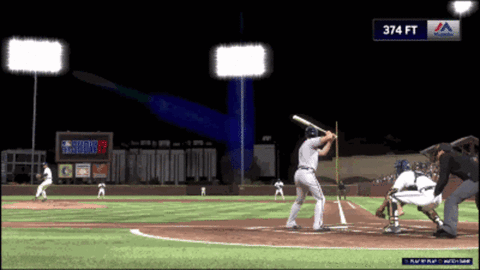 A Winning Start
I bought MLB The Show 17 at release, and spent the first hour or so getting to grips with the basic mechanics of hitting, fielding, pitching and baserunning. I then progressed to Road to the Show, and instantly got to work at creating my virtual self. It ended up looking nothing like me — the result of an impatient desire to hit the field and start swinging. As for fielding, I chose to opt for an outfield position given the potential for stunning catches and less of a need to get involved on a play-by-play basis. Learning how to bat is hard enough, don't you know!?
I can't praise dynamic difficulty enough, allowing me to acclimatize my skills to RttS' demands at a slow, forgiving tempo. It helped immensely in my early performances, and I subsequently found myself drafted as a second-round pick with the Kansas City Royals. The inevitable assignment to Double-A's Northwest Arkansas was an expected move, and I looked forward to getting started with my new team.
My first few performances were void of almost any mistakes. "Easy," I found my inner-monologue chanting as I dispatched ball after ball to the outfield. My batting average quickly settled at .400 and over, with the in-game announcers praising my incredible form as the league's standout hitter. But, slowly and surely, the dynamic increase in toughness saw my average begin to drop down to a seemingly more realistic figure.
Away from the plate, my fielding responsibilities weren't faring quite so well. A general lack of positioning awareness combined with confusion over certain mechanics led to a handful of errors, limiting my appearances in the field. I soon became aware that I was being used as nothing but a designated hitter, before my coach suggested that a position at second base would suit the team more effectively than my original outfield assignment. Who was I to complain?
As my fielding improved at second, my batting began to take a hit. The increase in difficulty had led to some deteriorating numbers in recent games, and even my 17 home runs and a .332 batting average couldn't hide my dwindling performances. It didn't matter. Unbeknownst to me, the big leagues were on my tail.
The Major Leagues
With confidence low, a mid-season call to the coach's office didn't signify much promise. I'd already raised tensions with a suggestion my teammates weren't pulling their weight earlier in the season, and now, I was fully aware the tables had turned. It wasn't form he wanted to discuss, but rather a fast-track opportunity that had come a-callin' a little early for my liking.
"You're going straight to the big leagues," he stated. No Triple-A — this was the real deal. I couldn't help but think this MLB opportunity had come at the worst possible time, and that my low morale and continued second guessing would only act as a detriment to my chances of succeeding at the top level.
Still, who can't be excited about playing in the major leagues? I found myself suited in Royals colors for my first MLB game, and managed to crown the achievement with a single on my first at-bat. Great start! Unfortunately, it didn't take long to realize that adjusting to baseball's elite was a step too far for my current abilities, and watched my batting average sink to painfully low figures as cold streaks became the norm.
"I used to think this was easy," I'd find myself muttering. Now, anything that wasn't a straight fastball was impossible to hit, and trying to adjust to changeups and knuckleballs would result in easy strikeouts. I couldn't figure out whether to position the PCI indicator in one solid position or adjust to each pitch. I eventually settled with the latter, slowly training my brain to react intuitively to the variables of each delivery.
Like any art, you need to put in hours of practice to master it. At this point, I was still wrestling with the basics, and with a reluctance to engage in the ShowTime ability (it just felt too unauthentic), the challenge grew ever-more agitating as I continued to flunk at the plate. As rage inducing as the inevitable strikeout would prove, I continued to put in hard work to turn my fortunes around. And, although my position as an MLB starter had become visibly under threat, I finally began to regain form at the perfect time.
Never Give Up
Naturally, I'd paid attention to upgrading my stats throughout the season, but I'd taken a somewhat unorthodox route. As my MLB form worsened, I felt the need to spend my hard-earned training points on increasing my ability against right-handed pitchers. I saw this as a risk — enjoy the benefits of considerably heightened attributes in some categories, but accept I'd suffer from woefully poor stats in others.
As a method of regaining form, my plan worked. The following weeks saw my average begin to improve, as doubles and triples began to work their way into my game. I noticed the in-game PCI expanding at a rapid rate against right-hand pitchers, and my confidence grew as a result. The consequence of facing a left-handed pitcher was that of a poor game, but I was willing to deal with those negative effects for now. I was improving — that was enough for me.
I'd also grown more accomplished in the field by this point. Executing the perfect double play had no longer become an elusive goal, and even making the odd standout catch had further boosted my claim to remain a MLB starter. I'd also learned how to steal bases more effectively, and although I'd be caught out on the odd occasion, I'd gained a better appreciation of where and when to make an early jump.
Despite the positives, my position had been under threat for a while. My batting average had only risen to a .221, and even my first major league home run against the Chicago White Sox couldn't silence the doubters for long. It certainly didn't silence me — I must have awakened the nearby elderly home with my cries of "FINALLY" as a two-run homer was crushed out to the left field of Kauffman Stadium.
With an average of just .133 against left-handed pitchers, it was clear I needed to put stock in certain attributes to remain competitive at an MLB level. And with just ten-or-so games left in my first season, I'd fully planned to finish the year with consistency to provide a sufficient base for next year's spring training. I'd anticipated my major league run could come to a sudden halt for months, but I'd avoided it thus far. It wouldn't continue.
End Of The Line
As if the crowning glory of an MLB home run had sucked the life out of my season, my performances took a sharp nose dive in the following few games. It felt like I couldn't hit anything, regardless of pitcher, reverting to the previous norm of strikeouts and fly balls. "I can't afford this to happen now," I'd think, knowing my status as an MLB starter was in a precarious state. Ultimately, a lack of consistency proved to be the nail in the coffin.
An impromptu meeting with the coach signified one thing, I was getting demoted. A confidence destroyer for sure, but an indication that I was never truly ready to make the major league jump in my first season. My dynamic difficulty level had remained consistent between Veteran and All-Star difficulties throughout, signifying a respectable rating for a "noob" such as myself. In my view, this decision was purely a sign that my career had progressed too quickly.
It's not like we'd have made the playoffs anyway. The Royals had languished with a mediocre record all season, and regardless of my efforts, had failed to do enough to push for a postseason place. The reassignment to Triple-A saw me join up with the Omaha Storm Chasers, but the sudden end-of-season demotion had left me with no games to play for my new minor league side.
All that was left was to reflect. It was a disappointing end to an eventful season, but everything considered, I couldn't be too downhearted. Finishing with a .332 batting average in Double-A was a noteworthy achievement in my eyes, and finally hitting a major league home run was the thrill of the year. You can mark my words, I'll be hitting many more in seasons to come!
Most importantly, I had a lot of fun. The outstanding dynamic difficulty feature ensured my season remained competitive and challenging throughout, and while it was tougher than I'd anticipated at times, I wouldn't have it any other way. I want to work hard for this — I want season two to provide me with just as many highs and lows as this one did. Then, when I finally get my hands on the Commissioner's Trophy, it'll feel like I've truly earned it.
What are your thoughts on Road to the Show? Do you want to see a Season 2 of this series? Let me know in the comments.