The OS Daily Ten - Another Line Drive to the Head Raises Questions
09:22 AM - May 8, 2013. Written by jmik58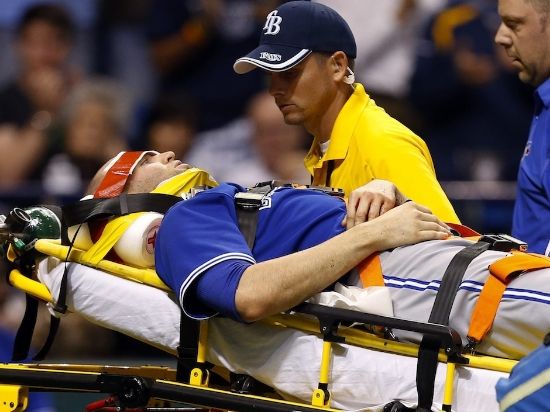 Top Sports News for Wednesday, May 8, 2013



1. J.A. Happ carted off field after liner to the side of his head.
A ball off the bat of Desmond Jennings connected with the left side of the Blue Jays pitcher and sailed down the right field line towards the bullpen. Last year, Oakland's Brandon McCarthy had his skull fractured and required brain surgery after a similar incident. Major League Baseball has considered a Kevlar liner that could be worn inside the cap, but no serious progress has been made and any such change would have to be approved by the player's union.

2. Noah tired of critics ripping on Rose.
Derrick Rose has fanned the media flames and speculation by leaving the door open for a playoff return through comments and with pregame workouts that are visible to fans. Teammate Joakim Noah, however; has come to the defense of his "brother" and has a message for all the doubters: "Shut up."

3. Pacers check out early as Knicks win behind huge run.
New York evened the series with Indiana behind an unbelievable 30-2 stretch to lock up a 105-79 victory. Carmelo Anthony shook off a rough game one and came out stronger, going for 32 points, nine rebounds and three assists -- all above his regular season average. The series now shifts as the teams face off in Indiana on Saturday for a pivotal game three.

4. Tiger fires back at phone-in whistle blower, says he wouldn't call in violation.
5. Browns owner apologizes for private fraud investigation distraction.
6. Judge accuses Penn State defendants of stalling.
7. Finalists named for Norris Trophy.
8. Titus Young trying to ruin career, arrested two times in one day.
9. Todd Helton receives probation, community service for guilty plea.
10. NASCAR suspensions of Penske members shortened.


QOTD: Should pitchers be required to wear protective gear on their heads?
The OS Daily Ten - Should LeBron James Have Won MVP Unanimously?
09:18 AM - May 6, 2013. Written by jmik58
(11)




Top Sports News for Monday, May 6, 2013



1. 'The King' claims his fourth MVP crown in the past five seasons.
For the first time since the 1999-2000 season when Shaquille O'Neal pulled the feat, LeBron James tallied an incredible 191 of 192 votes for NBA MVP. The lone remaining vote went for New York's Carmelo Anthony. The addition of LBJ to the 'fourth-in-five' club means he joins the likes of Jordan, Russell, Kareem and Wilt as the only players to accomplish the feat. The lone voter to stump LeBron's sweep, Gary Washburn, played the 'value card' in defending his selection.

2. Pacers steal a huge game one in 'The Garden.'
Indiana owned the paint and the boards while playing tough defense en route to a seven-point victory in game one of their playoff series against the New York Knicks. Meanwhile, Carmelo Anthony struggled from the floor going 10-28 despite notching 27 points and 11 rebounds.

3. Senators and Canadiens go ten rounds as nine players get the gate.
If you don't typically make an effort to watch playoff hockey, tune in to game four of this series for what looks to be a heavyweight fight on ice. NHL playoffs are already intense, but game three featured battle royale's highlighted by 236 penalty minutes and nine game misconducts for fighting. At one point the only ones not duking it out on the ice were the goalies.

4. Verlander flirts with third career no-hitter.
5. OKC slips past Grizzlies for game-one win.
6. Miami Dolphins finally make free agency grab to fill void at offensive tackle.
7. Cardinals roll to sixth straight, sweep four from Brewers to reach twenty wins.
8. Rain and near-darkness can't keep Ragan from win at 'Dega.
9. Hot-headed Harper gets tossed for attitude.
10. Does Orb have what it takes for Triple Crown?


QOTD: Did LeBron James deserve to win the NBA MVP unanimously?
Is the Wii U a viable sports gaming platform?
10:16 AM - May 3, 2013. Written by MMChrisS
(11)
After 22 years of successful partnership, Madden is no longer on a Nintendo platform.
In a move we all suspected to be true when EA didn't mention Madden on the Wii U at their preview event earlier this spring, Madden NFL Football
will not be on a Nintendo platform
this year for the first time since 1991.
This abandonment of the Wii U by EA can be taken in only one way: EA doesn't see Nintendo's new console as a viable platform to develop one of its key flagship titles on -- which is a sign of trouble for the troubled console as if you needed another reason.
Sales of the Wii U
have been abysmal
in the new year, with the Wii U lagging behind in sales to much older (and still more powerful) consoles like the XBox 360 and PlayStation 3.
With weaker hardware, less third party support, and a reliance upon a rather gimmicky gamepad (again), it appears Nintendo tried to dip into the novelty well a time too many and now find itself in a precarious position moving into the future. The hope around camp Nintendo is that a strong lineup of first party games will bring gamers back to the Wii U in droves as 2013 wears on -- but an important question lingers: How many gamers are going to spend $300 for Wii U hardware with PS4 and XBox 720 hardware sitting on the shelf next to it for a similar or slightly higher price point?
The answer to that is most certainly very few.
Even well regarded video games market analyst Michael Pachter
has deemed
the Wii U a "mistake" that Nintendo "probably can't recover from."
The problem with the Wii U is that it has nothing unique it is offering to gamers except for Nintendo first party titles -- a strength that simply isn't as strong as Nintendo hopes it is. As time passes, the emotional connection avid gamers have with the old Nintendo characters is going to fade simply because a lot of kids grew up with other platforms.
I have said that Nintendo 'Dreamcasted' themselves with the Wii U before, but it's entirely possible they did worse than that. Not only did Nintendo not send hardware and games forward with the Wii U, they also quickly relegated themselves to a position where the only reasonable outcome could really be the death of the company's hardware division.
Third party support has crumbled for Nintendo, and Madden's defection is just another symptom of that problem. Sales are slowing. Development for the Wii U isn't as easy as it will be for Sony and Microsoft's new consoles.
Worst of all, no one is buying the console and developers aren't developing for it -- a problem which rarely works out for a hardware platform.
With EA
tightening their belts company wide
, I think it's a stretch that you get more than
Madden
and
FIFA
on the Wii U anytime soon (if ever). 2K hasn't announced any plans for developing on the Wii U again this year either, but even if they do you are left with
NBA 2K
and that's probably about it. The Wii U simply looks bleak for sports gaming at this point.
For Nintendo, the sun seems to be lowering on the horizon on what has been a successful run spanning four separate decades of hardware which has captured the imaginations of people worldwide. But it's clear that the novelty of a new Mario game isn't enough to make up for hardware that can't fully compete with Nintendo's competitors hardware which is approaching a decade in age.
Sports gaming and Nintendo used to go together like America and apple pie.
Now it appears that as with the rest of the Nintendo empire, all that is left are memories of good times long past, with only an extremely shaky and rinky facade left in a world that's a decade down the road.
50% Off NBA Jam, NFL Blitz, Tony Hawk HD Now Through May 6
09:42 AM - May 3, 2013. Written by jyoung
(4)


Xbox Live Gold members can grab NBA Jam: On Fire Edition, NFL Blitz and Tony Hawk's Pro Skater HD for 50% off now through May 6.

Joe Danger 2: The Movie rounds out the list of sports games with a much-less-exciting 33% discount.

To access the sale prices, gamers must be a paying Xbox Live subscriber with a monthly recurring subscription, as neither a 48-hour Gold trial nor a free Gold weekend promotion will work.



For in-depth analysis of the major sports games featured in the sale, consult Operation Sports' review database:

NBA Jam: On Fire Edition -- 7 out of 10
NFL Blitz -- 7 out of 10
Tony Hawk's Pro Skater HD -- 4 out of 10

Non-sports games Castlevania: Symphony of the Night and PAC-MAN Championship Edition DX are also worth checking out at 320 Microsoft Points and 400 Microsoft Points, respectively.
The OS Daily Ten - Washington Redskins May Be Forced to Change Name
09:32 AM - May 3, 2013. Written by jmik58
(9)




Top Sports News for Friday, May 3, 2013



1. Debate over racist tone of 'Redskins' could lead to name change.
A poll conducted by the Associated Press shows approximately 80% of people asked have no problem with the 'Redskins' name for Washington, D.C's prized NFL franchise. Despite the support, several movements are underway that could lead to a name change -- including congressional action. One suggested name, 'Red Tails', refers to the Tuskegee Airmen who were the subject of quite a bit of racism themselves. If the 'Skins change their name, a less-political or controversial choice might be the way to distance themselves from the current hot-topic issue.

2. 'Dirty play' by Nuggets? That'll be $25,000.
Warriors coach Mark Jackson was slapped with a fine by the NBA after comments the league said were an attempt to influence officiating. Golden State's Steph Curry was roughed up in a game five loss to Denver, most notably by Kenneth Faried who appeared to stick a leg out as Curry drove the lane on one play. The Warriors, however, weren't exactly angels themselves as they tallied two flagrant fouls to none for the Nuggets.

3. If you thought ESPN already shows a lot of SEC games, just wait for 2014.
Apparently the SEC wasn't happy stealing your state's top football talent; now they're coming after your best volleyball players too. It's not quite 'four scores', but one score (as in, twenty years) is how long the SEC and ESPN have signed on as partners. Each year it's estimated that at least 1,000 live SEC events will be aired on ESPN's family of networks -- including 45 football games.

4. MLB umpire Hallion fined for 'F-bomb', Price and others hit as well.
5. Disrespectful? Knicks players dawn 'funeral black' before playoff loss.
6. 'Hecklers Welcome': MLB players' favorite on-field sounds.
7. Saad one of many rookies impacting NHL playoffs.
8. Duke officially inks two-time Illinois' Mr. Basketball, top recruit Parker.
9. Rockets' controversial rookie taunts Thunder stars on Twitter.
10. Former Seminole quarterback, Clint Trickett, has transferred to West Virginia.


QOTD: Should the Washington Redskins be forced to change their name? If so, what would be a suitable replacement?
Power Pros 2013 World Baseball Classic Now Free On iOS
02:59 PM - May 2, 2013. Written by jyoung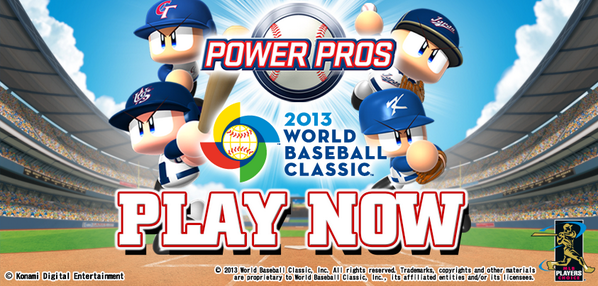 The iOS version of Konami's Power Pros 2013 World Baseball Classic is temporarily free to download thanks to an ongoing Apple promotion.

Gamers with Android phones are out of luck, as the Android version is not a part of the special sale, remaining at its normal price of $4.99.

Power Pros 2013 World Baseball Classic features all 16 teams from the recently completed tournament, as well as accurate player lineups and the official WBC tournament structure.

Konami currently has no plans to bring the long-running Power Pros franchise back to American video game consoles.

Power Pros last appeared in North America as MLB Bobblehead Pros, which was removed from the Xbox Live Marketplace in January 2013, a mere year-and-a-half after its July 2011 release.

Though not officially announced, Jikkyou Powerful Pro Yakyuu (the series' Japanese name) will likely make its yearly appearance later this summer on the Japanese PlayStation 3 and PlayStation Vita, as the series has produced at least one new title every year in Japan since 1994.
NHL 14: Collision Physics Trailer Analysis
02:50 PM - May 2, 2013. Written by Wiggy
(3)

With EA releasing a new trailer today that demonstrates some of the new collision physics hitting and player impact, it's easier to get a sense of what they have in mind for this feature. Since the act of hitting has been moved exclusively to the left thumbstick, there seems to be a simplification of the process, where now users can just aim their skater without worrying about timing the right stick to lift the player's arms for the hit. Some of this new footage looks pretty good, but let's take a look at some specific moments to explore it further.



At 0:19 of the trailer, an example of a goalie collision is shown. Ryan Miller gets blasted in the shoulder by a Jets player who is trying to get behind the net, and Miller falls back onto one knee and is out of the play for a bit. It's great to see goalie contact back in force, and this is a perfect example of how this type of play would unfold. Besides the slightly goofy falling of Miller, who looks like he's tearing his ACL on that play, it is fairly accurate. My worry is that there will be an increase in goalie interference calls if players just brush past the net or if a human player controls the goalie. Still, good to see goalies involved in the play again.



At 0:21, there is a clip of a hip check in NHL 14. I'm assuming that this is probably the one type of hit that requires some kind of modifier button (maybe clicking right thumbstick still). I will say that it appears the physics have helped the look of this type of hit, as the receiver of the hit spins off with one leg flying through the air, which is much more akin to how this actually plays out in real life. In previous versions, the player being hit would bounce straight or go off to the side, defying the logic and momentum of the hip check. Let's hope this type of hit is toned down from the online antics that happen in NHL 13.



At 0:38, producer Sean Ramjagsingh talks about speed, size, momentum and body position affecting a hit. The hit shown is actually fairly similar to what would happen in NHL 13, as Milan Lucic is flattening Nikolai Kulemin after a shot. The hope here is that this is a constant for NHL 14. I want to see players like Lucic having a distinct advantage in the hitting game, and if they commit to a hit, they should be doing the damage more often than not, especially on a player who was prone — like Kulemin in this clip.



At 0:41, there is an example of a hit against the flow of momentum, and this is one of the more intriguing wrinkles to the hitting engine. As Benoit Pouliout of Tampa goes to try and hit Travis Hamonic of the Islanders, Hamonic raises up before going after the puck to hit Pouliot. This example of defensive hitting is a necessary part of NHL action, and if this game nails it, that will be a big improvement to the accuracy of the on-ice action.



Around 0:45, Nicklas Backstrom of the Capitals is levelled by Rangers d-man Michael Del Zotto at the blueline. I like how Del Zotto actually raises his arms and commits to the hit, driving Backstrom back into the boards. I don't think the reaction ot the hit looks incredibly different than some similar hits in NHL 13, but the way the check is delivered and finished does seem to benefit from the physics, which is a good thing.



At 0:50, you can see some of the exaggerated spinning and glancing shots that are likely to occur in NHL 14. The Coyotes' Lauri Korpikoski is struck with a glancing shot, and he pretty much does a triple lutz. I'm fine with some wackiness to the hits, but only up to a point. It definitely injects the game with a good deal of fun when you and your friends can cruise around the ice and punish people (especially in EASHL), but when it turns into roller derby and players are flying everywhere, there can be too much of a good thing. Let's hope the developers find the right balance.



At 1:48, you can see Ottawa's Karlsson follow through with just one hand as he finishes a check on Montreal's Brendan Gallagher. If this is indicative of an emphasis on the hitter as well as the receiver, which other clips also indicate, then this is a good thing. Bigger players or defenders are going to use a different type of force and contact when committing on a hit. I expect smaller forwards will have to leave their feet and keep their hands higher in order to accomplish as much on a hit.



Around 1:53, a Detroit player is thrown into the net from behind, dislodging the net as he ends up completely inside it. These sorts of plays could happen in NHL 13, but the returned emphasis on goalie contact and the drive-through on the hits make this situation a lot more intriguing. I think it's cool that the player ends up completely in the net, taking it with him, and the speed at which he was cutting to the net increased his vulnerability to a hit from behind.

Final Thoughts

As always with these sizzle trailers, everything is presented in the most exaggerated way to show improvement, but I genuinely see some subtle yet interesting new wrinkles to the types of hits as well as the animations on both sides of the impact. It's fun to see players able to hit defensively, and the impact looks undeniably better. I only hope the ragdoll physics are kept in check and that EA actually follows through with making bigger players a true threat on the ice when it comes to the physical stuff.
OS Soccer Blog - All German Champions League Final; Premier League, FIFA and PES News
12:02 PM - May 2, 2013. Written by kelvinmak
(1)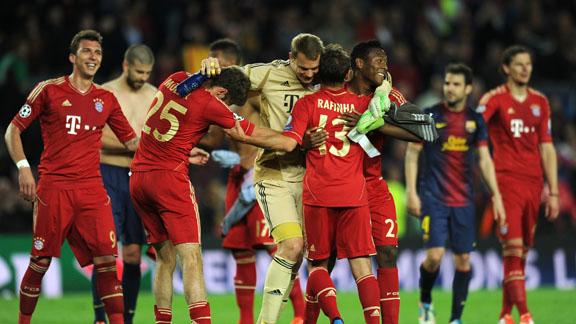 Barcelona 0 - 3 Bayern Munich (0-7 on Aggregate)

Now that was a proper thrashing.

I don't know what's more amazing, putting three past Barca in Nou Camp, winning 7-0 on aggregate, or doing all of it in a fashion that made Barcelona-- Barcelona-- look like such a hapless group of pedestrians. The Bayern team just looks irresistible right now-- is there a more balanced team than the Bavarians? Pace down the flanks, rock solid in the middle, and they take their chances so, so efficiently. Watching yesterday's game, several times it took them about three seconds to get from the edge of their own box to the edge of Barcelona's. Who needs a 70% possession rate when you've got German efficiency?

And if Lewandowski arrives as rumored? My, this can get really scary.

The End of Tiki-Taka?

Predictably, questions are being asked as to whether we've reached the end of the tiki-taka era, and, to a certain extent, Barcelona's dominance. While the answer may be yes to both of them, it is important to note that Bayern's not the first team who tried to hit Barcelona on the break, it's just that they had to players to do it in such a lethal fashion. So it's much about the personnel a team has on disposal as it is the tactics it employs.

And Barca? They're still a good team-- remember, they played the first leg with a half-fit Messi and the entire second leg without him. So the death knell may be a little premature. The more accurate depiction, perhaps, is that the team is much more reliant on the little Argentinian than a lot of us had thought.

The big question is whether Barcelona can find the right players in the transfer market. The team has made some regrettable buys in hindsight, even as a lot of it got masked by the brilliance of the youth academy's conveyor belt of prospects. Fabregas and Sanchez still hasn't fit into the system (it's hard to tell if they ever will), and instead of going out and buying actual defenders who could maybe win a header or two, they bought Alex Song and stuck him at centerback to very predictably (because the Mascherano experiment worked so well) terrible results.

Germans in Wembley

This is a purely personal sentiment, but I always felt that having two teams from the same country in a Champions League Final makes the affair slightly less special. That said, Dortmund and Bayern were ultimately the best teams, and they both play such an attractive style of football, so maybe this will be an exception.

Who wins it? I'm leaning towards Bayern. Sure, we all want to root for an underdog, and Dortmund's climb from near-Bankruptcy is a nice story even if, as many neglect to mention, much of it was self inflicted through bad management. But the Bayern team just looked irresistible yesterday, and it's obvious the players are hungry for the trophy, after the near misses in recent years.

Premier League Tidbits

As Jose Mourinho public courts the Stamford Bridge faithful, The Mirror reports that should he return, he will have to work under Michael Emenalo, who will remain as head of player recruitment. Somehow I don't see that happening.
New Liverpool kit for next season. That's a good looking shirt-- you can't go wrong with a classic design.
PES 2014 News

Playstation Magazine interviewed PES Creative Producer Kei Masuda. Some really, really interesting quotes:


| | | |
| --- | --- | --- |
| | Quote: | |
| | | |
| --- | --- | --- |
| | | |
| | "Our ultimate goal is to let you win with the team you love," says PES creative producer Kei Masuda. "If we can make a giant-killing possible, it's a huge difference to FIFA." | |
| | | |
| | | |
| --- | --- | --- |
| | Quote: | |
| | | |
| --- | --- | --- |
| | | |
| | Currently, FIFA and PES prioritise power, pace and star players, forcing you to pick elite teams. Konami aims to create a more realistic experience, using untapped factors including home crowds, mental strength and advanced tactics. | |
| | | |
| | | |
| --- | --- | --- |
| | Quote: | |
| | | |
| --- | --- | --- |
| | | |
| | Make a crunching last-ditch tackle, say, and it'll motivate your team – resulting in more aggressive off-the-ball runs or crisper passing. Effects will be regionalised: UK crowds relish up-and-at-'em physical contact, while Brazilian fans might go wild for a nutmeg. | |
| | | |
It's an intriguing idea-- how the crowd factors into player performances, making "giant killings" possible, and how different regions appreciate different types of plays. However, this is one of those things that doesn't allow for much room for error in its implementation. Too little crowd effect and it makes the whole concept useless, too large (even if by just a touch) and it can throw the whole game off balance. I still have bad memories of NHL 2001, where the momentum effects were so overpowering that when it kicked in, it made teams pretty much omnipotent.

FIFA 14 News

Rumor has it that the Turkish Super Lig will make a return to the game (releasing on Sept. 24th), while female players will not be included.

Miscellanies

My two cents on the Jason Collins story:

For context, I'm an agnostic. Not certain enough to definitively choose a side, and more importantly, whether or not there is a God does not change the way I conduct myself or treat others. So that's my worldview. I don't think homosexuality is wrong-- you're well within your rights to think differently-- but if we're starting from such opposing points of view, at some point we'll probably have to just agree to disagree.

From a cultural perspective, does it change much? I don't think so. It's not like kids in the playground imagine themselves to be Collins matching up against LeBron and Kobe. While the story is hot now, give it another week and by then it will be back to the next round of the NBA playoffs, or for the non-sports fans, whatever trouble Bieber's gotten himself into, or the newest episode of Game of Thrones. Inside the locker rooms, my guess is the testosterone-fueled chirping will continue. Business as usual.

And that is why any talk of Collins being a trailblazer, I think, is somewhat premature. There seems to be this sentiment that now that an active (barely, anyway, as he's near the end of his career and doesn't have a contract for next season yet) player has come out, it will encourage others in professional sports to all follow suit. I don't know. I don't see the Collins story "changing the world", and suddenly gay players are all comfortable enough to come out. For that to happen, the world probably needs to change first.

Ultimately, good for him. That's really all I think. It's his story, and he chose to tell it to the world. As a fan of, you know, people being nice to each other, I'm glad he's happy and secure with his identity and his life. Besides, he's not just Jason Collins, gay man. He's Jason Collins, gay man, good friend (I'll just assume that, from everything I've read), and serviceable big man off the bench, looking for a contract next year.
Video of the Day

Ah, the drama of promotion.






The OS Daily Ten - Tim Tebow's Football Days May Be Over
10:11 AM - May 1, 2013. Written by jmik58
(0)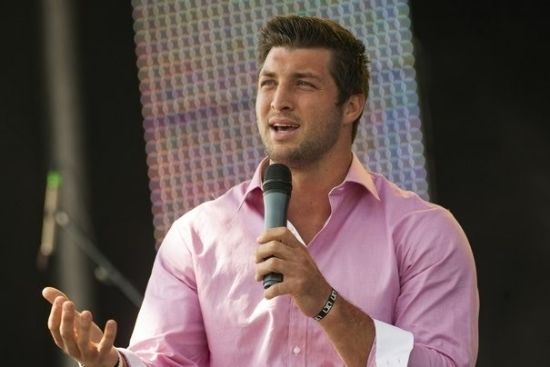 Top Sports News for Wednesday, May 1, 2013



1. Tim Tebow clears waivers, NFL days may be over.
The mixture of Tebow and New York City created a circus that may have scared away other NFL organizations. Teams must weigh the potential on-field benefits of signing Tim Tebow versus the distractions that come with him. In Tebow's case, this may be the perfect opportunity to walk away from football and pursue business opportunities that build on his sterling reputation and polarizing image in the public.

2. Toronto recruiting Phil Jackson for president.
Phil's desire to run an organization with ultimate power, his connection to Toronto's Tim Leiweke, and the falling-out of the Sacramento to Seattle move make this a real possibility.

3. Who was the most accurate NFL Draft expert this year?
The Huddle Report ranks the accuracy of the top expert mock draft predictions from 2013. Among television personalities, NFL Network's Mike Mayock scored highest. ESPN's Mel Kiper Jr. -- not so much.

4. 'You're Fired!' Is Geno Smith blaming his first-round miss on his agent?
5. Soccer referee in critical condition after player punches him in face.
6. ESPN apologizes (sort of) for Chris Broussard's comment regarding gay NBA player.
7. Griffin's ankle injury spells trouble, Clippers one game from elimination.
8. Oakland almost drafted D.J. Hayden with third overall pick.
9. Vijay Singh admits to use of deer antler spray, PGA declines suspension.
10. 'Over-stimulated?' Strasburg gets elbow scare after machine mishap.


QOTD: Is it time for Tim Tebow to quit football?
Which Franchise Drafted Best for Madden NFL 25?
03:58 PM - April 30, 2013. Written by JohnDoe8865
(15)
Pittsburgh had a great draft, which should help them in Madden NFL 25 later this year.


Everyone who has ever picked up and played a copy of Madden NFL Football knows that certain positions are more valuable than others inside the game. Skill position players usually reign supreme. With that knowledge, let's take a look at some NFL Draft winners and some losers, Madden style.

Winners

Buffalo - The Bills added signal caller EJ Manuel 16th overall on Thursday and then added WRs Robert Woods and Marquise Goodwin on Friday. Whether you agree with these particular selections or not, Buffalo just got a whole lot more fun to use in Madden.

Cincinnati - Tyler Eifert & Giovanni Bernard to go along with Andy Dalton, A.J. Green, and Jermaine Gresham? Yeah, sounds pretty good to me.

Jacksonville - Jacksonville added a lot of potential impact players for Madden purposes in the 2013 NFL Draft. Joeckel could be rated the top rookie LT, Cyprien will challenge to start, the WR combo of Ace Sanders and NCAA '14 coverboy Denard Robinson should see the field quite a bit, and they added three CBs that have the chance to stick.

Minnesota - No list of 2013 NFL Draft winners in real life or Maddenwould be complete without the Vikings. Sharrif Floyd could be one of the highest rated rookie DTs, Xavier Rhodes should compete to start, and WR Cordarelle Patterson will do his best Percy Harvin imitation. Add the pair of Penn State linebackers in Hodges and Mauti and I can see myself giving this team some run in Madden NFL 25.

New York Jets - The Jets may not be doing a lot of winning in the near future, but when it comes to drafting players that should translate well to Madden, the Jets won big. CB dee Milliner will likely be the highest rated rookie CB, Sheldon Richardson could be the highest rated rookie DT,and QB Geno Smith will give Jets' fans frustrated with Mark Sanchez a chance to start something new.

Philadelphia - The Eagles added TE Zach Ertz and QB Matt Barkley (nevermind LT Lane Johnson). This should give Eagles fans that are ready to press the reset button a chance to do-so in Madden NFL 25. The S Wolff and the CB Poyer have also been trendy late round names and should help the secondary immediately.

Pittsburgh - It's hard to argue that the Steelers didn't make some very positive additions in the NFL Draft. LB Jarvis Jones should really help the pass rush in Madden, while Le'Veon Bell should chew up the turf at running back. WRs Markus Wheaton and Justin Brown also have a chance to play early at WR and returning kicks. QB Landry Jones provides a young backup for Big Ben.

San Francisco - How could you not like the draft that San Francisco had? Safety Eric Reid will plug-in as an immediate starter. TE Vance McDonald will take departed TE Delanie Walker's spot in two tight end sets. WR Quinton Patton and RB Marcus Lattimore are two exciting player with game breaking potential. Franchise users are particularly thrilled.

St. Louis - The Rams offense will look dramatically different in Week 1 of the 2013-2014 season than it did at the end of the 2012-2013 season, and that is exiting if you use the Rams in Madden. St. Louis added THE playmaker of the draft, Tavon Austin, and later added his West Virginia team mate Steadman Bailey. They also added a potentially explosive player on defense at OLB in Alec Ogletree.



The Redskins didn't exactly need much, but they got little extra for RGIII in Madden.


Losers

Chicago - The Bears failed to land one key skill position player until the 7th round. That said, the two linebackers they drafted early, along with Guard Kyle Long will help the real Bears. The digital version may not reap those same benefits.

Dallas - The Cowboys did get the Baylor WR Terrance Williams, but outside of that and maybe Gavin Escobar, the draft didn't improve the digital Cowboys all that much.

Indianapolis - The Colts added a 4-3 DE in Bjoern Werner to play OLB in a 3-4 scheme. It was a mostly meat and potatoes draft for the Colts, which may benefit the team long-term, but does nothing to enhance their value in Madden NFL 25.

Tampa Bay - The Bucs added QB Mike Glennon to come in and potentially compete with incumbent QB Josh Freeman. Past that, they added a long CB in Jonathan Banks in the 1st round. Not a lot of sizzle for the Bucs when it comes to Madden NFL 25.

Tennessee - Other than the addition of WR Justin Hunter, the Titans didn't add an immediate impact player in Madden, unless G Chance Warmack is rated as the highest rookie Guard. While in real-life it was a good, solid draft, it doesn't do much for the Madden NFL squad.

Washington - The Redskins already have a very exciting young team, so perhaps it isn't fair to call them "losers" here. Still, they didn't draft anyone that will likely make a huge difference in Madden NFL 25, and that's the criteria for this list.
NHL News and Notes
02:27 PM - April 30, 2013. Written by Wiggy
(1)

The Stanley Cup playoffs get going tonight, with Minnesota vs. Chicago, Los Angeles vs. St. Lous, and Detroit vs. Anaheim. It'll be an all-west night of action, and I think LA and St. Louis might end up being the most compelling game tonight.

Officially, these are my picks for the playoffs:

- Chicago defeats Minnesota in 6 games
- Anaheim defeats Detroit in 7 games
- Vancouver defeats San Jose in 5 games
- Los Angeles defeats St. Louis in 5 games

- Pittsburgh defeats New York Islanders in 6 games
- Ottawa defeats Montreal in 6 games
- Washington defeats New York Rangers in 6 games
- Boston defeats Toronto in 5 games



NHL 14 Cover Vote

Head on over to EA's site to vote for a cover athlete for NHL 14. The field is currently at 32, but things are going to be split down to 16 shortly. The are plenty of guys in the voting who don't have much of a shot (James van Riemsdyk, Dennis Wideman, Ryan Callahan), but there seems to be a good range of players represented.

Simulated Playoffs

EA has done their official playoff prediction, and surprisingly, the New York Rangers are the Stanley Cup champions. The fact that they beat Washington and Montreal is believable, but getting through PIttsburgh and, ultimately, Chicago doesn't seem likely with the 2013 Rangers, but we'll see.

Additionally, The Score in Canada has done a simulation of the 2013 playoffs using NHL 13. I don't think Montreal will be going as far as they say, but the eventual winner of Pittsburgh seems statistically accurate.

Two Retirements



Brian Rolston (now 40 years old) retired officially today, even though he was no longer an active player in 2012-2013. He ended up playing 17 seasons in the NHL, racking up 342 goals and 419 assists over 1,256 games. Even though he was known for his time on Boston and New Jersey, it's funny that his best years were with Minnesota, where he scored over 30 goals three years in a row and got 79 points in one of those seasons. His size allowed him to play with some edge, and he was a three-time Olympian. As a first-round draft pick, he won a Stanley Cup in his first year with New Jersey.



Jochen Hecht also retired this week, signalling an end to a 14-year career for the 35-year-old Buffalo Sabres center. The German-born Hecht was a second-round draft pick for St. Louis back in the 1995 entry draft, but he eventually became a Sabre for the rest of his career. He totalled 186 goals and 277 assists in 833 games, and he was a three-time Olympian.
The OS Daily Ten - Is D'Antoni's Job Safe?
09:17 AM - April 29, 2013. Written by jmik58
(5)




Top Sports News for Monday, April 29, 2013



1. LA Lakers swept by Spurs. Does D'Antoni deserve the blame?
For a team that barely made the playoffs, LA still had a lot of pressure to perform. Injuries, a new coach, and new superstars all thickened the plot -- perhaps too much. Change is likely coming, but who should stay and who should go?

2. Tim Tebow cut by NY Jets
The circus has come to an end surrounding Tim Tebow -- at least in New York. After drafting Geno Smith in last week's NFL draft, the quarterback spot opened up wide for the Jets and Tebow clearly wasn't in the picture.

3. 2013 NFL Draft is in the books
Following last year's class, highlighted by Andrew Luck and RG3, the 2013 list of prospects seemed thin. The first round was dominated by offensive linemen early and only one QB (zero halfbacks) heard their name called in the first round.

4. Did umpire Tim Hallion drop 'F-Bomb' on Rays' pitcher David Price?
5. LeBron and Heat sweep first series since birth of 'Big-Three'
6. Big Ten losing Legends and Leaders, opting for geography
7. Is Golden State a serious contender with three-ball threat?
8. Rick Pitino lives up to tattoo promise
9. 'Double-Overtime' goes in favor of Harvick
10. Horschel gets first win at Zurich Classic


QOTD: Who deserves the blame for the Lakers' woes this season?
NHL 14: Too Much Simplifying?
04:24 PM - April 26, 2013. Written by Wiggy
(9)

After posting our article with David Littman talking about NHL 14, several OS users (as well as posters on reddit) were rightfully concerned about the impact of simplified deking. In addition, there is probably reason to be wary of the new hitting system, which does sound like it will have more impact but with less skill required to actually initiate a hit. All of these changes are being touted as new features as well as improvements to the existing game, but does making something less challenging (and more inviting for casuals) actually preserve the depth of the system that was there to begin with?

It's a problem that's dogged many games, including almost every sports game, for years. The developers want to make certain features accessible to the widest possible audience of players. They come up with something interesting within the gameplay that core gamers absolutely love (or at least get used to), but then casual players just don't use it or -- worse for the devs -- don't play the game at all. I personally know several people that don't actually use the skill stick in NHL 13, lending credence to EA's move to include the NHL '94 control scheme so that certain "old-time" users would feel more comfortable. I think those users are missing out on the depth and fun of the skill stick, but that's their prerogative.

Sometimes these systems are implemented well; other times, they end up hindering the complexity of the simulation and alienating the users who are most passionate about the game. In the case of NHL 14, I worry that deking is system that didn't really need to be addressed in this way, and for hitting, the input method wasn't really the problem. On top of this, if any system needed an overhaul and simplification, it's the defensive side of the game, as that's been lacking in the last several versions.

OS users were generally wary of this simplification of deking. User "onac22" said:


| | | |
| --- | --- | --- |
| | Quote: | |
| | | |
| --- | --- | --- |
| | | |
| | Oh great. So now any goomba can spam dekes up and down the ice. No thank you. | |
| | | |
On Reddit, user "tekeetakshak" said the following:


| | | |
| --- | --- | --- |
| | Quote: | |
Who the **** is giving that kind of feedback. First of all, dekeing a d-man out of position or deking past one in real life is really ******* rare.

Secondly, if you raise your deke stat to something like 80, they're incredibly easy to pull off. All you have to know is which combo does what, and when to pull them off for the most success.

Honestly, this kind of feedback sucks. How about fixing things like stick lift? I'm too afraid to use it because half the time you get a slashing or hooking penalty
Then again, both communities seemed to go back and forth on the complexity of the deke system and whether it was even viable in the first place. It certainly is a situational feature, and I believe that the dekes should be rare and hard to pull off. Unfortunately, EA has always only dipped its toe in the pond when it comes to really creating "role players" on the ice. They don't want to hinder users so much that they get frustrated when a skater can't do something. They've certainly made fourth-liners pretty slow and tank-like, but there needs to be more variance with the upper echelon talent in the league and guys who are just solid players.



As for the hitting, I think it's a potentially cool idea (more impact, easier to pull off), but I worry that it means that any player (or CPU) can just steamroll you with minimal effort and momentum, creating absurd giant hits that happened back in NHL 2005 or NHL 2006. As I said before, I'm all for the system of hitting being re-evaluated and tuned, because it needed it, but I hope this doesn't just become a comical hit fest where any user can just drift into you and score a hit. There's a balance there, and I hope EA is able to find it.

The fear for the deking is that a one-button input (with automated deke results) is just going to lead to users spamming these move intentionally, unintentionally, or both. I'm sure EA will throttle the ability to use these moves too often, but it's still cheapening the simulation when something that should be reserved to top-shelf talent is going to become a main feature of every shift of every game.

Honestly, making things accessible is not really the problem. Often a game system or input is too complicated, and it should be revisited with each version of a game. But I think there's a line. When the developers have been positioning their product as a simulation for a long time, they should be careful with putting in too much arcade action and simplicity, as the unintended consequences for AI behaviour and on-line competition might outweigh the benefit gained for casual solo users.
OS Soccer Blog - Man Utd, Suarez, Mighty Germans, and Some Football Manager Tips
06:35 PM - April 25, 2013. Written by kelvinmak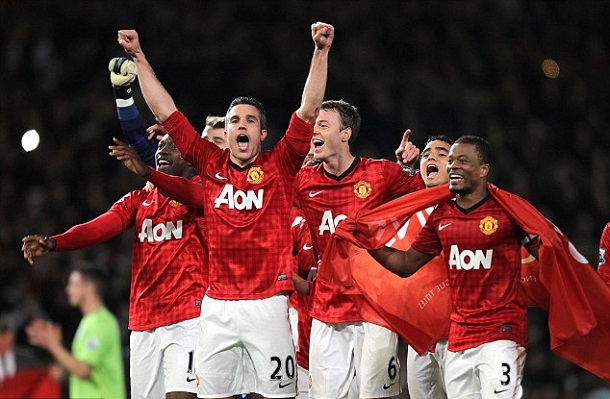 Well, that was an interesting few days.

One of the Most Uninteresting Title Races In Recent Memory

With four games to go, Manchester United clinches the title. This one was in the bag pretty much by the end of January.


A take on the on the whole Guard of Honour for van Persie will-they-won't-they thing, and the state of Arsenal as a whole.

Biting Punishment

So, Suarez gets ten games for biting Ivanovic.

The word context gets thrown around a lot, and this is one of those times where it still doesn't make anything clearer. Yes, the suspension has to be taken in context, but depending on which side of the fence you're on, the context you choose can be totally different:

"Good for the FA": Suarez has priors-- he accepted a seven match ban from the Dutch FA when he bit Otman Bakkal while playing for Ajax, and was also warned by the FA after the Evra incident to watch his behavior. So in that sense, ten games look reasonable.

"Witchhunt!": Defoe got a yellow card for biting Mascherano, and everybody laughed it off afterwards. Roy Keane effectively got eight games (three initially, then another five after admitting it was premeditated) for effectively ending Alf-Inge Haaland's career. Ivanovic, as far as we know, did not contract any disease from Suarez that will cause him to miss any games.

Meanwhile, it wouldn't be the British press if they didn't immediately start the Suarez looking to leave rumors.

FIFA (the organization, not the video game) Teaches Political Science, Part I

"I will say something which is crazy, but less democracy is sometimes better for organizing a World Cup," says Jerome Valcke, Sepp Blatter's henchman

"When you have a very strong head of state who can decide, as maybe Putin can do in 2018...that is easier for us organizers than a country such as Germany....where you have to negotiate at different levels."

Stop Me if You Heard This One

Mourinho is "almost certain" to return to Stamford Bridge, and Falcao is coming with him.

Gute Nacht, Spanien

Bayern and Dortmund destroyed Barcelona and Real Madrid on their respective Champions League first legs. End of an era, asks Jonathan Wilson? Not so fast, answers Andres Iniesta.

Mario Götze will join Bayern from BVB this summer. This is almost unfair, the firepower Bayern will have going forward. But my, will they be fun to watch. Who exits? One tabloid thinks it's none other than Arjen Robben.

Is Lewandowski next? After his four goal night against Real, his agent has revealed that a mysterious club has. allegedly, agreed terms with both Dortmund and the player himself. Of course, Dortmund denies this, and says they'd rather him instead play out the last year of his contract out and leave for nothing. The team in question is rumored to be Manchester United. It surely couldn't be Bayern again... could it?

Meanwhile, Blackburn still can't catch a break.

FIFA Teaches Political Science, Part II

"We are conservative, like the Catholics, when it comes to the laws of the game and referees. Then we are liberal when we go to the market." Yup, this time it's Sepp Blatter.

"We are Marx and Engels when it comes to the distribution of the money, 70 percent of all income is distributed to the national associations for development programs."

The whole article here, if you feel like rolling your eyes.

Some Football Manager stuff

I was browsing the game's official tactics forum since I'm not having the best of seasons in my FM 13 save. Here are some interesting tidbits that some may not know, from forum member Cleon, who was part of the team in designing the new tactics creator.


Ideally you should sign like-minded backroom staff, with similar preferred playing style and formations.
The preferred formation of your Head of Youth Development can influence the positions of your yearly youth intakes.
"Dwells on Ball" may not always be a negative preferred move for a player. If he's playing in a position (say, as a deep lying playmaker in DM) where he has the time with the ball, then he's more likely to take that time and assess all his options. Of course, this is based on the caveat that the player in question has the other right attributes to pull it off, and also the composure needed to make a decision if the opponent does choose to close him down.

Finally, the "goal of the century", according to Fergie:


Fire Pro Wrestling Returns Now Available On PlayStation Network
03:52 PM - April 25, 2013. Written by jyoung
(5)

Tuesday afternoon, Sony threw wrestling fans a swerve by re-releasing Fire Pro Wrestling Returns for download over the PlayStation Network.

Weighing in at 4.4 gigabytes, the $9.99 digital release is a direct port of the original 2007 PlayStation 2 game.

Because "PS2 Classics" are not currently supported on the PlayStation Vita or PlayStation Portable, this PlayStation Network release can only be played on a PlayStation 3.

Existing PlayStation 2 save files must be converted to .VME format before they will work with the PlayStation 3 digital version.

To learn how to reformat save files, read through this excellent tutorial from fpwarena.com.

Also make sure to visit fireproclub.com for a huge selection of fan-made created wrestlers, mats and logos.