Informed Speculation: Xbox One and What it Means for Sports Games
08:55 AM - May 24, 2013. Written by Wiggy
(6)

Now that we know a lot more about the Xbox One, there are certain realities that are setting in for the future of sports games. Without a doubt, there are aspects of the new system worth getting excited about. It'll be awesome to be able to switch between tasks quickly, and the speedy system boot-up and resume features will mean that players will be able to get in and out of games that much faster. I think it's awesome for many reasons, not the least of which is that you can get into a season mode or tournament without all of the cumbersome loading times and menus. It'll certainly be nice to bypass all of that when you wake the system up and get back into your game, and loading times should be better thanks to mandatory installs, faster processors and cloud-powered features.

Just the same, it'll be cool to have the snap feature that will allow for fantasy league users to stay up to date on a given day, and the NFL license and exclusive content is great for those who are looking for that kind of experience. Honestly, even Skype probably has some uses within sports games, as users can have a richer chat experience when they're setting up leagues, conducting fantasy drafts or just playing one-on-one.

I'm also excited about the revised Kinect camera, and I think the improved latency, resolution and voice detection will be awesome for fitness and dance games, and it will help augment games of all types. I can imagine some pretty cool voice technology for football and hockey, and the potential for the Kinect measuring heartbeat, engagement and things of that nature could yield interesting results for games that are going for a certain intensity.

But with all of this good stuff comes some negatives, and these will impact sports games just as much as any other genre. The reasoning behind some of these decisions varies, with certain choices being made to combat piracy and others being made just purely for profit reasons. Either way, it's hard not to be disappointed by a lot of these items listed below.



(1) The Xbox One will not ship with a headset

In a truly baffling move, Microsoft has said that the Xbox One will have no headset bundled in. This means that users will have to either pony up substantial bucks for a Turtle Beach headset (partnership just announced today), or stick with the improved but still less-than-desirable Kinect microphone for in-game chat. I think this is a massive miscalculation on Microsoft's part, especially in light of old headsets not working on the new system.

What possible reason is there to not include a headset and shut out current headsets? This reeks of MS just wanting to offload an expense onto consumers, and it's an indication that the console won't be cheap. They're looking for ways to save a couple of bucks, and they want to get a piece of the audio money pie that Turtle Beach has been enjoying for a while. Smart for business; bad for consumers. Not including a headset with the system emulates the Sony model from this generation, where the PS3 community suffered because you couldn't count on everyone having a headset. This is hugely important for sports games, especially for users in online leagues. Of course, people can go buy a headset, but this is purely a profit move on MS' part.

(2) Used games will not work the same as they do now

Now, this one is definitely some informed speculation, but we all knew there was a reason that EA was getting rid of the online pass system. I had figured that MS was going to bring in their own form of authentication system for each game, and it appears they've done just that. This is obviously to combat lost revenue to used games as well as piracy, but from everything they've said, it seems like they're going too far.

MS has alluded that you will be able to trade games back or something to that effect (possibly even trading licenses to friends), but the fact that you can't lend a game to a friend or family member for them to use is absolute nonsense. The reason Steam is viewed positively is because Valve has leaned completely into digital, with competitive sale pricing, a proper offline mode, gifting of games and free online multiplayer. Microsoft seems to be straddling the line between physical and digital, and I get the feeling that they won't be pricing as competitively as the stuff you see on Steam.

(3) The Xbox One requires some sort of always-online DRM

The details on this feature have been murky as well, but the general consensus seems to be that the Xbox One is meant to function with power all of the time (thanks to its varying power states), and ideally it needs an internet connection all of the time as well. It will allow for some kind of off-line time (currently set at 24 hours), but presumably after that interval, you will have to reconnect with system in order to use your games and content.

Now, where sports gamers -- and gamers in general -- should be concerned here is not with just one small use case but with all of the possible use cases put together. What if your ISP goes down? What if your local network (router) goes down? What if you want to take a system over to a friend's house where internet isn't going to be easy to hook up? What if you want to take the system to a vacation spot or a hotel? What about people in the military? What about -- and this is the biggest one -- Microsoft's servers going down? There are plenty of legitimate reasons that people might not have a connection for a while, and this type of setup also assumes that Microsoft's servers will never have problems or downtime.

I think it will take just one major title having an issue on launch before MS feels the heat for something like this. What if someone can't play single-player Madden when they get home from the store? That's a problem.



(4) The Xbox One will not allow indies to self-publish

This decision is just mean-spirited to me. It sounds as if MS really wants to curate their store, and frankly, I think they just don't want to have to deal with indie devs as much, especially since some of them can be quite vocal about their grievances.

Honestly, what would be the harm in having self-publishers on the Xbox One marketplace? Microsoft still gets a cut of the sales, even if a game isn't selling like gangbusters. Also, and I'm sure fellow OS staffer Jayson Young will agree, we won't see fun little diversions like Blockey or Avatar Football on the Xbox One. For shame, Microsoft.



(5) The EA exclusive deal helps no one except Microsoft and EA

Obviously, this is a big deal -- pun intended -- for Microsoft and Electronic Arts. It will help steer early adopters of the new systems towards Microsoft's ecosystem, and EA gets a big pile of money. While this is nice if you're lucky enough to own two systems or choose to take part in the Xbox One, it's ultimately just a business move that shuts out content (and potentially even shifts release dates of games) for half of your user base. These kind of partnerships are going to happen, because that's just how business works, but it's nothing for gamers to really be excited about.

Final Thoughts

I am genuinely interested in a lot of features in the Xbox One, and I'm hopeful that there will be some awesome game experiences that aren't just about pushing poly counts and adding new animations. However, the "features" I outlined above give me pause, and I think these factors are a big negative for gamers in general. I hope some of these decisions and policies get revisited, because as it stands, they actually make the ecosystem worse off than it was before.
The OS Daily Ten - LeBron Wins Game One, Where Was Hibbert?
11:09 AM - May 23, 2013. Written by jmik58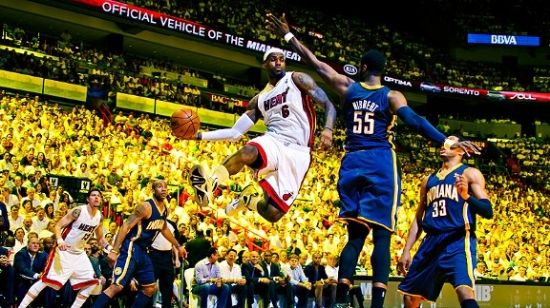 Top Sports News for Thursday, May 23, 2013


1. With Hibbert on bench, James buzzer-beater gives Heat victory.
Pacers coach Frank Vogel may do things differently next time when defending a last second lead against LeBron James. Concerned about the threat of Chris Bosh, Vogel opted to put his big man Hibbert on the bench and LBJ hit the lane with ease for the game-winning layup.

2. Urlacher decides to retire instead of closing career away from Bears.
The sad path of many NFL veterans and legends won't be the legacy of Brian Urlacher. One of the best linebackers of our generation has chosen to be remembered as a one-team man having spent his full career in Chicago with the Bears.

3. 49ers wideout tears achilles, season in danger.
San Francisco receiver Michael Crabtree underwent successful surgery on his right achilles after tearing it during an organized team activity. Coach Jim Harbaugh has stated he doesn't believe it will be a season-ending injury, but don't expect Crabtree to be suiting up early in the season.

4. Could Jay-Z have guaranteed Geno Smith a first-round pick?
5. Carmelo Anthony reportedly played with torn shoulder.
6. Rodgers pushing Packers to honor Favre.
7. Pens drop Sens for 3-1 series lead.
8. Oh Beer!: Problems brewing in Yankee Stadium.
9. Coach K returning for Team USA Basketball.
10. Hall of Fame calls on Jarrett, Petty for NASCAR immortality.


QOTD: Did Pacers coach Frank Vogel screw up by leaving Roy Hibbert on the bench for LeBron's game winner?
The OS Daily Ten - Sergio Garcia Offers Tiger Woods 'Fried Chicken'
10:18 AM - May 22, 2013. Written by jmik58
(3)



Top Sports News for Wednesday, May 22, 2013


1. Mike Trout becomes youngest ever in AL to achieve cycle.
Angels starter Jerome Williams spun a gem over eight innings of shutout baseball, but the young phenom in center field stole the show in LA's rout of the Seattle Mariners. At 21 years and 188 days, Trout becomes the youngest in American League history -- edging out Alex Rodriguez by twenty-five days.

2. Spurs take two-game lead over stunned Grizzlies.
San Antonio might want to be careful or their dominance could lead to a big layover before the NBA Finals. The Spurs have taken a 2-0 lead in their Western Conference Finals matchup with Memphis, meanwhile the Miami Heat and Indiana Pacers have yet to play a game.

3. Tiger responds to Sergio Garcia's 'fried chicken' remark.
Garcia has made it known he doesn't appreciate the way Tiger Woods eats his main course with his salad fork on the golf course. Tiger doesn't really care so much about etiquette and just wants to play golf. Garcia took it a step further this week in passing up utensils and heading straight for the food - 'fried chicken' to be exact.

4. Cleveland wins NBA Draft lottery again, Magic get No. 2.
5. De Negro 'Clipped' from head coaching duties.
6. So much for player safety, 18-game season a possibility in NFL.
7. Woodson returns to Black Hole.
8. Hornets officially back in Charlotte.
9. Boston looking to sweep New York.
10. Super Bowl 50 coming to San Francisco with or without 49ers.


QOTD: Were Sergio Garcia's remarks harmless or blatantly racist?
EA's Next-Gen Plans Start With a Dangerous Beginning
09:25 AM - May 22, 2013. Written by MMChrisS
(17)

We all remember the magic Madden movie which set this entire generation of Madden up for failure -- that pre-rendered trailer set graphical and gameplay expectations so high, it ended up being a generation ahead of its time.

In essence, the next-generation of Madden in that 2005 trailer was actually the next-next generation of Madden.

To quote a famous pop artist (loosely), "Oops, they did it again."

The Ignite Engine Trailer which was debuted yesterday featured target renders and not actual gameplay footage, a fact not surprising at all but also somewhat puzzling. Surely EA knew that they had led themselves down this road before right? Surely EA knows that a lot of the ire on Madden is simply about what many consumers feel are broken promises and unreachable expectations created at the dawn of the prior console generation, right?

It is quite likely that Madden, FIFA, NBA Live, and UFC will look very similar to what the Ignite Engine trailer managed to show off yesterday, as most of what we have saw from next-gen consoles does tend to indicate that type of visual fidelity is likely coming -- we even saw what looked to be familiar animation stiffness within the video.

It's doubtful EA has flubbed up on the scale that they did with Madden's launch on the 360 -- as the graphics do seem very feasible in most every way, but they have once again created hype off of a trailer which may not fully represent the product they eventually ship.

This is a problem for EA, for consumers, and for everyone. The criticism will be defeaning if the new Madden on next-gen consoles is incomplete in any way and if the Ignite Engine fails to, well you know, ignite the Madden fan base.

The good news is, we will have actual gameplay to digest at E3 in just a couple of weeks, so until then let the speculation wander.

What did you think of the Ignite Trailer?
Xbox One / EA Sports Thoughts
04:26 PM - May 21, 2013. Written by Wiggy
(12)
With Microsoft officially unveiling its new Xbox One console today, we can finally start gearing up for both of the new systems. Even the industry at large seemed ready, as developers have already started letting the press releases fly now that they are free to talk about the existence of both the PS4 and Xbox One. Surprisingly, EA Sports, and sports content in general, played a big part in the reveal of the new system.

It's certainly an interesting pitch that MS made for Xbox One, as the focus seems squarely placed on the overall experience of the system rather than raw horsepower or bleeding-edge gaming. If you're a sports fan, you certainly have to be excited by the integration of SmartGlass for fantasy football or the exclusive NFL license, and it seems pretty clear that MS is targeting specific demographics with those sorts of moves.

I think the system functionality of Xbox One looks quite impressive, especially with things like snap, multitasking, Skype, live TV (using a pass-through with your cable box), varying power states and instant gameplay (while your game installs to the harddrive). The overall design of the console looks measured but effective, with an improved controller, Blu-Ray drive, enhanced Xbox Live and an emphasis on cloud computing/gaming.

The inclusion of Kinect 2.0 in each console was a smart but necessary move on Microsoft's part, and it will help developers of all types, including makers of sports games, to build in voice and gesture support that is more fulsome and thought out. With the knowledge of a Kinect in each box, developers don't have to shoe-horn the motion or voice features in at the last minute; they can create ideas that are symbiotic to the whole experience of the game. I'm also encouraged that the Kinect now has a wider field of view, meaning you can stand three feet closer, eliminating a major stumbling block for apartment dwellers. It also supports 1080p video, better voice recognition and tracking for up to six players.



I think the changes to the achievements system on Xbox Live are also quite interesting for sports games, as developers can customize and change achievements on the fly as users play games in a certain way. This potentially means that players will be rewarded for participating in seasonal tournaments or one-off events, and people might even get to have unique achievements that indicate their prowess at an emergent type of gameplay.

In terms of games, Microsoft was quite guarded. They showed titles that would appeal to key demographics, and they seem to be saving most of the big bombs for their E3 showing. Sports gamers have to be excited about the always-impressive Forza Motorsport 5 making a good showing, but then again, car games always look great, visually speaking, on new hardware.

The more intriguing announcement came from the EA and Microsoft "exclusive partnership," which had been rumoured for a while now. It will bring exclusive Ultimate Team content to FIFA 13, and likely this is the first salvo in exclusive content that MS will use to help purchasers of EA products make the move to Xbox One. EA claimed that four next-gen EA Sports games would be released "over the next 12 months," meaning you'll see FIFA 14, NBA Live 14 (it's back), Madden 25 and EA UFC showing up on next-gen platforms.

Powering these next-gen games (and every other franchise from EA Sports, if this interview is to be believed) will be the Ignite Engine, a technology that EA has developed with similar ideas found in the Frostbite Engine that will power titles like Battlefield 4 as well as future Mass Effectand Dragon Age games. The emphasis seems to be on "inches and angles," with added realism to the animations and locomotion, as well as 3D crowds, better lighting and improved "human intelligence" AI.



Frankly, the sizzle reel that was shown for FIFA, UFC, NBA and Madden didn't really impress, mainly because it looked very much like a target render -- something the developers will be shooting for (Edit: EA confirmed that the footage was a target render and that in-game assets will be shown at E3). We've seen these types of trailers before, and nothing really looked like actual gameplay. Whether it was real, partially real or rendered, I didn't particularly like the overly cartoonish visuals, especially as seen in some of the shots of UFC and Madden. We'll definitely get a chance to see some of these titles for ourselves at E3, so that should provide some clarity on what to expect from these next-gen EA Sports games.

Overall, I think Microsoft achieved their goal in presenting this new machine for the first time, and they should actually be commended for doing it with minimal screw-ups and awkward moments. That being said, I am wary over what wasn't shown in terms of games. They had prefaced the event by saying that it wouldn't focus on games much, but what they chose to show didn't demontstrate a lot of imagination or outside-the-box thinking. I'm excited for everything around the system, but I want to have a clearer picture of the games and technology that will be the soul of it.
Madden NFL 25 Has a Big Two Days
01:56 PM - May 21, 2013. Written by JohnDoe8865

A lot of Madden NFL 25 news today, as well as Microsoft's XBOX ONE reveal. Starting with the Microsoft event, we didn't really get anything concrete for Madden, but we did hear about a renewed focus on AI and a dynamic crowd experience for next-gen. Two things that are sorely lacking from this generation's Madden games. We should learn a lot more, including some real information at E3 in June.

We also got news on two exciting returns to the Madden NFL franchise. Owner Mode and NCAA Draft Class Import are back, and not a moment too soon. I recently wrote an article for Operation Sports about my Top 5 Missing Features from earlier Madden NFL games, and today EA Sports narrowed the list to a Top 3.

On the surface, the addition of those two features back into Madden NFL 25 are great news and have me really excited about this edition. But we have to be careful to take a step back and look at how EA has botched the implementation of other features recently in Madden NFL 13. I was a huge fan of the ambition shown by EA and Tiburon, but Connected Careers was half-baked, the Infinity Engine needed a lot of refinement. Let's hope that Owner Mode has been tested, re-tested, and then tested again. Let's hope that we don't have any more issues with importing draft classes from NCAA Football like the shoulder pad glitch of Madden NFL 12.

In other words, approach this news optimistically, but be cautiously optimistic. We've seen the Madden team over-promise and under-deliver so far this entire generation. I truly hope that the trend is reversed with Madden NFL 25.
The OS Daily Ten - Dwight Howard Having Coach Issues Again
12:09 PM - May 21, 2013. Written by jmik58
Top Sports News for Tuesday, May 21, 2013


1. Big Surprise: Dwight Howard blames woes on his coach.
2. Matt Kemp turning homeruns into cash for tornado victims.
3. Golf finally banning the 'cheater stick.'
4. Surgery to sideline Romo until training camp.
5. Hornets making return to Charlotte.
6. Evil Empire and Man City teaming up on NYC's MLS club.
7. What if 50th Super Bowl was played at Lambeau?
8. Do the Orioles really have the best digs in baseball?
9. Yankees hold three first-round picks in coming draft.
10. Nationals pitcher punches locker, locker wins.


QOTD: What is Dwight Howard's legacy shaping up to be?
10:35 AM - May 20, 2013. Written by jmik58
Top Sports News for Monday, May 20, 2013


1. LeBron James ready to prove Heat aren't 'just another team.'
When Pacers coach Frank Vogel commented that Miami was "just the next team" in the way for Indiana, it's doubtful he was trying to put down the Heat. Vogel's comment was likely a psychological tactic to keep his team focused on the task and not the hype or emotions of playing a talented team like the Heat. Regardless of his intent, a little fuel has been poured on the fire but will it really make a difference come game time?

2. Triple Crown winner triples up on long ball.
Detroit's Miguel Cabrera went deep three times but the Tigers still fell to the Rangers by a score of 11-8. The defending AL MVP and Triple Crown winner earned his accolades for the day as the shortest home run measured in at 423 feet and the longest traveling 453'.

3. Rookie QB Manuel says offense easier to learn in Buffalo than at FSU.
This could be a really good thing or a sign of bigger problem for the Bills. Either Florida State's offensive schemes are incredibly difficult or Buffalo needs to up the ante when it comes to scheming their way towards the endzone. But then again, maybe it's a sign that Buffalo's first-round surprise move to take E.J. Manuel is paying off.

4. Fans buying wedding gifts for RGIII.
5. Spurs out-scheme Grizz to take game one.
6. Sens get huge double-OT win over Penguins.
7. Soccer goalie celebrates too soon.
8. D-Wade accepts girl's prom invite.
9. Shattered BCS ball sold for big bucks.
10. NFL owners picking Super Bowl L, LI sites tomorrow


QOTD: Who wins the Heat-Pacers series and in how many games?
OlliOlli Tricks Onto PlayStation Vita This November
09:00 AM - May 18, 2013. Written by jyoung

Earlier this week, independent developer Roll7 announced their plans to release OlliOlli, a sidescrolling skateboarding game, this November exclusively for the PlayStation Vita.

Roll7 describes OlliOlli as "mixing addictive one-button-one-life infinite runner gameplay with the trick and combo mastery of skateboarding games like Tony Hawk's Pro Skater. Skate as far as you can, as fast as you can while racking up the biggest and coolest combos along the way."

OlliOlli's tentative feature list includes:

Infinite, randomly generated levels
100s of different unique obstacles
5 different stages, from Urban London to Arizona Junkyard
Customizable characters
100+ tricks and grinds
Simple but deep trick system
Global high-scores and online competitions
Tons of challenges and awards
Sick soundtrack featuring Mizz Beats, LeftLane Cruiser and Bo Ningnen
Though blood is not currently included, Roll7 is "making inquiries with the ratings people to see if we can have lots of blood."

OlliOlli plans to include three modes of play:

Career Mode

Infinite Runner, you slam you die, you start again
Discover new spots and locations to skate by getting far and scoring big
Beat pro and amateur challenges to unlock new stages.
Randomly generated levels, never skate the same level twice!
Spots
Challenge your friends (and the world) for the best score on the spots you've discovered in career mode
Get the highest score and become the King of the Spot
Daily Grind
Each day there's a new unique spot at which you will challenge the world
You can practice the spot as many times as you want
However, you only get one chance to set your score on the boards
As Sony is directly funding the project, a playable demo for OlliOlli is scheduled to appear inside Sony's booth during the Electronics Entertainment Expo (E3) in June.
The OS Daily Ten - Beckham Saying Goodbye, Will Anyone Notice?
10:08 AM - May 17, 2013. Written by jmik58
Top Sports News for Friday, May 17, 2013



1. Spurs advance; huge matchup with Memphis awaits.
The Spurs outlasted the feisty and streaky Warriors to advance to the Western Conference Finals where they will face the Grizzlies. The win marked the tenth win in eleven tries for the Spurs in closeout games since the start of the 2007 playoffs.

2. Knicks extend series with win over Pacers.
Playing without their full arsenal (George Hill), Indiana played sloppy basketball as New York pushed the series to a game six. Without their key man at point, the Pacers committed 19 turnovers.

3. Strasburg pitches past seventh inning; first time as big leaguer.
Washington's decision to sit their ace for the playoffs raised a lot of questions last year. Because of his hype, injury history, success on the diamond, and the organization's poor handling of the public relations aspect of last year's innings count -- each time 'Stras' takes the mound it's as if the whole world is waiting for something catastrophic to unfold.

4. Kings showing same resilience that earned title in '12.
5. David Beckham retires.
6. Gronk needs surgery for 4th time on arm.
7. Former NASCAR driver takes own life.
8. Johnny Manziel 'scrambles around' for signature first-pitch at Padres game.
9. Maurice Clarett turning to Rugby?
10. Alabama's Saban not thrilled with comparison to "the devil himself."


QOTD: What are your weekend sports-watching plans?
Amazon's "Digital Games Mayhem" Sale Underway
03:26 PM - May 16, 2013. Written by jyoung

Starting today and lasting through the end of May, online giant Amazon.com is holding a massive digital download sale spanning more than 800 PC titles:

http://www.amazon.com/gp/feature.htm...=operasport-20

Many of the deals are limited-time offers, so below is a breakdown of all the sports games involved in Amazon's sale:

5/16/13 only

Sonic & All-Stars Racing Transformed -- $7.49
Virtua Tennis 4 -- $4.99

5/16/13 through 5/22/13

Madden NFL 08 + NHL 09 -- $4.99
Need for Speed Most Wanted -- $14.99
Need for Speed Ultimate Digital Collection -- $7.49
Need for Speed: The Run -- $4.99

5/16/13 through 5/31/13

Blood Bowl: Chaos Edition -- $15.00
Blood Bowl: Legendary Edition -- $6.00
FIFA Soccer 13 + FIFA Manager 13 -- $19.99
GTI Racing -- $2.50
Mad Riders -- $6.49
Mad Riders: Daredevil Map Pack DLC -- $1.94
MUD - FIM Motorcross World Championship -- $14.99
Out of the Park Baseball 11 -- $1.49
Out of the Park Baseball 11 Deluxe Edition -- $1.49
Pro Cycling Manager 2011 -- $2.50
Pro Cycling Manager 2012 -- $8.00
Race Team Manager -- $1.25
Redneck Racers -- $2.99
Ridge Racer Unbounded -- $9.99
Shaun White Skateboarding -- $6.49
Shaun White Snowboarding -- $6.49
Test Drive Unlimited -- $9.99
Test Drive Unlimited 2 -- $9.99

5/23/13 through 5/30/13

Tiger Woods PGA TOUR 12: The Masters -- $4.99

5/24/13 through 5/26/13

Football Manager 2013 -- $13.49

5/25/31 through 5/31/13

Test Drive: Ferrari Racing Legends -- $7.49

5/29/13 through 5/31/13

Midnight Club 2 -- $2.50

For a full list of all 800+ games involved in the promotion, consult this handy spreadsheet, which sorts all the games by name, sale duration or type of DRM used.
OS Soccer Blog - Rooney, Mancini, FIFA 14
03:22 PM - May 16, 2013. Written by kelvinmak
(1)

So Let Me Get This Straight, Part I:

Man City's Chairman Al Mubarak was embarrassed by the way Mark Hughes was fired by the club. And now they hang Mancini out to dry by doing the exact same thing, pretty much confirming Pellegrini's hire the day before Mancini had to lead the team out onto Wembley for the FA Cup finals?

Interesting to read City fans' reactions on the club firing Mancini. There are a few ways to look at it. One: yes, he made a few errors this year, both in his tactics and the way he deals with players. But are the suits at City so impatient that they can't go one year without success? Let the man have some time to learn from his mistakes. Or maybe City saw something in Mancini that they believed can't be changed, and despite the fact that he brought them the cup last year, he wasn't their man for the long run. Or it could simply be that they City and its sporting director Txiki Begiristain just think Manuel Pellegrini is a better manager.

What to expect from Pellegrini? Michael Cox has a few guesses.


So Much for Any Last-Second Drama:

With Arsenal beating Wigan 4-1 (boy, that Cazorla is a pretty decent player, isn't he?) and consigning the Latics to the drop, there won't be any balls-to-the-wall action by teams fighting for survival in the final week of the season. That's a shame, since Survival Sunday is usually the next best thing to watch after the title has been sewn up.

But the potential of an extra game between Arsenal and Chelsea? Sign me up.


Barcelona Wins La Liga Title (Yawn)

Arsenal also benefits.


A Special Exit

So Jose Mourinho's good as gone from the Bernabeu. The man doesn't know how to exit quietly, does he? Is it that hard to leave at least one bridge unburnt?


So Let Me Get This Straight, Part II:

Wayne Rooney asked to leave Manchester United in 2010 because they couldn't sign good enough players to match his ambitions. Now he asks to leave again because the players around him are too good and he isn't an automatic first-teamer anymore?

On a side note, even as he rides off into the sunset, Fergie still can't resist laying good ol' Roo on the train tracks one more time. First he leaves Rooney out of the squad entirely for his Old Trafford farewell, then he reveals, oh so nonchalantly, that Rooney's asked for a transfer, knowing full well that the next day there will be a parade where the red half of Manchester can show Rooney exactly what they think of him. It wouldn't surprise me if Ferguson re-inserts him into the team next week either, just to give the visiting fans one more chance to have a go at him. Don't cross the man until he vacates that seat in the dugout once and for all.

Potential destinations? Well, Bayern has ruled out its interest, not that it made too much sense in the first place anyway. There have been rumblings about interest from Chelsea, PSG, and potentially Arsenal. Of course, he may also just stay put as well. But... Newcastle? Heh, well played, Mike Ashley.


Liverpool and Anfield

Amidst all the news on who won what and who fired who, this piece by The Guardian's David Conn, on Liverpool and the underhanded tactics it used to try to buy its way around Anfield for an expansion, is a wonderful read.

Accompanying pictures here.


Racist Fans

The Roma-AC Milan game was marred by racist chanting from a part of the home fans.

Idiots.



FIFA 14's Promo Blurb

Not much new in these bullet points, but if you want a quickie version filled with exciting, action-oriented descriptions (and a whole lotta verbs), along with features that sound like just a common gameplay action except They're All Capitalized Which Must Mean They're Significant, here you go.

One thing that does have me a little on edge, though, is the follow point: "Navigate the intricacies of ball possession, mastered by FC Barcelona". Now, there's no point in overreacting at this moment, and we can speculate all the way to the end of September to figure out what that really meant-- if the game does indeed, in the way the AI is designed, force users to play Tiki-Taka, or if they simply just wanted to work the name Barcelona into its marketing material and that's the best they came up with.

npower Championship Action

They're still fighting for promotion in the league below the Prem. Cardiff and Hull are already going up, but the last spot is still to be decided between Crystal Palace and Watford. That game takes place on May 27th.

I'm personally rooting for Crystal Palace, because of its manager Ian Holloway, who turns into Michael Scott whenever he's in front of a mic. The Premier League needs this man (watch out, language):


| | | |
| --- | --- | --- |
| | Quote: | |
| | | |
| --- | --- | --- |
| | | |
| | On Cristiano Ronaldo: "He's six foot something, fit as a flea, good looking – he's got to have something wrong with him. Hopefully he's hung like a hamster – That would make us all feel better. Having said that, me missus has got a pet hamster at home, and his c**k's massive." | |
| | | |
Video of the Day

Jose Mourinho is looking more and more likely to return to England. And so is his puppet counterpart. Yay!


NHL 14: "One-Touch Dekes" Trailer Breakdown
03:19 PM - May 16, 2013. Written by Wiggy
(1)

EA has released a new trailer for NHL 14, and it previews the new one-touch dekes that will be available in this year's game as well as the revised "True Performance Skating" features. These features had been talked about a little before now, but this video provides a first glimpse into what they will actually look like.

As is the norm with most EA sizzle videos from the developers these days, they start by slagging the game from last year (you know, the one you're currently playing). Producer Sean Ramjagsingh talks in the trailer about how last year's deke system required pre-planning as well as hitting a modifier button and pointing both thumbsticks. He certainly won't get any argument from me. The deking system, while rewarding to those who mastered it, was (and has been) overly complicated for casual and mid-level users. The only fear in this new system is that it would lead to spamming of dekes and that users would have less control over what dekes they pulled off.



These fears are mostly assuaged in the trailer, as they show that users will have to hold the left bumper (or L1) and then flick a direction on the left thumbstick. In this way, a player would be able to cruise towards a defender and react much quicker when they see an opening. It's also mentioned in the trailer that low-skill players won't be able to pull these dekes off without losing the puck, which likely means that they will fail if you try and chain together too many dekes, or they will only be able to pull off basic side dekes and the like.



Then again, we won't know how all of this works until we get a chance to play the game for ourselves. It's totally conceivable that this will be a little too user friendly, and it might have to be tweaked via patch in order to find the right balance. I like the concept of removing the right thumbstick input, as it makes the act of deking more reactive than premeditated, and I think that will lend itself to chaining dekes together in order to get around multiple defenders. Ramjagsingh also mentions that the feel of these loose-puck dekes have been overhauled, with added animations and better puck pick-up. At the end of the day, the simplicity of these new dekes will be nice, but I still hope that they remain a tool for high-level danglers.



The trailer also touches on the improvements to the True Performance Skating engine, namely with the inclusion of strafing on defense. The idea is that players last year always focused narrowly ahead, with a limited range of deterrence. This year, the "focus cone" for each player seems to have been widened, and they are able to skate to the side with much more purpose and quickness, allowing for quick reactions and hits when an offensive player tries to make a move around them. Frankly, any improvement over last year's defensive skating (particularly for the AI) would be more than welcome, and if you combine that with the new hitting, I'm hoping to see a lot less breakaways from players who would just blow by the defenders.

It's also noted that pivoting and high-speed turning have been improved so that players are more responsive on all areas of the ice. To me, that sounds like code for "we won't punish you with inertia so much this year." The True Performance Skating last year was definitely the best addition to the game, but some people didn't like how out of control players got at high speeds. They appear to be relaxing this feature a bit. I hope only slightly, though, as the new skating really has a risk-reward element that I dig.

Final Thoughts

In general, I'm liking the promise of this trailer, especially in regards to more reactive deking and better defensive coverage and skating. The deking appears to be simplified without sacrificing complexity, and the defensive skating can't help but improve on last year's effort. If the words in this trailer ring true -- that they're striving for "gameplay balance" -- then there's good reason to be optimistic about these changes.
The OS Daily Ten - Superstars or 'Team Basketball' the Key to an NBA Championship?
10:06 AM - May 15, 2013. Written by jmik58
(3)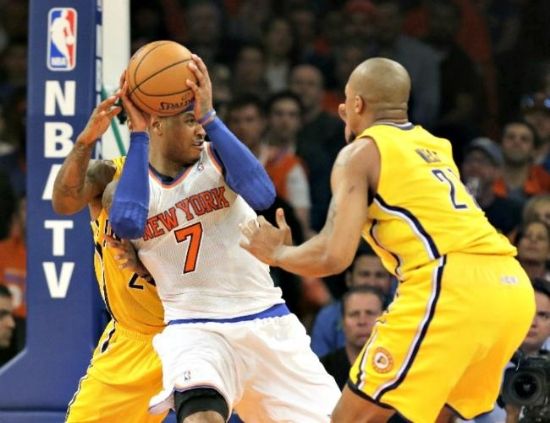 Top Sports News for Wednesday, May 15, 2013



1. Is New York's heavy reliance on three-ball and jump-shots losing series against Pacers?
Maybe the clichés are true: You live by the three, you die by the three; the Knicks are just showing their age, or maybe teams built around shooting can't rebound. "During their 26-point Game 2 win over the Pacers, the Knicks held a modest 37-35 rebounding edge on Indiana. But, in their three losses during the series, New York was outrebounded by 14, 13, and 18, respectively."

2. Like New York, is it the same story for Golden State?
It's been fun to cheer on the young guys and their amazing three-point circus, but when Steph Curry and Klay Thompson aren't hitting treys, Warriors basketball is difficult to watch. The Spurs are one win from advancing and it looks like it will take two near-perfect games for Golden State to pull it off.

3. Jayhawks land nation's top basketball recruit, Andrew Wiggins.
Early in the process, KU coach Bill Self felt his chances were slim at bringing in the Toronto native and Naismith National Player of the Year (Huntington Prep, West Virginia in 2012). Wiggins also considered North Carolina, Kentucky, and Florida State -- his parents' alma mater.

4. Michael Vick once warned by friend that prison was in his future.
5. Chargers linebacker tears ACL, Freeney possibly a replacement.
6. Greinke returns tonight for Dodgers after fight-induced injury.
7. Michigan coach Hoke says Irish are 'chickening out.'
8. UFC 165 slated for September 21 in Toronoto.
9. Packers hoping for reunion with Brett Favre.
10. Young's father claims brain disorder behind recent arrests.


QOTD: Are superstars or 'team basketball' the key to an NBA championship?
What 'new' titles is EA Sports working on?
03:23 PM - May 14, 2013. Written by MMChrisS
(16)

During EA's quarterly conference call, acting CEO Frank Gibeau announced new titles were coming from EA Sports, and we know that one of them is not NBA Live.

Gibeau mentioned the titles EA was already planning to release this year by name, "This includes our core sports titles of Madden, FIFA, FIFA Manager, NBA LIVE, NHL, and NCAA Football."

It has been speculated EA will be announcing new sports titles at E3 for quite some time, but Gibeau officially announced that new titles are coming from EA Sports, "We plan to unveil new titles from EA Sports, BioWare and DICE and a first look at some brand new games."

Here's a look at the possibilities for what brand new games you might expect at the Show:

UFC Game: EA bought the UFC license and shocked the world with an announcement last year at E3 and the last we've heard from EA is a brief interview that mentioned the new UFC game was coming to the 360, PS3, and PC. This year, expect EA to formally announce the game's arrival on consoles, even though the release date is beyond Q1 2014.
Major League Baseball: It was apparent Major League Baseball had a freak out moment and basically twisted Take Two's arm to put a MLB product on the 360 this year. My theory is that this was to buy a year so that another developer could step in and develop a game that will likely be announced soon -- and the logical company is EA Sports. It's doubtful Take Two is going to be in the MLB business again this year given the complete lack of effort, so I'm expecting MVP Baseball's return this summer to be the second most likely event.
College Basketball: There has been some talk of EA wanting to revive a college basketball game, and it would stand to reason as EA hasn't developed a college basketball game since NBA Live was axed. It's a lot harder to develop one basketball game that is a niche sport like college basketball and expect it to profit than to develop a college basketball game alongside a pro basketball game in the same studio. If college basketball is coming back to our consoles, it's going to happen within the next two years from EA.
Grand Slam Tennis 3: The last Grand Slam Tennis was released in early 2012 to mixed reviews, it's entirely possible Grand Slam Tennis could be a title EA is wanting to bring to the new XBox as part of a theoretical exclusive deal between Microsoft and EA on the new consoles.
EA Sports Active: Another intriguing possibility is a Microsoft only fitness game ran through the new Kinect that EA Sports produces. Given an exclusive agreement between EA and Microsoft, this would be the type of production you could expect to see between both companies. It's possible, I'd buy it (I enjoyed the first ones as home workout supplements) but I'm not sure this is a blockbuster type of announcement you'd expect -- unless there was some type of integration with a Jawbone Up type of bracelet and social/app features, then this gets really fun really fast.
The Field: Perhaps EA has another game they're working on that they want to bring to next gen consoles. A EA Sports collection type of game that mirrors Wii Sports, or perhaps a Rugby or Cricket game, perhaps EA is looking to publish an MLS Title? It's doubtful these are the types of games that would be met with much fanfare at E3 though, so I have doubts on anything more niche making its way into the show.
What game(s) do you think EA announces at E3 for EA Sports?