If there was a description for kelvinmak's blog, this is where it would be.
Someone please tell kelvinmak to sort this out!

Posted on May 16, 2013 at 03:22 PM.

So Let Me Get This Straight, Part I:

Man City's Chairman Al Mubarak was embarrassed by the way Mark Hughes was fired by the club. And now they hang Mancini out to dry by doing the exact same thing, pretty much confirming Pellegrini's hire the day before Mancini had to lead the team out onto Wembley for the FA Cup finals?

Interesting to read City fans' reactions on the club firing Mancini. There are a few ways to look ... Read More
Posted on May 8, 2013 at 12:52 PM.
Even Fergie Time has to end, it seems. The Manchester United manager will retire and head upstairs after this season, taking a seat on the board as a director.

(UPDATE: The Guardian now has an article up on how the entire process went down.)

(UPDATE #2: Not much we know at the moment, but Wayne Rooney has apparently-- again-- asked for a transfer)

The Premier League ... Read More
Posted on May 2, 2013 at 12:02 PM.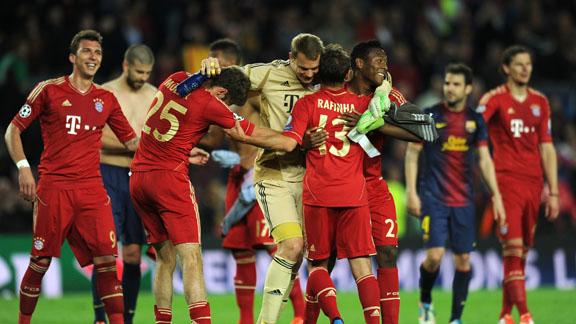 Barcelona 0 - 3 Bayern Munich (0-7 on Aggregate)

Now that was a proper thrashing.

I don't know what's more amazing, putting three past Barca in Nou Camp, winning 7-0 on aggregate, or doing all of it in a fashion that made Barcelona-- Barcelona-- look like such a hapless group of pedestrians. The Bayern team just looks irresistible ... Read More
Posted on April 25, 2013 at 06:35 PM.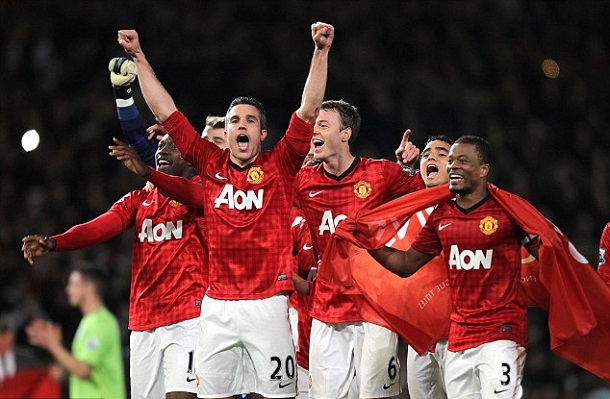 Well, that was an interesting few days.

One of the Most Uninteresting Title Races In Recent Memory

With four games to go, Manchester United clinches the title. This one was in the bag pretty much by the end of January.


A take on the on the whole Guard of Honour
... Read More
Posted on April 22, 2013 at 06:47 PM.
(4)

PES 2014 will include a dedicated Asian Champions League mode, "enabling users to control one of the 32 teams that compete in the tournament."

One can assume that this mode will be similar to the other competitions-- The Copa Libertadores and the UEFA Champions League-- currently in PES, most likely featuring some branded presentation and the ability the play the entire tournament. So far we've only heard about ... Read More
Posted on April 8, 2013 at 11:29 AM.
(6)
As somebody who grew up playing the

NHL

series (and hates the current fighting module), it was really interesting to read

Glenn's take

on fighting in hockey games. In many ways, you can ask the same question about diving in soccer games. Is there a place for it? And if it does, is there a way the games can simulate-- no pun intended-- it properly?

Right now, the option for players to initiate a dive is present

... Read More
Posted on April 1, 2013 at 11:39 AM.
(0)

Some of the following may or may not have been written in jest:

Sunderland have appointed Paulo Di Canio as manager after sacking Martin O'Neill...
Interesting though, how the narratives differ between Reading sacking
... Read More
Posted on March 19, 2013 at 06:00 PM.
(3)

Winning Eleven Blog has posted a more detailed writeup from Edge Magazine's preview of PES 2014's Fox Engine. Some additional interesting tidbits:

I know it's all words, and we're getting to the point where we should start to temper our expectations until we, you know, actually see something from the actual game, but this is another encouraging anecdote: "the article states that real and engine versions of Old Trafford
... Read More
Posted on March 19, 2013 at 10:17 AM.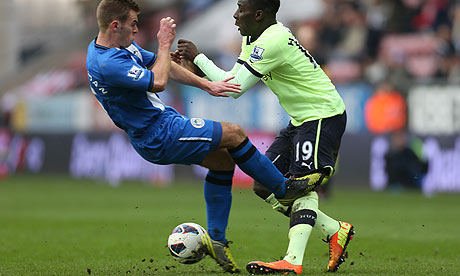 Happy Tuesday! Here are some soccer related bits n' bobs you may be interested in.

... Read More
Wednesday, March 13, 2013
Posted on March 13, 2013 at 04:08 PM.
(7)

And so it begins.

PES fires the opening salvo in the battle of previews, with fresh details on (mostly) PES 2014's new Fox Engine. What to make of them?


Barycentre Physics: Great, another feature name, like FIFA'sImpact Engine, that I'll have to remind myself not to overuse in the articles/reviews.
This is a particularly interesting tidbit from the writeup: "You control the player and the physics
... Read More
Posted on March 8, 2013 at 01:22 PM.
(10)

Goodbye, David Beckham. Hello, various over the hill ex-Premier Leaguers! (And, yes, good homegrown talents.)

Last week was a fun opening weekend for Major League Soccer, wasn't it? The Timbers and the New York Red Bulls battling to a 3-3 draw (my, what sound and fury from the Timbers fans), and the Impact upsetting the Sounders with a 1-0 win. Good old ... Read More
Posted on March 5, 2013 at 08:35 PM.
(5)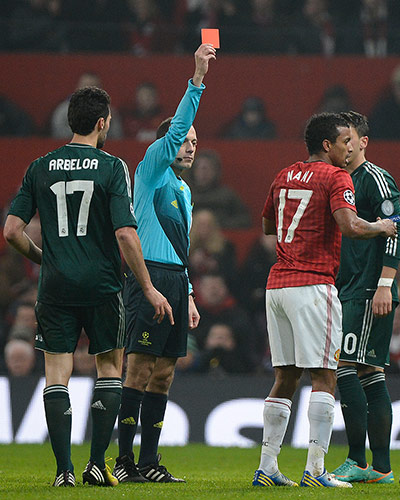 What's all this hoopla-- an important match was played today? Did something controversial happen?

- Treble No More: Well, there goes Manchester United's dreams of a treble, in probably the most contentious fashion possible. So what comes next for the team? They could lose momentum, stumble, lose a few games (maybe get knocked out of the FA Cup too), and City ... Read More
Posted on March 5, 2013 at 01:08 PM.
(0)

(H/t to I'mTellinTim for posting the update in the OS Football Manager forums)

In case you missed it, Sports Interactive has released a new patch/data update-- with January transfers included and players' attributes updated-- for Football Manager 2013. Traditionally, this is the last official release from SI until FM 2014, barring any extraordinary circumstances.

The changelist can be found here: http://www.sigames.com/news/14218/Fo...Update+out+now ... Read More
Wednesday, February 27, 2013
Posted on February 27, 2013 at 11:44 AM.

Wouldn't you know it, we're heading into the dog days of March already, and that fresh excitement you got from firing FIFA 13 up is probably long gone. But for those of us who still want to spend a few hours on the game every weekend-- and especially those who don't do the Ultimate Team thing too often-- just how do you keep the game fresh?

Why, give yourself a challenge or two, of ... Read More
Wednesday, February 20, 2013
Posted on February 20, 2013 at 01:34 PM.
(9)

To borrow a phrase that's all too often thrown around when describing the sport, it's been a game of two halves for soccer games in this console generation.

Things kicked off to a somewhat shaky start. For PES, the less said about its' early efforts the better, as the franchise seemed to have been horribly unprepared by the console transition. PES 2008 and 2009 were all over the place, with its laggy online, bumbling ... Read More
kelvinmak's Blog Categories
kelvinmak's Screenshots (0)
kelvinmak
does not have any albums to display.
The last 10 visitor(s) to this Arena were:
kelvinmak's Arena has had 51,325 visits