Posted on May 18, 2013 at 09:00 AM.

Earlier this week, independent developer Roll7 announced their plans to release OlliOlli, a sidescrolling skateboarding game, this November exclusively for the PlayStation Vita.

Roll7 describes OlliOlli as "mixing addictive one-button-one-life infinite runner gameplay with the trick and combo mastery of skateboarding games like Tony Hawk's Pro Skater ... Read More
Posted on May 16, 2013 at 03:26 PM.

Starting today and lasting through the end of May, online giant Amazon.com is holding a massive digital download sale spanning more than 800 PC titles:

http://www.amazon.com/gp/feature.htm...=operasport-20

Many of the deals are limited-time offers, so below is a breakdown of all the sports games involved in Amazon's sale:

5/16/13 only
... Read More
Posted on May 8, 2013 at 07:15 PM.
Microsoft Studios' Doritos Crash Course 2 today joined the growing list of always-online games rendered unplayable by server connection issues on its launch day.

Over twelve hours into the game's launch, gamers still cannot make it past Doritos Crash Course 2's opening loading screen, as the game repeatedly fails to connect to non-functioning servers.

... Read More
Posted on May 3, 2013 at 09:42 AM.


Xbox Live Gold members can grab NBA Jam: On Fire Edition, NFL Blitz and Tony Hawk's Pro Skater HD for 50% off now through May 6.

Joe Danger 2: The Movie rounds out the list of sports games with a much-less-exciting 33% discount.

To access the sale prices, gamers must be a paying Xbox Live subscriber with a monthly recurring subscription, as neither a 48-hour Gold trial nor a free Gold weekend promotion will work. ... Read More
Posted on May 2, 2013 at 02:59 PM.
(2)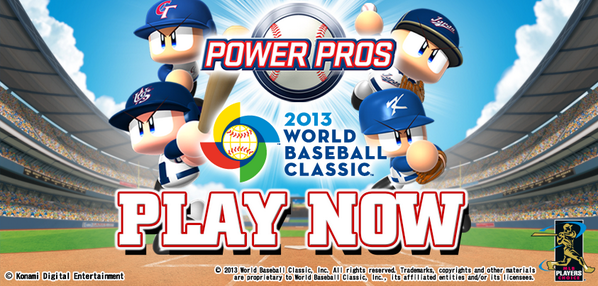 The iOS version of Konami's Power Pros 2013 World Baseball Classic is temporarily free to download thanks to an ongoing Apple promotion.

Gamers with Android phones are out of luck, as the Android version is not a part of the special sale, remaining at its normal price of $4.99.

Power Pros 2013 World Baseball Classic features all 16 teams from the recently completed tournament, as well as accurate player ... Read More
Posted on April 25, 2013 at 03:52 PM.
(5)

Tuesday afternoon, Sony threw wrestling fans a swerve by re-releasing Fire Pro Wrestling Returns for download over the PlayStation Network.

Weighing in at 4.4 gigabytes, the $9.99 digital release is a direct port of the original 2007 PlayStation 2 game.

Because "PS2 Classics" are not currently supported on the PlayStation Vita or PlayStation Portable, this ... Read More
Posted on April 25, 2013 at 11:06 AM.

This evening, Konami launched its second free title update for the PlayStation 3 and PlayStation Vita editions of Pro Yakyū Spirits 2013.

The version 1.02 patch includes several new players, updated player equipment, revised player ratings plus a few gameplay and AI adjustments.

New Players Added To Roster

#27 Nyjer Morgan -- Yokohama DeNA BayStars
#62 Cheng Kai-Wen -- Yokohama DeNA BayStars ... Read More
Posted on April 12, 2013 at 04:19 PM.
DarkSeas Games announced today that they are attempting to resuscitate the motorcycle combat genre with their new Kickstarter project Road Redemption.


Road Redemption's mission statement is to "bring back the classic Road Rash-style gameplay, with next-gen graphics, physics, and online play!"

Design for ... Read More
Posted on April 9, 2013 at 04:44 PM.
(6)
Xbox 360 Indie grappler, Action Arcade Wrestling 2, debuted a new trailer today featuring Beta-stage gameplay footage:


So far, Action Arcade Wrestling 2's feature list includes:

Nintendo 64-style grapple and strike controls
Blood
Weapons, no disqualifications
Destructible ring-side announcer table
Flaming tables
Cage match
Singles
... Read More
Posted on April 3, 2013 at 07:05 AM.
A special Microsoft Studios publisher sale began today for Xbox Live Gold subscribers. Running now through Monday, April 8, the sale features great deals on Xbox Live Arcade racers, Trials and Hydro Thunder.




Check out Operation Sports' archived reviews for more information about the games involved in the sale:

Forza Horizon -- 8.5/10
Trials Evolution -- 8.5/10
Trials Evolution: Origin of Pain ... Read More
Posted on March 29, 2013 at 09:20 AM.

This past weekend, Konami quietly released a mobile version of its long-running Power Pros franchise onto iTunes.

Priced at $4.99, Power Pros 2013 World Baseball Classic features two game modes: exhibition and championship. Championship mode replicates the World Baseball Classic tournament, beginning with round-robin pool play and ending in ... Read More
Wednesday, March 27, 2013
Posted on March 27, 2013 at 05:50 PM.
(2)

Earlier this afternoon, the owners of spiritstranslation.com launched a new sister site, powerprotranslation.com, which offers screen-by-screen translations for Konami's Japanese Power Pros baseball games. English-speaking baseball gamers will now be able to navigate through Power Pros' menus and change key gameplay settings without difficulty, as 95% of the series' text is written in Japanese text and Kanji characters.
... Read More
Wednesday, March 20, 2013
Posted on March 20, 2013 at 09:53 PM.
(17)

Pro Yakyū Spirits 2013, the latest outing in Konami's long-running Professional Baseball Spirits series, had its opening day today for the PlayStation 3, PlayStation Portable and PlayStation Vita.

Despite being a Japan-only release, Konami has not included any region protection, so American baseball fans can freely import the game and play it on North American PlayStation systems without any issues.

... Read More
Posted on March 15, 2013 at 10:40 PM.
Earlier today, independent developer Mode 7 announced its plans to bring turn-based gameplay to a futuristic gridiron project named Frozen Endzone.


Gameplay consists of two robot teams pre-planning their movement across randomly generated terrain, with the red defensive forces trying to prevent the blue offensive side from reaching the end zone. ... Read More
Posted on March 9, 2013 at 10:51 AM.

This week, hackers discovered that the entire F-Zero AX arcade game is not only hidden, but actually playable on the Nintendo GameCube's F-Zero GX disc. To access the secret content, players must enter a region-specific Action Replay code before booting up the game:


| | | |
| --- | --- | --- |
| | Quote: | |
Action Replay code to access F-Zero AX [NTSC-U]

61TA-AXPK-UAV9E
EHJV-6U30-2DTVE
NBCW-U1NV-0JDJG
HK7K-0RFW-FNQ8Y
... Read More
jyoung's Xbox 360 Gamercard
jyoung
does not have any albums to display.
The last 10 visitor(s) to this Arena were:
jyoung's Arena has had 69,551 visits