End of Console Generations is Not an Excuse for No Innovation
Submitted on: 04/10/2012 by
Jayson Young
"Innovations will come with the new consoles" has become a popular defense for stale franchises like Madden NFL and NCAA Football, as they continue to improve in marginal and incremental ways instead of making sweeping changes or true innovations during the Xbox 360's and Playstation 3's final hours.

Yet Madden's history, spanning over 20 years and four generations of consoles, suggests that the opposite of "incremental change" should be happening right now.

In all previous console generations, the Madden NFL series reached its creative peak just as veteran systems neared their retirement.

End Of The 16-Bit Era: Madden NFL '95
The three years between John Madden Football's console debut and the release of John Madden Football '93 saw no meaningful upgrades to the Madden franchise. It wasn't until Madden NFL '94 that the series started to make significant strides, nabbing the official NFL team rights and introducing a full season mode.

The following year, Madden NFL '95 made the series' biggest gameplay change of the 16-bit era when it gave players the ability to pass the ball without the annoying "passing windows" taking up a third of the screen. It also secured both the NFL and NFLPA licenses for the first time in the game's history, adding to its authenticity. The addition of Fox Sports' theme music and logos also added a "televised feel" to Madden NFL '95. Even the season mode was expanded, offering full stat tracking for all the game's players and teams.

Madden NFL '95, arguably the best, most-ambitious version of the 16-bit era, released at a time when the next generation of consoles were already underway in Japan, with both the Sega Saturn and Sony Playstation launching in the fall of 1994.

The Playstation and Saturn would be released in America and Europe the following year, and by 1995, Electronic Arts' focus had shifted towards developing for the new systems. The Playstation version of Madden NFL '96 was never released, as it could not pass EA's internal testing standards, marking the only time in Madden's career that a console game had to be cancelled.
End Of The 32-Bit Era: Madden NFL '99
Electronic Arts initially struggled with developing for Sony's and Sega's new hardware, as EA Sports' early crop of games for the Playstation and Saturn were unspectacular. Particularly on the Playstation, many gamers preferred Sony's NFL Gameday series for its 3D polygonal graphics and groundbreaking audio design.

After trailing NFL Gameday in sales for two consecutive years, Madden NFL '99 finally rejuvenated the series in 1998 with one huge inclusion: franchise mode. The 15-season mode featured a yearly four-round draft, player progression, trades, free agency and a realistic rotating schedule.

Other football games before Madden NFL '99 had included multi-season modes, but for many console gamers, Madden NFL '99 was the first exciting look at what would become the sports genre's primary mode of play for the next decade.

Franchise mode was not the only innovation for Madden NFL '99. The game was compatible with NCAA Football '99, to the extent that created NCAA players could be added to the free agent pool in Madden. Compatibility between the two EA Tiburon football games would continue to expand in future editions.

The ability to create custom plays also made its way into Madden NFL '99, a feature that carried over to PS2 versions of Madden but remains inexplicably absent this generation.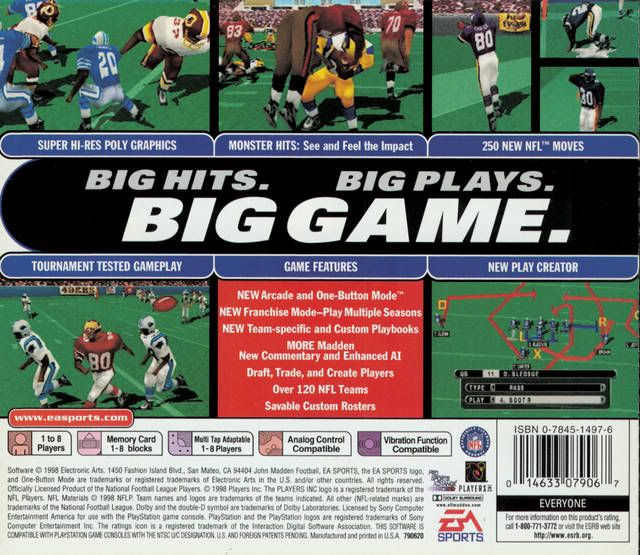 Madden NFL '99 delivered the series' peak performance for Sony's Playstation and Nintendo's N64 the same year that a new 128-bit console was launching in Japan -- Sega's Dreamcast.

Electronic Arts would take a company-wide stance of not publishing games for Sega's new system, and though Madden would remain strong financially the next few years, the series struggled to match the quality of Sega's new 2K Sports brand while EA Sports underwent the transition from Playstation to Playstation 2.
End Of The 128-Bit Era: Madden NFL 2005
For anyone who had a Dreamcast, Madden's early Playstation 2 games were forgettable and unremarkable. EA Sports chose to ignore the rapidly growing world of online console gaming until their third Madden release on the system, Madden NFL 2003. It wasn't until Madden NFL 2004 that EA Sports produced the series' first real winner in the 128-bit era. Owner mode and training camp added new life to the stale franchise mode. Offensive "playmaker controls" were a great gameplay addition, though they had the unintended side-effect of imbalancing the game in the offense's favor.

Enter Madden NFL 2005, which addressed the previous game's defensive issues with two new features: defensive hot routes and the fan-favorite "hit stick." Those new defensive tools made Madden NFL 2005 one of the most-balanced entries in the series' history. Arguably, Madden NFL 2005 was the first time in a Madden game where players could enjoy defense instead of feeling frusturated and powerless to stop the offense.

The improvements didn't stop with gameplay, as Madden NFL 2005's franchise mode also received an entertaining new feature with the "Tony Bruno radio show." Bruno's weekly broadcast generated storylines for your franchise based off its week-to-week performance, featuring interviews with players, coaches and crazed fans. Bruno's radio show helped bring a human element to franchise mode, which traditionally has suffered from being overloaded with stats, ratings and text menus.

Microsoft's Xbox 360 would debut in the fall of the following year, just in time for the release of Madden NFL '06. The Xbox 360 version of Madden NFL '06 would infamously become one of the least-liked and lowest-rated editions in Madden's 20-year history, primarily due to its lack of modes and features.

End Of The Current Era: Madden NFL '13

If Madden NFL '13 fails to deliver a great football experience this fall, it won't be because new consoles are looming. Historically, some of Madden's greatest achievements have come when systems are nearing the end of their relevancy, just as the Xbox 360 and Playstation 3 are now.

With Nintendo's Wii U set for a worldwide 2012 launch, and rumors of Sony's and Microsoft's next consoles launching soon after, the next generation of consoles is imminent.

So if Madden NFL '13 fails to innovate -- if it fails to excite, as no Madden has this generation bar Madden NFL 10 -- do not blame the new consoles, blame developer EA Tiburon's inability to take advantage of the current consoles' technology.