The dynasties we recommend...
- Braves May 1st Update. by bkrich83

(4)


- May 1st Standings and League Leaders by bkrich83

(6)


- 2012/13 Eastern Conference Semi Finals Recap - East Finals Preview by cgalligan

(7)


- Draft Results by wolvesjr34

(3)


- General Manager's Assessment Allstar Break by wolvesjr34

(2)


- 2012/13 Western Conference Semi Finals Recap - West Finals Preview by cgalligan

(7)


- Monday, April 4, 2011 by rbowlden

(1)


- Sunday, April 3, 2011 by rbowlden

(0)


- RTTS 2014 Regular Season Update 1 by crbuke

(1)


- Chicago Cubs (fantasy draft) by Pete_Dogg_18

(5)


See all the latest Dynasty Comments in one location.
Thursday, February 12, 2015
10:45 PM - February 12, 2015. Written by Roscosuper
Wednesday, February 11, 2015
02:59 PM - February 11, 2015. Written by brettas2
After the first week of the MLB Season, the Milwaukee Brewers have started 4-2 with series wins over the Braves and Red Sox. On Opening Day, the Brewers clawed back into the game with late game heroics by red hot shortstop Jean Segura hitting his first home run of the season to give the Brewers the lead in the 8th inning. The Crew would overcome the slow start with timely hitting and the bullpen late in the game. Will Smith picked up his first win of the season.

In the second game it was the exact opposite with the Brewers taking a 7-0 lead going into the 7th inning and Jared Jeffress and Johnny Venters combined to allow 8 runs as the Brewers fell 7-9.

The series finale was dominated by Wily Peralta as he pitched 7.1 shutout innings only to have his shutout snapped by an inside the park home run by Chris Johnson after Carlos Gomez miss played a line drive in center field. John Axford made his return to Milwaukee, picking up his first save of the year with 1.2 lights out innings.

The Crew then traveled to Boston and snagged the first game of the series with a solid outing by rookie, Yasmani Hernandez. Only to struggle late in game 2 again with the bullpen dropping the lead on a home run by David Ortiz. The Brewers then took victory on an odd day as both starting pitchers were pulled after the fifth with the Brewers in the lead and it would stay that way with Kyle Lohse getting the win and Jonathan Broxton notching his first save.

Overall the bullpen seems to be a Jeckyl and Hyde group as they are unhittable some days and knocked around the pack on others. Jon Axford, Jonathan Broxton and Tyler Thornburg have been solid while Jared Jeffress and newcomer Johnny Venters have struggled.

The offense has been steady and able to put up runs with and without the long ball. Segura is off to a hot start along with Gomez, Braun, Lucroy and Scooter Gennett. Adam Lind and Aramis Ramirez seem to be an early cause for concern as Lind is under .200 and Ramirez is struggling with runners on base.

The Crew now travels to Philadelphia for 3 games before returning home for the Pirates and Cardinals.
01:42 PM - February 9, 2015. Written by michaellowll
(1)
Trade Logic - On
Trade Deadline - On
Financial Trade Rules - On
Trade Override - Off
CPU Trade Offers - On
CPU-CPU Trades - On
Trade Approval - On

General

Quarter Length - 11 Minutes
Sim Quarter Length - 12 Minutes
Injuries - On
Roster with Injuries - On
Progressive Fatigue - On
Team Chemistry - On
Lineup management - Manual
Prospect Training - Manual

Difficulty Settings

Gameplay Difficulty - All-Star
Simulator Difficulty - 50
Trade Negotiation Difficulty - 55
Contract Negotiation Diff. - 60
CPU Re-Signing Aggressiveness - 75
Morale Difficulty - 80
Moral Effects - 60
Chemistry Difficulty - 90
Chemistry Effects - 80
Trade Frequency - 40
Blockbuster Trade Frequency - 35
CPU Injury Frequency - 55
User Injury Frequency - 52 too many injury in the game
Career Ending Injury Frequency - 35
User Injury Effects - 56
CPU Injury Effects - 56
Draft Class Quality - 15
Player Progression Rate - 54
In-Season Training Effects - 46
Player Non-Financial Ambitions Factor - 80
Normalize Played To Sim Minutes - ON
09:32 AM - February 9, 2015. Written by Roscosuper
Bolts Insider



With the 2013 season in the books, the Chargers saw a lot of substantial changes to the team.

The first, was the hiring of new General Manager Tom Telesco, a man with six years of experience with the Indianapolis Colts. After several putrid seasons under 'over-the-hill' A.J. Smith, Telesco was the perfect man to bring a fresh, young outlook to the orginisation.

His first move was the hiring of ex-Denver Broncos OC, Mike McCoy, who led the team to their first double digit winning season in 4 years. The Chargers fell to the Broncos in the Divisional round 24-17.

In his short tenure, Mr. Telesco has been able to assemble a successful new coaching staff and a talented roster. However, it seems more change is on the horizon.

With many experts speculating on a Chargers move to LA, mounting pressure from a long-neglected fan-base and a 46 year-old stadium, Mr. Telesco, and Chargers owner Dean Spanos, decided change was needed. Mr. Telesco held a press conference on Friday and issued this statement:

"First of all I would like to thank all of the fans for their continued, unwavering support through many hard years with the Chargers, and being so gracious to accept me so quickly.
As we all know our franchise is one of the poorest in the NFL, we have a stadium that is falling to pieces and a team that has never won a Superbowl. I think we can all agree, change is needed.
This city deserves a Superbowl, it deserves a new stadium, it deserves better. That is why Mr. Spanos and I have come to a decision what is to be done.
First, the franchise needs money. We need revenue from ticket sales and luxury boxes that we can't provide. However, neither can we afford the stadium to do so, but we are close.
Secondly, we need a young, revamped roster that can provide the spark this team has been lacking for so long. We will kill two birds with one stone.
We have decided that by cutting ties with much of the roster will give us the funds necessary to begin work on a stadium this year. It could be considered too extreme by many critics, but this franchise has waited long enough for their team's success.
Thank you again to the fans for their patience and I hope they will continue to support us through this transitional period.
Go Bolts."

Despite the uproar from many, it seemed to be a move that was eventually inevitable.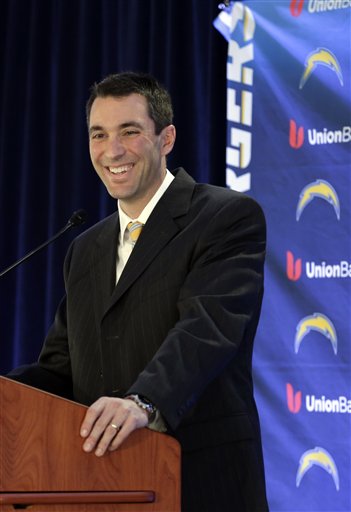 New Chargers GM Tom Telesco, has wasted no time making huge changes to the team.




Following this monumental statement, Bolts insider compiled a detailed list of the Chargers roster accompanied by player ratings, found in the following 'Excel' document:

http://www.mediafire.com/view/54g59s...Team_2014.xlsx

(We recommend you download the file as it has issues opening on the web. It is 100% safe.) Names in red are those thought not to be with the team moving forward.

The Chargers soon released a further statement, detailing all of the roster moves made before Pre-Season.

These moves and further analysis can be seen at:

https://www.youtube.com/watch?v=ksZs...aCrM3eb1rtL1Bg


Released:

R. Brown - RB
M. Floyd - WR
E. Royal - WR
A. Gates - TE
M. Windt - TE
K. Dunlap - LT
R. Ohrnberger - C
D. Legursky - C
J. Clary - RG
D. Square - RE
C. Alexcih - DT
J. Johnson - LOLB
R. Walker - MLB
D. Freeney - ROLB
M. McBriar - P

Trades:

P. Rivers - QB and SD's 6th Round-2016, was sent to CLE for a 1st Round-2015.
B. Flowers - CB and N. hardwick - C was sent to DET for a 1st Round-2015 and a 5th Round-2015.
E. Weddle - FS and a 6th Round-2015 was sent to JAX for a 1st Round 2016 and a 5th Round-2015.
D. Woodhead - HB was sent to TEN for a 4th Round-2015 and a 7th Round-2015

Signed:

K. Kolb - QB
J. Baldwin - WR
L. Brazil - WR
B. Campbell - LT
T. Bond - LG
R. Fragel - RT
A.J. Jefferson - CB
J. Young - FS

The following moves have assembled a young, but inexperienced team which is very light on the Chargers wallet. Saturday morning, exciting news came that a deal had been reached with the city, and finally a new stadium was underway in San Diego's East Village.
Things are looking bright for the Chargers franchise, and we will keep you up-to-date on any further developments.



The Qualcomm is finally reached it's last year, and a new Chargers stadium is set for completion by the start of next Pre-Season.




The Bolts Insider is an independent news-letter, created by a long-time, avid Charger fan, dedicated to bringing you all the top news and results as they happen!
06:03 PM - February 8, 2015. Written by bayers3
THE INDIANAPOLIS STAR (COLTS DYNASTY REPORT)


8:30PM ET - November 23nd, 2016
Lucas Oil Stadium - Indianapolis, IN


Oakland Raiders at Indianapolis Colts
Nov 23, 2016
1ST
2ND
3RD
4TH
SCORE
Oakland Raiders (5-6, 2-3 Away)
7
14
0
7
28
Indianapolis Colts (10-1, 6-1 Home)
0
17
7
21
45


Top Performers

Passing : A. Luck (IND) - 413YDS, 4TD
Rushing : J. Forsett (IND) - 29CAR, 186YDS, 2TD
Receiving : D. Rogers (IND) - 10REC, 156YDS

INDIANAPOLIS - Monday Night Football quickly turned into Monday Nightmare Football for the Colts, the second game in a row that things went south against an inferior opponent, but in the end Andrew Luck powered them to victory.

Things went bad almost immediately with Shayn Ramsey leaving the game with what was thought to be a high ankle sprain. Oakland scored from with a Stevan Ridley TD run, and then Luck had to leave the game after getting knocked down on a pass play. Fortunately for Indianapolis it turned to 4th down and Jordan Palmer would have time to warm up. Palmer came out the next possession, but a three-and-out gave Luck enough time to come back in.

Indianapolis got on the board with a 45 yard FG, but the Raiders came back to open the 2nd quarter with a 17 yard TD pass to Harry Douglas. Luck hit Dante Moncrief for an 11 yard TD on the next drive to pull within 4, but on the next drive Justin Forsett would fumble the ball away on the Raiders' 11. Two plays later Kendall Wright was dancing in the endzone with a 21-10 lead.

Luck went to work in the final two minutes of the first half and drove the Colts right down to the 1 yard line for a Forsett rushing TD. The Colts headed into the locker room only down 21-17, but more importantly they were starting to click on offense and defense.


Moncrief stepped up to help Luck turn this game around.


The whole second half turned into the Colts asserting themselves as defending champions. The offensive line really came together, making Ramsey sweat a little, and Forsett looked like a #1 HB option. Indianapolis' ability to run turned the Colts passing game into pitch-and-catch for Luck and his receivers, the Raiders defense was creeping up to stop the run and it gave Luck all kinds of great reads. 21 points later, all on TD passes, and the Raiders were on the wrong end of a beating.

Oakland did manage to score again, but they would allow 28 points in just the second half. Luck finished 30/38 with no interceptions, and aside from Forsett's fumble the running game didn't miss Ramsey at all.

Once again Indianapolis looked bad in the first half only to obliterate the opposition, this kind of performance works against the lesser teams in the leagues but might cost them dearly in the playoffs. Whatever is going on needs to stop before Week 15, the Packers probably won't let things slip away like the Jaguars or Raiders.
Saturday, February 7, 2015
09:05 PM - February 7, 2015. Written by bayers3
THE INDIANAPOLIS STAR (COLTS DYNASTY REPORT)


1:00PM ET - November 15th, 2016
Lucas Oil Stadium - Indianapolis, IN


Jacksonville Jaguars at Indianapolis Colts
Nov 15, 2016
1ST
2ND
3RD
4TH
SCORE
Jacksonville Jaguars (3-7, 2-4 Away)
14
0
0
7
21
Indianapolis Colts (9-1, 5-1 Home)
0
7
21
21
49


Top Performers

Passing : A. Luck (IND) - 409YDS, 3TD
Rushing : S. Ramsey (IND) - 28CAR, 131YDS, 2TD
Receiving : T.Y. Hilton (IND) - 11REC, 204YDS

INDIANAPOLIS - The expectation for today's game was an outright blowout, and the lack of Jaguars fans in the stands was very evident. It was hard to find Jacksonville fans, and you were more likely to find a Mark Brunell jersey than a Blake Bortles one. Despite the sorry state of the Jaguars franchise, this game turned everyone's expectation on it's head.

The Colts have experienced minor bouts of struggling on offense, and today was one of the worst instances this season. More importantly, the defense was not doing it's job. Jacksonville opened the scoring with a 65 yard screen pass to former Colt Hakeem Nicks, and then LeGarrette Blount rumbled for an 80 yard TD run. The 1st quarter ended with Jacksonville up 14-0, and a lot of Colts fans were speechless.

The 2nd quarter crawled along, with the Colts defense stepping up, and the only score was a 1 yard TD by Shayn Ramsey. The secret to Jacksonville's success was flustering Andrew Luck, who would finish the 1st half 14/27 for 183 yards and no TD.


Ramsey could not be stopped in the 2nd half.


Indianapolis went into the locker room, the coaches made some adjustments, and then they woke the dragon. Three straight TD drives, all ending in TD pass from Luck, and sudden the Colts were enjoying a 28-14 lead. The defense was suffocating, racking up 4 drive killing sacks that left Bortles shaken. The 4th quarter wasn't much better with the Colts scoring another TD thanks to a Moncrief punt return that put Indianapolis on the Jaguars 30 after they had to punt from their own 1 yard line.

The 4th quarter was mostly just Ramsey running over the Jaguars defenders and Bortles playing poorly. The Colts defense went into pass protection, setting their defensive line loose, and Bortles could barely stay upright. Donavon Browning and Terrance Knighton snagged 3 sacks a piece and pushed the game total to 9. The final humiliation came when Branch Daniels snagged a Bortles pass as ran it back 48 yards for a TD.

Jacksonville had to be wondering what happened, but the Colts move on with their easy stretch of games. A visit from Oakland should be slightly more difficult than this week, but it's doubtful they can win.
08:48 AM - February 7, 2015. Written by temaat89
(13)
Starting today, I will no longer be posting individual game updates for this tournament. However, I will be posting the linescores of each game as comments on this post.

Also, feel free to follow along with the bracket below. You can also vote for the winner of each game through the bracket's website at: http://challonge.com/NCAA126DE



Thank you everyone who is following along!
09:29 PM - February 6, 2015. Written by bayers3
THE INDIANAPOLIS STAR (COLTS DYNASTY REPORT)


8:20PM ET - November 3rd, 2016
Lucas Oil Stadium - Indianapolis, IN


Houston Texans at Indianapolis Colts
Nov 3, 2016
1ST
2ND
3RD
4TH
SCORE
Houston Texans (5-4, 2-3 Away)
0
0
6
10
16
Indianapolis Colts (8-1, 4-1 Home)
10
14
7
14
45


Top Performers

Passing : A. Luck (IND) - 457YDS, 3TD
Rushing : S. Ramsey (IND) - 26CAR, 83YDS
Receiving : D. Rogers (IND) - 14REC, 381YDS, 2TD

INDIANAPOLIS - After the long trip to San Diego the Colts had the pleasure of a short week thanks to a Thursday night game. This would be Indianapolis' second game against Houston, a win would basically shut the door on the Texans' chances at winning the division. The door was shut hard, fast, and very early for Houston. Heach coach Bill O'Brien could only stare into space and wonder if they will ever get past the Colts.

Houston gave up two TD passes of 20+ yards in the first two quarters, one to T.Y. Hilton and one to Da'Rick Rogers. Houston opened a drive under with 2:00 left before the half with a INT that left Brian Hoyer hanging his head. The throw was so poor and so easy for Vontae Davis to catch he was caught by surprise and fell down on the 18 yard line. A few plays later and Andrew Luck snuck it in himself to seal a 24-0 halftime lead.

The weirdest thing coming into the half was the floundering rushing attacks. Both defenses were on their game when it came to running the ball, Shayn Ramsey (13 carries, 36 yards) and Arian Foster (8 carries, 33 yards) just couldn't do much. It wasn't a problem for Indianapolis since Luck was eviscerating the Houston secondary, but it was a real problem for the Texans.

Things didn't get all that much better for Houston in the second half, but they did manage to get into the endzone. A screen pass to Foster went for 17 yards, but Houston went for two and failed to convert. If the Texans picked up any momentum after the score it was quickly snuffed out, the Colts opened the next possession with an 80 yard TD strike to Rogers which pushed him over 200 receiving yards.


A record breaking performance helped crush Houston.


Houston's rushing defense never gave up, stoning the Colts three times inside the 5 yard line during the 4th quarter. Luck lowered his shoulder and punched it in on 4th down and nearly completed Houston's humiliation. Two times in the 4th quarter the Colts were staring at a 3rd and long after Ramsey couldn't move the ball, and both times a play-action pass to Rogers netting massive gains. When the dust had settled Rogers finished with an NFL record 381 receiving yards.

Today's complete demolition of the Texans sets up the Colts for an incredibly easy run of games. Add in the 3-game cushion on Houston and Indianapolis is almost a lock to repeat as AFC South champs.
09:16 PM - February 6, 2015. Written by Roscosuper
Thursday, February 5, 2015
08:50 PM - February 5, 2015. Written by Roscosuper
05:28 PM - February 5, 2015. Written by Roscosuper
Wednesday, February 4, 2015
12:00 PM - February 4, 2015. Written by Roscosuper
11:57 AM - February 4, 2015. Written by Roscosuper
Tuesday, February 3, 2015
B.I.G. San Diego Chargers Introduction



The Overview:
The San Diego Chargers. Established in 1960, the Chargers have homed legendary players; such as Junior Seau, Dan Fouts, Lance Alworth, Kellen Winslow, LaDainian Tomlinson and many more. An extremely proud and loyal fan-base backs the Bolts, and has supported them through 18 playoff appearances.
One Superbowl.
So what happened?
Why has this perennially talented football team fallen flat so often? Why only one Superbowl appearance? And of course, most importantly, why haven't they won a Superbowl yet?
All great questions, and here, I hope, I can right the ship! Join me on our Youtube channel Brothers In Gaming, as we set out on this great undertaking!


The Aim:
The aim of this Dynasty/video series, is to take you through my journey as I try and rebuild my beloved Chargers from the ground up. You'll follow me through every game, every signing and every draft, leading to our ultimate goal, a Superbowl win.


The Format:
As I've said, this Dynasty will be accompanied by a video series, which will air every second of every game, show all my transactions and help to better explain my thinking and philosophies of building the team.
This series can be found through our Youtube channel Brothers In Gaming which we greatly encourage you to subscribe to, so you never miss a game or an update. There is plenty of content other than Madden to boot!
The link is below:

https://www.youtube.com/channel/UCZy...aCrM3eb1rtL1Bg

You can also follow us on Twitter @Bros_In_Gaming for quick updates and news on the channel.
A game recap and any news will also be posted right here on Operation Sports every week to accompany the video aspect.
This is something I have been planning for a long time and is a labour of love. The first episode is planned to go up this Sunday!
So I hope you will take the time to join me on this grand undertaking, and enjoy it also!



Go Bolts!