The dynasties we recommend...
- Braves May 1st Update. by bkrich83

(4)


- May 1st Standings and League Leaders by bkrich83

(6)


- 2012/13 Eastern Conference Semi Finals Recap - East Finals Preview by cgalligan

(7)


- Draft Results by wolvesjr34

(3)


- General Manager's Assessment Allstar Break by wolvesjr34

(2)


- 2012/13 Western Conference Semi Finals Recap - West Finals Preview by cgalligan

(7)


- Monday, April 4, 2011 by rbowlden

(1)


- Sunday, April 3, 2011 by rbowlden

(0)


- RTTS 2014 Regular Season Update 1 by crbuke

(1)


- Chicago Cubs (fantasy draft) by Pete_Dogg_18

(5)


See all the latest Dynasty Comments in one location.
Wednesday, March 11, 2015
Bolts Insider




Overview:

Preseason is finally over, and Charger fans are probably quite concerned!
The Bolts finished off their preseason stint 0-4, a troubling record. They seemed flat on offense and unable to stop a nosebleed on defense, with a complete lack of hustle. It does bring up questions on Tom Telesco's decision, but we have to remember this is one of the most stripped teams in the NFL, and that's something Chargers fans will have to accept.







A fan at Qualcomm last Sunday.




Coach McCoy had this to say at the post-game conference;
"People have to understand, a lot of these guys have never played more than one season of professional football. Training camp can only get players partly ready, it's not the same....
...I understand that Mr. Telesco's decision was not a popular one with everyone, but he has the Charger's franchise at heart, and their future is more important than one season...
...I'm merely here to facilitate the plans going forward. I'm excited about the changes, we have some great players and a great staff, I hope I'm part of it going forward."







Coach McCoy hopes that he can push the inexperienced squad this year.




That said, we all know preseason is mostly meaningless, but it did help us realise a few Pros and Cons about this rebuilding Chargers team:-


Pros:

* They have at least one good player at most positions; It's hard to believe that to be the case with this record, but most of the best players were on the bench by the 2nd Qtr. Players such as Keenan Allen, Corey Liuget, Melvin Ingram, DJ Fluker, Ryan Mathews, Ladarius Green and even Jason Verrett. At least one player for nearly every phase of the game. Which leads us to the next issue.

* We have seen some standouts; It's clear this team is pretty devoid of depth, despite this, we have seen some players shine through. Newly signed WR Jonathan Baldwin, MLB Andrew Gachkar, WR Tevin Reese, CB Antwon Blake, (to name a few), guys who would be looked over on any other team have had a chance to really stand-out and contribute on this one.
We'll cover them in more detail a bit later.

*They've never quit; Despite two thrashings in the preseason, we've yet to see this team just shut up shop and give up, at least on the offensive side. The fire and determination to win may not count for much, but it might be the difference between a win and a loss this year.


Cons:

* They are inexperienced; This one seems obvious enough. Mr Telesco made it very clear on how young he wanted the team to be during this transition, which obviously creates some issues. Many of the players on this team have experience ranging from four years, to their rookie season. This lack of experience and leadership could account for the team 'choking' in certain situations. That said, just because they're inexperienced doesn't mean there aren't some great players on this team.

* They have poor players at important positions; QB, O-line and DB to be exact, without a quarterback or offensive line to protect him, or a secondary to stop the other team, it's hard to win football games. It's a quarterback driven league, as they say.

* They have no depth; Especially on defense! We've seen some offensive players come in and help out, but very few from the defensive side. Defense has a few good players but not a great unit, which is very important unfortunately. Let's hope, with more time to gel, this starting unit will pull their socks up and start stopping some teams!


Team:

Below is an outline of the final stats for this Chargers group. Below that, a list of players who we thought shined, and fizzled out.



Stats - 2014

Passing
C/ATT
YDS
AVG
YDS/G
LONG
TD
INT
RAT
K. Clemens
26/44
378
8.6
94.5
64
3
0
109.8
K. Kolb
70/120
751
6.3
187.8
29
3
5
67.7
Rushing
ATT
YDS
AVG
LONG
20+
TD
YDS/G
FUM
B. Oliver
44
186
4.2
18
0
3
46.5
0
R. Mathews
21
106
5.0
69
1
1
26.5
0
D. Brown
2
5
2.5
3
0
0
1.7
0
Receiving
REC
YDS
AVG
TD
LONG
20+
YDS/G
YAC
B. Oliver - HB
16
137
8.6
0
24
34.3
122
J. Philips - TE
14
141
10.1
0
32
35.3
70
J. Baldwin - WR
14
187
13.4
0
29
46.8
70
S. Ajirotutu - WR
13
197
15.2
1
64
49.3
62
K. Allen - WR
11
126
11.5
0
28
31.5
48
R. Mathews - HB
9
125
13.9
1
25
31.3
72
D. Inman - WR
6
78
13.0
2
28
19.5
7
T. Reese
5
63
12.6
1
17
31.5
29
L. Green - TE
4
38
9.5
0
23
9.5
11
L. Brazil - WR
2
12
6.0
1
8
3.0
1
D. Paulson - TE
1
16
16.0
0
16
4.0
12
D. Brown - WR
1
9
9.0
0
9
3.0
0
Blocking
PCAKE
SACK
C. Rinehart - LG
2
0
R. Miller - RG
1
0
T. Bond - LG
1
1
D. Fluker - RT
0
1
T. Robinson - C
0
1
J. Baca - C
0
1
B. Campbell - LT
0
1
R. Fragel - RT
0
1
Tackles
Sacks
Interceptions
Defense
SOLO
AST
TOT
SACK
TLOSS
PD
INT
TD
M. Te'o - MLB
25
0
3
0
0
0
A. Gachkar - MLB
22
0
6
0
0
0
J. Young - FS
19
0
3
1
0
0
J. Addae - SS
15
0
1
0
0
0
T. Palepoi - DE
12
1
1
0
0
0
S. Williams - CB
11
0
1
0
1
0
J. Verrett - CB
10
0
0
0
0
0
T. Williams - OLB
10
1
3
0
0
0
C. Law - OLB
9
0
2
0
0
0
A. Jefferson - CB
9
0
0
1
0
0
D. Butler - MLB
8
0
1
1
0
0
C. Liuget - DE
8
2
2
0
0
0
A. Blake - CB
7
0
0
0
0
0
C. Davis - CB
6
0
0
0
0
0
R. Mathews - DE
6
0
1
0
0
0
D. Scafe - DE
4
1
1
0
0
0
S. Wright - CB
4
0
0
1
0
0
S. Lissemore - DT
4
0
1
0
0
0
D. Stuckey - FS
4
0
0
0
0
0
M. Ingram - OLB
3
0
1
0
0
0
J. Attaochu - OLB
3
0
0
0
0
0
K. Reyes - DE
2
1
1
0
0
0
R. Carratethers - DT
1
0
0
0
0
0
M. Elam - SS
1
0
0
0
0
0
Kickoffs
Punts
Returning
ATT
YDS
AVG
LONG
TD
RET
AVG
TD
T. Reese - WR
9
335
37.2
103
1
A. Blake - CB
8
243
30.4
89
1
C. Davis - CB
9
232
25.8
36
0
3
12.0
0
L. Brazil - WR
5
112
22.4
31
0
Field Goals
Extra Points
Kicking
FGM
FGA
PCT
LONG
XPM
XPA
PCT
PTS
N. Novak
5
6
83%
47
7
7
100%
22
Punting
PUNTS
YDS
LONG
AVG
NET
BP
IN20
TB
M. Scifres
16
602
54
37.6
460
0
3
4



But stats aren't the most important thing, believe it or not, below is a select list of players we thought performed well, and those who didn't.

Boom:

* WR Jonathan Baldwin - Quite obviously the first player on this list. Baldwin has come in looking to re-ignite his career. As a long, big-bodied pass-catcher, he soon overtook project WR Dontrell Inman on the depth chart. His large frame and strong hands allowed him to become a safety blanket for the Bolt's QBs very early on.

* WR Tevin Reese - Another easy pick here. Reese was drafted in the 7th round then immediately cut. Realising a mistake was made, he's back on the Chargers team making noise. He had a huge game in his debut with both a receiving and returning TD. The Chargers won't look to rely on him too much in the passing game, but he is a dynamic returner with a lot of growing to do.

* MLB M. Te'o - Once the 1st Qtr was up, Te'o was leading the charge at linebacker. Together with Gachkar, they succeeded in racking up an impressive tackle total between them. They were able to make most tackles in the second level and rarely wiffed. Te'o, especially, was very instinctive and has a good nose for where the ball is anywhere on the field. If Donald Butler goes down, we'll be ok!





"Coming for you!" Te'o did an excellent job plugging up holes where and when he could.[/center]


* MLB A. Gachkar - If Te'o is Batman, Gachkar is Robin. The duo had some of the highest tackle numbers as a tandem in the NFL. Gachkar may not possess the instincts of Te'o, but he comes with a fiery do-or-die attitude, throwing himself into tackles and at blockers. His passion makes up for any lack of talent in his coverage.

* LG T.Bond - Probably a surprising pick, but but Bond came to the Chargers from free agency with not much upside. He made this list because he was noticed on the O-Line! Able to use his quickness to swing block and elevate to the second level, Bond was particularly effective in the run game. He's not the strongest cat, but he can shift what he needs to.

* CB J. Verrett - Verrett made this list for the exact opposite reason, we didn't see him! He blanketed in coverage and fazed QBs from looking his way. Sure he let up a few completions, but to expect a 5' 10 rookie DB to cover No.1 receivers is a tall order, and Jason has taken the challenge full-on.

* DE C.Liuget - Last entrant on this list, and it shouldn't be too surprising. Liuget is responsible for most, if not all, of the pressure the poor Chargers D-Line managed to muster up. Even when he came back in at OLB he was able to bring devastating pressure with his intimidating frame. He needs a partner opposite to take some of the burden off, but for now, he will be partly responsible for any sacks the Chargers get this year.


Bust:

* DT S. lissemore - With a strong presence at DT, it should allow the rest of the line and linebackers to stop the run more effectively. Lissemore is not that presence. Being gashed by 2nd string running backs was a recurring theme in the preseason, not having a strong body in the middle was probably a large reason. Unable to disengage from blocks or fill a gap, Lissemore is really ineffective at this position.

* OLB C. Law - With no sacks, and very few tackles, it could be fair to say that all Law did was eat blocks. Stats aren't everything, but even on the field he was practically invisible. Luckily, he won't be called upon unless there is an injury. His partner opposite, Tourek Williams, didn't fair much better.

* DE K. Reyes - As a starting lineman, this is probably the worst to see. Unable to take up blocks, or put pressure on the QB, it's difficult to say what Reyes' job is out there. Perhaps he is undersized, needless to say, any sacks he made were 'effort' sacks.


Luckily the Chargers cut ties with most who were under-performing, so this list is relatively short. But here are just a couple of names of guys who are on fence.


Undecided:

* WR D. Inman - Dropped on the depth chart in place of Jonathan Baldwin, Inman took an apparent step back. In reality, it was a lot to ask of a rookie to jump into an immediate starting role, and Baldwin has some experience, so maybe not such a bad thing. He performed better in a secondary role and picked up as the preseason continued. This should allow him more time to develop as a player. Nevertheless, the Chargers are expecting big things from the 6'3" young man in the coming years.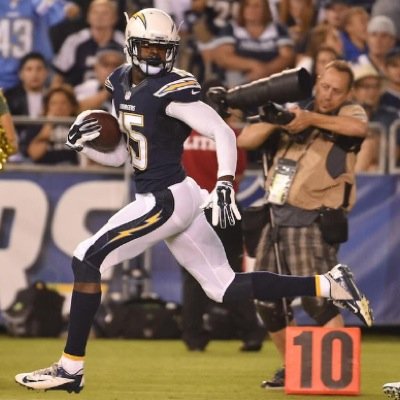 Inman will have time to work and improve his skills in the coming months.




* WR S. Ajirotutu - Seemingly the most up and down receiver of the bunch, he has helped the Bolts get out of some serious holes, but then put them in some also. Seyri does have some experience and could still be valuable, but has yet to prove himself consistent enough for a long-term deal.

* QB Both of them! - We saw Clemens remain very poised and had a decent passing game, Kolb nearly pulled off some great comebacks. Clemens is pencilled in as the starter right now, but don't be surprised to see Kolb if Clemens starts to throw the game away!

Here is the Chargers final depth chart for the upcoming year, only surprise being SS Matt Elam in the starting role. Obviously the Chargers see something in this young man the Ravens did not.



San Diego Chargers Depth Chart - 2014

Regular Offense
STARTER
2ND
3RD
4TH
WR
K. Allen
D. Inman
S. Ajirotutu
TE
L. Green
J. Phillips
D. Paulson
LT
B. Campbell
W. Smith
LG
C. Rinehart
T. Bond
C
C. Watt
T. Robinson
J. Baca
RG
R. Miller
J. Troutman
RT
D. Fluker
R. Fragel
WR
J. Baldwin
J. Baldwin
T. Reese
QB
K. Clemens
K. Kolb
FB
D. Johnson
HB
R. Mathews
B. Oliver
D. Brown
Base 3-4 Defense
STARTER
2ND
3RD
4TH
LDE
K. Reyes
R. Mathews
NT
R. Carruthers
S. Lissemore
RDE
C. Liuget
T. Palepoi
D. Scafe
LOLB
M. Ingram
T. Williams
LILB
D. Butler
A. Gachkar
RILB
M. Te'o
K. Connor
ROLB
J. Attaochu
C. Law
CB
J. Verrett
S. Williams
A. Blake
SS
M. Elam
J. Addae
FS
D. Stuckey
J. Young
CB
S. Wright
A. Jefferson
C. Davis
Special Teams
STARTER
2ND
3RD
4TH
K
N. Novak
P
M. Scifres
H
K. Kolb
PR
A. Blake
T. Reese
KR
T. Reese
A. Blake
LS
C. Watt



At the end of the week we will have a very special issue, outlining the season schedule, with analysis and predictions, and as always, the latest news around the league!


The Bolts Insider is an independent news-letter, created by a long-time, avid Charger fan, dedicated to bringing you all the top news and results as they happen!

Remember to subscribe to our channel to watch every single game!


https://www.youtube.com/channel/UCZy...aCrM3eb1rtL1Bg


And follow us on Twitter to know when we're posting, we always follow back!


https://twitter.com/Bros_In_Gaming
To date, the Alaska State football program is 37-13 overall in their 4 years of playing in the Mountain Conference. They secured 2 conference championships, and a 3rd seems inevitable. The 'Cats are 2-1 in bowl games. The downside...they are only 1-3 against top 25 opponents. 4 games versus ranked opponents in 4 years. Although they pushed now top ranked Florida State to the brink of defeat, a loss is a loss. What is the point of all this? Well, people surrounding the program are talking, talking about the level of play in the conference, and the level that Alaska State is looking to achieve. "We prepare every week, and we all go out there and play to the best of our ability, and we look to come out with a win every game, no matter who we play", stated Markell Cooley, starting QB.
One option that is being considered is a move to another conference. The other option...scheduling of ranked opponents coming into the season. But the downside being that a new, up and coming program like Alaska State doesn't offer a competitive game for some top tier programs. (Tell that to Florida State).
As it stands right now, nothing is being discussed, but the potential is there and we could see a major announcement coming sooner than later.
10:46 AM - March 8, 2015. Written by bayers3
THE INDIANAPOLIS STAR (COLTS DYNASTY REPORT)


INDIANAPOLIS - The Colts are once again waiting it out during the first round of the playoffs with a well deserved BYE. The time off allowed the Colts to celebrate a little bit more once again as the awards and accolades rolled in.

Nobody was surprised, even though he was humble enough to say that he thought Aaron Rodgers would win, but Andrew Luck brought home his third straight MVP award. Luck finished the season with a new NFL record in passing yards, 6756, beating his own record set in 2015. He also threw 54TD passes, another record that bested his mark of 44 in 2015. It really couldn't have been anyone else, he has truly taken the reigns as the best player in the NFL.


Luck's assault on the record books will be going for years and years.


Not to be overlooked, but Chuck Pagano won his second Coach Of The Year award and puts himself in a position to get a hefty contract extension. While the offense got most of the headlines, the Colts defense held it's own as one of the best in the NFL. Pagano and DC Greg Manusky have done quite a job with a very talented unit.

Indianapolis also landed the Offensive Player Of The Year (Luck), Offensive Rookie Of The Year (HB Shayn Ramsey), Defensive Rookie Of The Year (CB Kian Sampson), and the Defensive Lineman Of The Year (Donavon Browning).

Wildcard Scores

#3 New England 29 - #6 Houston 23
#4 Baltimore 25 - #5 San Diego 22
#3 Seattle 31 - #6 Arizona 28
#4 Tampa Bay 19 - #5 San Francisco 26

Aside from the 49ers upset of Tampa Bay every game was close. The Ravens earn the honor of traveling to Lucas Oil Stadium and trying to stop the most prolific offense in the history of the NFL.
Bolts Insider



10:00PM - Aug 28, 2014
San Diego Stadium
San Diego, CA

Remember, full video coverage is available here!


https://www.youtube.com/watch?v=U8MA...ature=youtu.be


Top Performers:

QB Drew Stanton - 301yds, 5TDs, 81.3%

RB Stefan Taylor - 24CAR, 182YDs, 1TD

WR John Brown - 7REC, 117YDs, 2TDs


With the Bolts at 0-3, this warm night in San Diego was the last opportunity to grab a win before the season starts. Though not an important record in the grand scheme of things, having a win before the season gives a team great momentum heading into the regular season.
Mike McCoy told Bolts Insider that he was confident, win or lose, that his team would be fired up for the season ahead. With a young and hungry team like this, it's hardly surprising!


The Chargers received the ball, and wasted no time getting into a rhythm, managing to convert 2/3 on 3rd down. However, a critical drop by FB David Johnson, and an under-thrown pass to a wide-open Dontrell Freeman, finally forced the turnover.

With 1st & 10 on their own 37, QB Carson Palmer stood in the pocket for a good 5 seconds, (shrugging off a sack attempt by OLB Jerry Attaochu), finding WR Michael Floyd on a comeback for 26yds. Despite excellent coverage, the pressure was not enough to faze the veteran passer. The drive was eventually capped off by an 11yd receiving TD to recently acquired FB Mike Cox.

But after a poor kick by (?) to the 10yd line, CB Antwon Blake fields the kick. Darting up the left 9sideline, and breaking off a tackle, the young man is able to outrun the special teams coverage all the way to the house! That's the second kick return for a TD in as many games for the Chargers!
It all went downhill from there!

With the ball on the 20, Palmer drops back and slings a dart to Floyd between the zones for an excellent 40yd gain. As if that weren't enough, a simple stretch left play is handed to RB Jonathan Dwyer. Though seemingly bottled up, once again poor tackling allows the young man out of Georgia Tech to reverse field. With excellent blocking by the O-line, Dwyer hits a huge gap on the right hand side for a 40yd TD.




The Chargers' drive stalls, and leads to another 3 and out. A long pass to WR John Brown, then a 13yd pass to Larry Fitzgerald was enough to put the Cards back on the scoreboard.
Cardinals up 21-7.

Another Bolts drive, another 3 and out, and another score for the Cardinals, as QB Drew Stanton finds Dwyer for a 27yd TD. The Chargers turn the ball over again and, despite a hard defensive effort, Stanton finds J. Brown in the middle of the field for a 7yd TD.

With the game already out of hand, another Chargers punt led to more Arizona points, with a 3yd HB toss to Stefan Taylor.

However, with 57 seconds left in the half, Kolb did manage to drive the Bolts down the field, capping off the drive with a 6yd pass to WR Dontrell Inman. This would be the Chargers first points on offense.
The Cardinals had put up over 400yds of offense in the first half. Fans were seen leading the stadium in droves.
42-14 Cardinals at the half.

Cardinals received the ball, and drove down against this putrid Chargers backup defense. A beautiful catch in the corner of the endzone by J. Brown finished up the drive.

After a sack that left Kolb concussed, Clemens would come back in for the rest of the game, unable to convert on 3rd & 17. The Chargers managed to keep the Cardinals out of the endzone for the rest of the quarter, but that only lasted until the 2nd play of the 4th. Stanton to Dwyer, 2yd TD.
56-14 Cardinals.

The Chargers went for it on 4th & 3 from their own 29, but another sack soon put a stop to that. 2 plays later Stanton found TE John Carlson for the 19yd TD.

RB Brandon Oliver did manage to find the endzone on a 15yd power run right. But with the game in hand, the Cardinals were content to just keep handing the ball off. In a re-occuring theme this preseason, the Chargers defense was shredded by back up running backs. Hopefully this is due to the 2nd string defense and won't happen in the regular season! The Chargers did hold them to a FG. With 66 points already, could they stop the Cardinals reaching 70?

Clemens finally found a chance, and delivered a beautiful ball to a streaking Seyi Ajirotutu for the 64yd TD. A small victory in a game of failures.




The rest of the game involved the Chargers trying to stop Stefan Taylor with little effect, but the Cardinals scored no more points. Not that they needed any!

Final Score: ARI-66 SD-28


So, what can we take away from this game? Nothing really.
As all of preseason, we have confirmed the Chargers have no depth on defense, (and the starting one is sketchy at best!). Our ability to stop the run is poor, and we lack pass rush.
On offense, it's young and talented at the skill positions, but lacks talent on the O-Line. QB is far too inconsistent to be a viable option. What's worse, pressure isn't taken off the QB as the run game struggles, Mathews has shown glimpses as has Oliver, but we haven't seen a reliable run game as of yet.

It was always a given that the Chargers may only win a few games this year, but with so many picks to play with, this team will be packed full of talented player come seasons end. Let's just hope the fans can wait that long!


Offensive Game Ball: QB - Kellen Clemens; Despite having little success in the first quarter, coming back into the game Clemens did show a bit of a spark for the Chargers offense. Whilst their successes were few and far between, a lot of them came at the hands of Clemens.

Defensive Game Ball: N/A


The Bolts Insider is an independent news-letter, created by a long-time, avid Charger fan, dedicated to bringing you all the top news and results as they happen!

Remember to subscribe to our channel to watch every single game!


https://www.youtube.com/channel/UCZy...aCrM3eb1rtL1Bg


And follow us on Twitter to know when we're posting, we always follow back!


https://twitter.com/Bros_In_Gaming
10:33 PM - March 5, 2015. Written by bayers3
THE INDIANAPOLIS STAR (COLTS DYNASTY REPORT)


1:00PM ET - October 30th, 2016
Paul Brown Stadium - Cincinnati, OH


Indianapolis Colts at Cincinnati Bengals
Oct 30, 2016
1ST
2ND
3RD
4TH
SCORE
Indianapolis Colts (15-1, 8-0 Away)
14
7
7
14
42
Cincinnati Bengals (6-10, 3-5 Home)
0
7
0
7
14


Top Performers

Passing : A. Luck (IND) - 342YDS, 4TD
Rushing : J. Forsett (IND) - 19CAR, 116YDS, TD
Receiving : C. Shorts III (IND) - 5REC, 138YDS, TD

CINCINNATI - The final week of the regular season is finally here and the AFC playoffs race is coming down to the wire for just about every team involved. Thanks to the Colts opening week loss to the Broncos, they would be under pressure to win this week. Every single team, even ones that had already clinched a spot, could change seeds with a loss today. With four teams in the running for the wildcard slots, there would be an enormous amount of pressure to win today.


NFL Standings - Updated: Oct 30, 2016

AFC EAST
W
L
T
Y-New England
12
3
0
AFC NORTH
W
L
T
Y-Baltimore
11
4
0
AFC SOUTH
W
L
T
Y-Indianapolis
14
1
0
AFC WEST
W
L
T
Y-Denver
13
2
0
AFC WILD CARD RACE
W
L
T
Cleveland
9
6
0
NY Jets
9
6
0
San Diego
9
6
0
Houston
8
6
1


The Colts don't really do second gear, and even though they just had to win they blew out the hapless Bengals. The few Colts fans that braved the trip to Cincinnati could be seen waving 'Bungles' signs in the stands, and Indianapolis certainly made them look right.

The Bengals secondary just killed them today, allowing Andrew Luck to pass for 342 yards and 4TD on a simple 20/26. Their weakness was giving up massive amounts of yards to Cecil Shorts III and T.Y. Hilton, who combined for 13 receptions and a whopping 275 yards. Indianapolis opened the scoring with a 77 yard TD to Shorts that started as a 5 yard out, and the Bengals just couldn't tackle him.

The Colts poured it on in the first half with three TD passes, one to Shorts and two to Hilton, before Cincinnati could get on the board with a 9 yard strike to TE Tyler Eifert. The Bengals went into the locker room with their heads down, and they probably should have just stayed in there for the second half.

Marcus Lattimore made it 28-7 with a 1 yard TD run, and then the Bengals really lost their motivation. Gio Bernard went down with a high ankle sprain and left the game, clearly draining the Bengals of their spirit. Things only got worse in the 4th when the Colts made it 42-7, and then Andy Dalton left the game with a chest injury. Rookie QB Kain Jackson came in and hit Eifert for his second TD of the game, but it was too little too late.


Ramsey had a short day, but he had an incredible rookie season.


It wasn't all that surprising to see Dalton get injured, Indianapolis totalled nine sacks during the game. Dalton could barely snap the ball before Vontaze Burfict and D'Qwell Jackson were in his face, both players nabbed three sacks. To add insult it injury, Hilton was swamped on the sidelines in the closing minutes as teammates and coaching staff congratulated him on a stunning record breaking season. Hilton would walk out of the game with 2107 receiving yards, crushing Calvin Johnson's record of 1964.

The win clinches the #1 seed in the playoffs, and with so many of the wildcard teams playing night games the Colts will have to sit back and see who their potential opponents will be in two weeks.
07:34 PM - March 3, 2015. Written by bayers3
THE INDIANAPOLIS STAR (COLTS DYNASTY REPORT)


1:00PM ET - October 23rd, 2016
LP Field - Nashville, TN


Indianapolis Colts at Tennessee Titans
Oct 23, 2016
1ST
2ND
3RD
4TH
SCORE
Indianapolis Colts (14-1, 7-0 Away)
14
21
0
21
56
Tennessee Titans (2-13, 2-6 Home)
7
10
7
0
24


Top Performers

Passing : R. Fitzpatrick (TEN) - 358YDS, 3TD
Rushing : S. Ramsey (IND) - 16CAR, 163YDS, 2TD
Receiving : J. Kearse (TEN) - 8REC, 120YDS, 2TD

NASHVILLE - With a playoff spot already in hand it all comes down to style points with only two games left. Thanks to Denver's 12-2 record coming into this week Indianapolis will have to keep it's foot on the pedal to grab that #1 seed. The Titans are probably happy to be on the wrong end of the Colts playoff run, the top pick in the draft would really help them rebuild.

There wasn't all that much in terms of entertainment today, unless you like seeing a superior team completely demolish a weak opponent. Andrew Luck barely had to throw the ball, going 20/25, to rack up 300 yards of passing. This game was all about the Colts punishing ground attack, and it certainly punished the Titans.

Ryan Fitzpatrick did his best, throwing for over 300 yards with 3TD, but the Titans couldn't run the ball themselves and spent most of the second half suffering through three-and-out possessions. Despite putting 24 points on the board, a worrisome sign for the Colts defense, the Titans were never really in this game.


A brick wall couldn't stop the Indianapolis ground game.


Shayn Ramsey and Justin Forsett combined for an eye popping 291 yards on 33 carries, and at no point did the Titans seem like they could stop them. Part of the problem was stopping the run while covering the Colts wideouts. This issue helped T.Y. Hilton join Luck in the history books with a modest 58 receiving yards. Hilton ended the game with 1970 receiving yards on the season which passes Calvin Johnson's record of 1964. With one game left a 2000 yard receiving season isn't out of the question.

The Colts head to Cincinnati for the final game of the regular season, a win would clinch home field advantage throughout the playoffs.