The dynasties we recommend...
- Braves May 1st Update. by bkrich83

(4)


- May 1st Standings and League Leaders by bkrich83

(6)


- 2012/13 Eastern Conference Semi Finals Recap - East Finals Preview by cgalligan

(7)


- Draft Results by wolvesjr34

(3)


- General Manager's Assessment Allstar Break by wolvesjr34

(2)


- 2012/13 Western Conference Semi Finals Recap - West Finals Preview by cgalligan

(7)


- Monday, April 4, 2011 by rbowlden

(1)


- Sunday, April 3, 2011 by rbowlden

(0)


- RTTS 2014 Regular Season Update 1 by crbuke

(1)


- Chicago Cubs (fantasy draft) by Pete_Dogg_18

(5)


See all the latest Dynasty Comments in one location.
Wednesday, August 12, 2015
01:40 PM - August 11, 2015. Written by apetroski
Ohio State Buckeyes at Drake Bulldogs
Mar 30, 2008
1ST
2ND
SCORE
Ohio State (27-9)
30
49
79
Drake (36-0)
55
46
101
Ohio State Buckeyes

STARTERS
MIN
FGM-A
3PM-A
FTM-A
REB
AST
STL
BLK
TO
PTS
S. Scott
28
6-15
0-3
8-8
1
7
2
0
4
20
D. Russell
28
5-14
0-4
0-0
5
6
4
1
1
10
S. Thompson
25
8-13
2-3
0-0
4
2
1
0
0
18
A. Lee
8
2-4
1-2
0-0
0
1
0
0
0
5
D. Ball
28
5-17
1-1
2-4
16
2
0
4
0
13
BENCH
MIN
FGM-A
3PM-A
FTM-A
REB
AST
STL
BLK
TO
PTS
J. Tate
3
1-3
0-1
0-0
1
1
0
0
0
2
M. Loving
20
5-12
1-5
0-0
2
0
1
2
4
11
K. Diop
-- DID NOT PLAY --
K. Williams
-- DID NOT PLAY --
T. McDonald
-- DID NOT PLAY --
J. Lorbach
-- DID NOT PLAY --
A. Williams
-- DID NOT PLAY --
TEAM TOTALS
32-78
5-18
10-12
29
19
8
7
9
79
TEAM TOTALS
32-78
5-18
10-12
29
19
8
7
9
79
Drake Bulldogs

STARTERS
MIN
FGM-A
3PM-A
FTM-A
REB
AST
STL
BLK
TO
PTS
Adam Emmenecker
18
3-4
0-0
0-0
3
3
3
1
2
6
Leonard Houston
17
1-4
0-1
1-3
3
5
0
0
4
3
Josh Young
28
7-20
3-9
0-0
2
4
1
0
0
17
Bucky Cox
28
11-14
2-2
4-4
9
0
0
1
1
28
Austin Petrauskas
28
15-27
2-6
5-5
25
3
3
2
0
37
BENCH
MIN
FGM-A
3PM-A
FTM-A
REB
AST
STL
BLK
TO
PTS
Rayvonte Rice
13
1-6
0-4
2-2
1
0
0
1
1
4
Klayton Korver
8
2-4
2-4
0-2
0
2
0
0
2
6
Brent Heemskerk
-- DID NOT PLAY --
John Michael Hall
-- DID NOT PLAY --
Alex White
-- DID NOT PLAY --
Jacob Baryenbruch
-- DID NOT PLAY --
Josh Parker
-- DID NOT PLAY --
TEAM TOTALS
40-79
9-26
12-16
43
17
7
6
10
101
Bolts Insider





The Preseason is finally in the books! Many teams can breathe a sigh of relief, as everyone managed to dodge the injury bullet this week. Our Chargers have been especially lucky, as they avoided any injuries altogether over four weeks!

As we step into the Regular Season, teams will complete their final round of cutting this week, and many unfortunates will be waiting for a phone call.


Signed:

SD - M. Elam SS - 570K - The first of three moves made by the Chargers this week. So far in his career, the former Ravens first Round pick is considered a bust. Granted he has not played to the standard expected, but maybe the expectations were too much. If he has anything though, it's piles of athleticism and potential.
The Chargers currently carry two SSs in Addae and Wilson. Word is, that the coaching staff don't believe either to be the answer at the position. If Elam plays at his expected level, there is a high chance he may breaking the starting line-up next year. His future rests in his own hands.







Revival?: Once the Ravens showed him the door, many believed Elam's career to be done. We will see what his future holds in San Diego.




SD - M. Barkley QB - 730K - Now after such an abysmal start to a career and being let go last week, many would question the decision to sign Barkley, dig deeper and it becomes more clear. The Chargers currently carry two QBs, Rivers is incumbent, Clemens has performed well but is no spring chicken. God forbid one, (or both!), QBs go down then what? And what if Clemens retires? That's either a draft pick, or more money in free agency to sign his replacement.
That's a lot of if's. But having Barkley now makes sense, with some training and a year in the system, he will be a cheaper and possibly more viable option next year should the Chargers need someone. Besides, Rivers ain't young either, so a young QB might be just what they need.

SD - A. Blake CB - 660K - Former FS turned Corner, is the final Chargers signing. Though short in stature at 5' 9" and lacking experience, his break neck speed means he will be valuable in the return game alongside Reese and Jones. Perhaps with some grooming he will make a decent slot corner, with his athleticism.

ATL - M. Williams WR - 1.62M - Williams' stint in the NFL started very well, setting a franchise record for TDs in a season, and leading all WRs in his class in receptions and yards. Since then he has had a stint of injuries, and was recently cut by the Bills. Now Atlanta has decided to make it's receiving corps even more ridiculous!
Next to Julio Jones and Roddy White, Williams will probably play in the slot. Should any go down though, he has starting receiver experience and ability, so he would be a nice fall-back player.


Released:

SD - D. Brown HB - The former Colt is finally out of San Diego. After following Telesco to his new home, Brown has been a depth guy at best, but a back-loaded contract that hamstrung the Chargers kept him on the squad. With spaces running out, San Diego eats the penalty and sends Brown on his way.

HOU - N. Washington WR - With the addition of Sidney Rice, (and this year's drafted Jaelen Strong), the Texans cut ties with Washington. This seems an odd choice as it could be argued that Washington is just as good if not better than Rice in his production. Still, this makes him one of the better receivers in free agency, with some juice left in the tank, which someone may need down the line.

TEN - M. Griffin SS - (Again, this is probably down to an undeserved low rating) The former first round safety has been moved, in what seems to be a questionable move by Tennessee. Since his arrival, Griffin has had a sound career, including a seven INT season in 2008. What spurred this move is unknown, but we'll be surprised if he hangs around for too long.

PIT - J. Harrison OLB - The most feared player in the NFL is back on the market. Whatever it is between Harrison and the Steelers, this roundabout of sign-release is probably over for good. Harrison can play stand up in a 3-4 and potentially do some damage with his hand in the ground. We expect him to find a home pretty soon!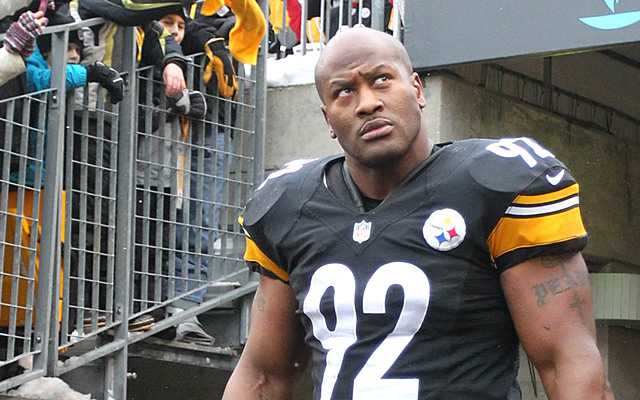 The End?: Will this be the last time we see Harrison on the gridiron? Let's hope not, without his notoriety the League would be dull!




OAK - T. Richardson HB - How far the apple has fallen from the tree for Richardson. After a stellar rookie year, he was soon traded by the new Cleveland staff for a 1st Rounder from the Colts. Since then, Richardson has been ultimately ineffective at the Pro level. Now his short stint at Oakland is over, it's possible his NFL career is done.

NE - D. Amendola WR - The apparent successor to Wes Welker is on the market again. Amendola has floated between a couple of teams now, after some pretty serious injuries have left him sidelined for many of his years, so any teams that grab him now will have to consider his history. But he's an extremely talented slot receiver and could help a bunch of teams of he can stay on the field.

CAR - R. Harper SS - After the loss of 'Peanut' Tillman, you would think the Panthers would want to keep as many secondary players as possible. Instead they have cut ties with the experienced former Saint. The Pathers have very little depth in the secondary, so the front seven will have to be the driving force of the defense, (as before), and pressure will be on Cam Newton to keep the team on the board.

DET - R. Mathis CB - Mathis holds quite a few franchise records with the Jacksonville Jaguars, he's had a few injured seasons recently but that's something to overlook right? Apparently not, if you're Detroit. He now becomes the best corner in free agency, leaving this Detroit team with a fairly weak secondary.

NYG - C. Jenkins DT - Who knows what's going on in New York right now! First Mike Patterson is let go, then Cullen Jenkins? Both productive players, and former teammates! So surely that kind of chemistry would be a massive bonus? Maybe not, or so the Giants believe. New York has a plethora of defensive linemen, so they probably won't be too poorly off, but Jenkins is another talented DT in the shuffle.

ATL - D. Hester WR - The greatest kick-returner in NFL history is looking for a job. It's difficult to fathom that teams still want to lean on the 'Hester WR experiment', rather than just take him for what he is, the best returner in the NFL. Unfortunately, the life of a returner has a shelf-life, and it's true Hester doesn't quite have the wheels that he used to, and without them what is his purpose?
Someone may take him for his ability alone, but there are younger, faster options out there, we hope Hester's HOF career end this way.







Hester on his way to free agency.




DAL - D. McFadden HB - Thought to be the successor for the great season of DeMarco Murray, the Cowboys have instead decided not to take a gamble on McFadden. In a career plagued with injuries, he has never lived up to expectations. From his college days to the flashes of Regular Season greatness, it's easy to see why people fall on the hype train. But with very few 16 game seasons under his belt, it's tough to see anyone take the risk on McFadden at his age.

DEN - A. Smith DT - Self designated as 'The Ninja', Smith is taking his awful nickname to free agency. This isn't such a huge deal to the Texans who still have a solid front seven. Smith is big enough to play in a 4-3 or DE in a 3-4, which should make him a valuable commodity. But age is a factor, and it's unclear whether the cost-age ratio is going to be worth it for a year.

DEN - R. Hillman HB - After a short stint with the Broncos, the former Aztec is now on a long list of RB free agents. He has some fumbles in big moments, and some question his durability, but at 23 he has the tools to be a solid back with some coaching.


Next week we will have a special edition of our newsletter, where we will recap the Chargers' Preseason, and have a look at our upcoming schedule. Providing analysis, and all the good, (and bad!), that me can look forward to in the Regular Season!




02:29 PM - August 7, 2015. Written by apetroski
Bowl Results
Results
Hi Passing
Hi Rushing
Hi Receiving
Arizona State 44, UTEP 27
New Mexico Bowl
Toledo 54, Cal St. Fullerton 48 OT
Potato Bowl
UL Monroe 31, Long Beach St 6
Poinsettia Bowl
UCF 45, Northern Illinois 31
St. Petersburgh Bowl
Tulsa 38, Arkansas State 13
New Orleans Bowl
California 45, Montana 24
Las Vegas Bowl
Army 35, Utah State 19
Hawaii Bowl
Michigan State 44, Miami U 31
Motor City Bowl
Kent State 29, Tulane 23
Military Bowl
Stanford 42, Denver 31
Holiday Bowl
North Carolina 48, Rice 32
Queen City Bowl
Pittsburgh 42, Eastern Michigan 23
Independence Bowl
Wake Forest 24, Temple 17
Tangerine Bowl
Texas Tech 31, Penn State 24
Texas Bowl
Drake 31, San Diego State 7
Armed Forces Bowl
Washington 42, Cincinnati 21
Emerald Bowl
Oklahoma 37, USC 31
Alamo Bowl
Minnesota 38, West Virginia 24
Copper Bowl
Akron 19, Virginia 16
Music City Bowl
Utah 28, Virginia Tech 18
Sun Bowl
North Dakota State 31, Kansas 24
Liberty Bowl
Northwestern 35, Boise State 29
Heart of Dallas Bowl
Washington U 35, New Mexico State 28
Birmingham Bowl
Appalachian State 27, Ball State 17
Mobile Alabama Bowl
<="evenrow">
Ole Miss 34, Purdue 17
Gator Bowl
Ohio State 35, Alabama 21
Capitol One Bowl
Auburn 31, Missouri 21
Citrus Bowl
LSU 38, Oregon 14
Rose Bowl
Navy 52, Kansas State 34
Fiesta Bowl
Florida State 45, South Carolina 43
Sugar Bowl
Notre Dame 48, Miami 32
Orange Bowl
Texas 38, Tennessee 10
Cotton Bowl
Chicago 56, Michigan 42
CFB Championship
01:37 PM - August 7, 2015. Written by apetroski
Results
Winner
Loser
Big Ten Championship
#4 Michigan, 35
#2 Chicago, 31
American Championship
Navy, 38
Temple, 10
SEC Championship
#8 South Carolina, 47
#1 LSU, 43
MWC Championship
Long Beach State, 30
Utah State, 28
PAC Championship
#10 Oregon 24
#3 USC 21
ACC Championship
#18 Miami 21
#6 Georgia Tech 14
Big 12 Championship
Kansas State 38
#12 Texas 35
I needed to scratch the itch so I've started up again. I will be updating roster, recruits, and the game recap for the game I have completed soon. But for now, here is the schedule.


Ball State Cardinals 2013 Schedule

DATE
OPPONENT
RESULT
Aug 29
vs North Texas
Won, 37-17
Sep 7
at Arizona
Sep 14
at Cincinnati
Sep 21
at Eastern Michigan
Sep 28
vs Toledo
Oct 5
at Virginia
Oct 12
vs Kent State
Oct 19
at Western Michigan
Oct 26
at Akron
Nov 6
vs Central Michigan
Nov 13
at Northern Illinois
Nov 29
vs Miami (OH)
Wednesday, August 5, 2015
09:59 PM - August 5, 2015. Written by TTU38Alum
Matchup Preview *|* August 29, 2015
@
#20 Arkansas Razorbacks


(0-0, 0-0 Away)

Texas Tech Red Raiders


(0-0, 0-0 Home)


LUBBOCK - In what has come as a major surprise to both programs, Texas Tech's Aug. 29 opener against No. 20 Arkansas has been moved to Lubbock, where the Razorbacks rolled the Red Raiders 49-28 one year ago.

"This actually turned out to be a great deal for us," Tech athletic director Kirby Hocutt said. "This match-up has benefited both universities so well that we have agreed to extend it two more years on the terms that we'll travel to Fayetteville in 2016 and 2017."

The Red Raiders, who finished the 2014 season at 4-8 - their worst season since 1990 - will be looking to right the ship in 2015 and a payback win against a rising Arkansas program could really build some confidence before heading in to a tough Big 12 schedule.

"We're ready to put last year behind us," Tech head coach Kliff Kingsbury said. "Not just myself, but us coaches, the players and all of Red Raider Nation. We're ready to put it as far behind us as we can because we like to win and that's what everyone expects of the Red Raiders."

Many questions about the 2015 Red Raiders are still to be answered in two weeks when the season kicks off as fall camp has been closed to the media. Who will start at quarterback for the scarlet and black?

"We'll see," Kingsbury said. "Both Davis (Webb) and Pat (Mahomes) have been neck-and-neck and it'll be a tough decision that should work itself out before then."


Sophomore quarterback Patrick Mahomes showed flashes late last season.


The Red Raiders will rely heavily on senior running back DeAndre Washington, who rushed for 1,103 yards last season - the most a Red Raider has put up since 1998. Receivers Jakeem Grant and Devin Lauderdale are also poised to have a big season for Texas Tech.

"We really have what we think is a special group of guys that work as hard as anyone," Kingsbury said. "I think some people will be surprised this year."

Defensively the Red Raiders will lean on Pete Robertson - who finished last season with 12 sacks - Branden Jackson, Micah Awe and a young, but promising secondary.


Robertson finished with 12 sacks in 2014.


Prized defensive tackle recruit Breiden Fehoko will start his career with already-high expectations. The former four-star recruit could have gone virtually anywhere in the country, but signed with the Red Raiders mainly because of family ties.

"Breiden will be big for us," Kingsbury said. "He was an early graduate that went through spring ball with us and we're talking about a guy that was one of the strongest guys on our roster the day he stepped on campus."

After Arkansas, Texas Tech hosts UTEP before starting Big 12 play at home against No. 2 TCU Sept. 12.
09:14 PM - August 5, 2015. Written by TTU38Alum
2015 NCAA Football Pre-Season Top 25
RK TEAM REC PTS
1 Ohio State 0-0 1496
2 TCU 0-0 1420
3 Alabama 0-0 1347
4 Baylor 0-0 1275
5 Oregon 0-0 1205
6 Michigan State 0-0 1138
7 USC 0-0 1072
8 Florida State 0-0 1008
9 Auburn 0-0 945
10 Georgia 0-0 885
11 UCLA 0-0 827
12 Ole Miss 0-0 770
13 Notre Dame 0-0 715
14 LSU 0-0 663
15 Clemson 0-0 612
16 Arizona State 0-0 563
17 Georgia Tech 0-0 515
18 Wisconsin 0-0 470
19 Missouri 0-0 427
20 Arkansas 0-0 385
21 Mississippi State 0-0 345
22 Oklahoma 0-0 307
23 Boise State 0-0 271
24 Tennessee 0-0 237
25 Stanford 0-0 205

Others receiving votes: Arizona 175, Miami 146, Louisville 120, Texas 95, Oregon State 72, Florida 51, Michigan 32, Nebraska 15

- Highlighted denotes Texas Tech opponent.