The blogs we recommend...
- Madden NFL 16 at E3 - Message From Rex Dickson In Game Creative Director by RexDEAFootball

(55)


- The OS Daily Ten - How Should GM's React to Injured Superstars? by jmik58

(3)


- The OS Daily Ten - A Perfect End to the Imperfect BCS by jmik58

(3)


- The OS Daily Ten - Do You Prefer Watching the Big Game at Home? by jmik58

(5)


- Nick Young is Kobe Bryant... by Steve_OS

(1)


- The OS Daily Ten - Has this Bowl Season Hurt the Image of SEC Football? by jmik58

(10)


- The OS Daily Ten - Pacquiao and Mayweather Set for September Fight? by jmik58

(12)


- The OS Daily Ten - Where Should Leagues Draw the Line on Post-Game Corrections? by jmik58

(5)


- The OS Daily Ten - Most Disappointing Sports Moments of 2013 by jmik58

(6)


- The OS Daily Ten - Who Has the Most Frustrating Job in the NFL? by jmik58

(2)


See all the latest Blog Comments in one location.
01:08 PM - August 7, 2016. Written by phantomremix
(6)
I know that I am not the only one that likes Sim football. I miss the days of having a dynasty that I could manage my team, players and game plans, but then be able to watch the games instead of playing them. Does anyone know if that is available in this year's game?
11:18 PM - August 5, 2016. Written by NYCDaFuture
(3)
NBA 2K17 FREE COPY GIVEAWAY #OnlineNationGaming Subscribe,Comment,Like,Share!

https://www.youtube.com/watch?v=4oj5UcGUAVE

NBA 2K17 FREE COPY GIVEAWAY #OnlineNationGaming
So 2K hosted a tournament that gave us the 10 best guys to create players for My Player modes. First I want to congratulate and thank Scott O'Gallagher for his complete professionalism during this awful televised event. To keep a straight face while tatted up, Puff the Magic Dragon characters ran up and down the court, was a hard sell. The only real NBA characters displayed in this NBA tournament game were Kobe and Paul George, how ridiculous is that? Real NBA players watched make believe players ... Read More
08:21 AM - August 4, 2016. Written by punx317
DD Tourney Guide

1)punx317AL
2)gadeangelo1971NL
3)dsavbeastAL
4)tnorton3NL
5)dt379AL
6)PYA-MUSTANG86NL
7)MikeLowe47AL
8)dt379

Overview:
https://docs.google.com/document/d/1...it?usp=sharing

Rules:
https://docs.google.com/document/d/1...it?usp=sharing


Schedule:
https://docs.google.com/spreadsheets...it?usp=sharing

Standings:
https://docs.google.com/document/d/1...it?usp=sharing
Wednesday, August 3, 2016
Cincinnati Reds at Chicago CubsApr 14, 2016123456789RHECincinnati (7-2)201010100580Chicago (2-7)202000000491W: Dan Straily (2-0) L: Kyle Hendricks (0-1) S: Greg Holland (3)Scoring SummarySCORING DETAILSCINCHCCincinnati Red****TERSABRHRBIBBSOHRAVGBilly Hamilton4330000.200Brandon Phillips3233001.343Joe Votto4000010.290Adam Duvall4011020.067Devin Mesoraco4011010.241Eugenio Suarez4000010.226Zack Cozart4000000.214Yorman Rodriguez4000020.172Dan Straily2000020.000Tucker Barnhart1000010.000Holt1000000.545TEAM ... Read More
07:42 AM - August 3, 2016. Written by MarkWilliam
(5)
So it's August. 6 weeks away from that time of the year. We've had a snippet of news recently. Announced on a weekend (which really caught me off guard). Firstly, a picture of the 2016 Olympic squad. Nice. Some would speculate a more complete version of the iffy pic released earlier in the week to steady the ship. Make amends. Whatever, all good.

And then this;




... Read More
09:41 PM - July 30, 2016. Written by thescoop
Last year I wrote a superficial wishlist for MLB The Show 16. It was a lot of fun to write last year and you can see it here if you want to see what was in last year: http://www.operationsports.com/thesc...r-the-show-16/

Of course, some of these will be repeats of that list so if you scroll back you might see some familiar ideas as The Show team still hasn't added them. But what I saw was the fact I wrote off even the possibility of getting custom ... Read More
02:52 AM - July 29, 2016. Written by CoachModer
(5)
EA Sports NCAA 2001 was one of the best NCAA football games out during that time, currently rated as an 8.3 out of 10 by IGN and one I still consider the best and play. First off, yes, I know the graphics were just coming of age (32 bit) and style of play. Besides kicking, I would choose the play and let the my team do the work and it was hands off (coach mode) to include some house rules.


It had the following key features;

Momentum meter - went up and down based on
... Read More
12:44 AM - July 28, 2016. Written by Barbatrucco
(7)
Here's the first screenshot ever of Nba 2K17
I see a lot of smiles




All credits goes to NLSC
http://www.nba-live.com/first-nba-2k...shot-released/

Let'me say what do you think about this consideration
http://www.operationsports.com/Barba...dy-talk-about/

@CoachZenBarba
08:28 PM - July 27, 2016. Written by CAMeagle
PLAYOFFS RIVALS CLASH: 76ERS vs. NETS

INDIVIDUAL [Pace for period]

(TH) Top 5 = x8,295 / 15.0 = 553.0 pt/hr * 81 = 44,793.0 [553.0]
(FR) Top 5 = 16,870 / 39.0 = 432.6 pt/hr * 81 = 35,037.7 [357.3]
(SA) Top 5 = 25,656 / 63.0 = 407.2 pt/hr * 81 = 32,986.3 [366.1]
(SU) Top 5 = 32,297 / 73.0 = 442.4 pt/hr * 81 = 35,836.4 [664.1]
(SU) Top 5 = 33,405 / 75.0 = 445.4 pt/hr * 81 = 36,077.4 [554.0]
(SU) Top 5 = 35,222 / 81.0 = 434.8 pt/hr * ... Read More
There is a problem that nobody talks about the Nba 2K series and that there will be even in 2K17. Why do I say this? Because I saw this.



The problem is the intensity. Often, playing Nba2K, you feel like you play friendly matches, even in the playoffs. If it weren't for the cheers and for the word "Playoffs" on the court, you wouldn't distinguish a friendly match from a seasonal game from a playoffs game.
One of the biggest problems lies in the video above.
... Read More
I have been a great fan of the MLB series for years. I have done plenty of testing and modifications with this year's sliders. Slider sets the MLB The Show Slider Forum offered great starting points and suggestions which I tweaked with my own settings. At the time of writing this I was currently 64-43 in Franchise with the Orioles and it has been playing well. I am currently in a little slump going 21-21 over my last 42 games. I had a few other people I know test it and they like the process, so ... Read More
12:33 PM - July 18, 2016. Written by kidmadison32
(10)
What's up OS Community? I have a simple question for all the NBA 2K16 players out there: What's your record in MyLeague/MyGM?

The reason I ask this question is because the records I have for my 2 seasons with the New York Knicks is ridiculous. I went 76-6 in my first season, and 74-8 in my second season. And I am 1 win away from sweeping the Trail Blazers to win the title back-to-back. I would upload the picture I took with the records but it too big to upload here (plus I'm a noob). ... Read More
12:05 PM - July 18, 2016. Written by majesty95
Take your game to the next level with the most in depth and authentic Madden league experience on PS4. Build your team through the draft and by making shrewd moves in the offseason. Compete again 31 other users for the best free agents on the market. Win games on the field by outsmarting and out-coaching your opponent, not relying on unrealistic play calling and game exploits.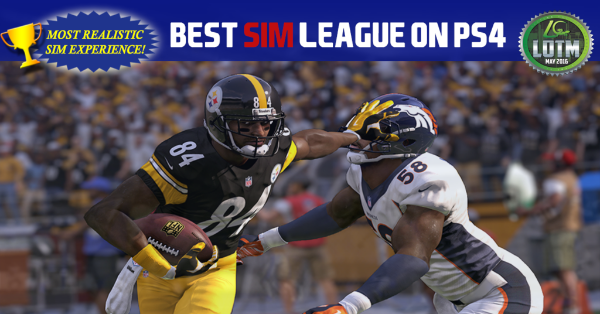 ... Read More
Washington Nationals Franchise - MLB 16
Year 1 April 7th (2016)
Record: 2-1 .667 - GB 1st NL East
Sliders: Armor & Sword & Marino's MLB The Show 16 Timed/Classic
Nl East 2-1
NL Central
NL West
ALCentral
AL East
Simulation Sliders
Rosters: Hybrid V 2