The blogs we recommend...
- Madden NFL 16 at E3 - Message From Rex Dickson In Game Creative Director by RexDEAFootball

(55)


- The OS Daily Ten - How Should GM's React to Injured Superstars? by jmik58

(3)


- The OS Daily Ten - A Perfect End to the Imperfect BCS by jmik58

(3)


- The OS Daily Ten - Do You Prefer Watching the Big Game at Home? by jmik58

(5)


- Nick Young is Kobe Bryant... by Steve_OS

(1)


- The OS Daily Ten - Has this Bowl Season Hurt the Image of SEC Football? by jmik58

(10)


- The OS Daily Ten - Pacquiao and Mayweather Set for September Fight? by jmik58

(12)


- The OS Daily Ten - Where Should Leagues Draw the Line on Post-Game Corrections? by jmik58

(5)


- The OS Daily Ten - Most Disappointing Sports Moments of 2013 by jmik58

(6)


- The OS Daily Ten - Who Has the Most Frustrating Job in the NFL? by jmik58

(2)


See all the latest Blog Comments in one location.
05:48 AM - October 28, 2016. Written by NYCDaFuture
(2)
Money Play Week 3, Join https://facebook.com/groups/OnlineNationGaming and Subscribe,Like,Comment the Video. Thanks!

https://www.youtube.com/watch?v=Lpxtoi0ncQ8
Thursday, October 27, 2016
04:59 PM - October 27, 2016. Written by The JareBear
(3)
I have posted on OS over 10,700 times and none of those posts made this site any better or contributed anything meaningful to the community.

I have tried and failed to make friends and join circles on OS. Now, after repeatedly falling short of becoming a valuable member of any corner of this site I have to face reality and accept that I am just a weird person who isn't ever going to be popular in life and will probably spend most of my life entirely alone. There are worse things ... Read More
Hey OS Community,
I'd like to introduce anyone stumbling upon my blog by random fate/luck to one of my 3 (Possibly 4) Universe Modes for WWE 2K17! WWE 2K Universe has always been my niche in our crazy sports-gaming world for a time, I'd just never used a platform like Operation Sports to document it. It should be fun for anyone who is a WWE 2K fan, fan of specific Eras of Wrestling and would like to see re-booking of specific wrestling eras (although, admittedly this one will be using Current ... Read More
Thursday, October 20, 2016
...Keep in mind these are the ones I have played personally the most. Not totally based on actual game play, but how fun the games were to me at the time (or still today). PlayStation 2 unless noted.

Treyz All-Time Favorite Sports Video Games!!! 10/2016
T1. March Madness 2004
T1. MVP Baseball 2005
3. NCAA Football '14 (ps3)
4. NCAA Basketball '10 (ps3)
5. College Hoops 2K8 (ps3)
6. NCAA Football 2008
7. Madden ... Read More
Wednesday, October 19, 2016
05:38 PM - October 19, 2016. Written by majesty95
(8)
Ever wondered what it would be like to see Leonard Fournette, Deshaun Watson and the other top NCAA athletes in Madden? Wonder no more. The PX1 Sports VIP League drafts real college players this SUN at 8 PM CST!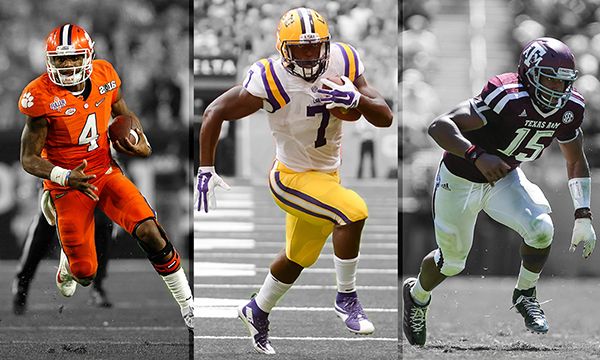 But wait, there's more! Madden NFL 17 developers Rex Dickson and Clint Oldenburg have agreed to be created players in our draft as well! Where will those two end up? Will ... Read More
05:53 PM - October 16, 2016. Written by NYCDaFuture
(1)
A weekly Series for Money Plays, How to Score, Defense, Passing Tips Channel. Subscribe,Share,Like The Video,Comment. Join the Movement

https://www.facebook.com/groups/OnlineNationGaming


https://www.youtube.com/watch?v=otyvKuLYvHk
Wednesday, October 5, 2016
05:42 AM - October 5, 2016. Written by CAMeagle
Message Board thread with reward lineup, pics, and video links: http://www.operationsports.com/forum...post2048528299

Here's how the game could progress this year based on last year's app. Maybe this will help you plan accordingly (time and money) to give you an idea of how to build up your squads and play "sell high-buy low" in Auction House.

A great article about said MyNBA2K life cycle: https://t.co/NF2EPuzlSX ... Read More
05:42 PM - October 4, 2016. Written by Tomba
UPDATED 10.7.16
Slider Set for CPU and Player are now live on Xbox Live.

gamertag :
tombaonline

keyword:
tomba


So, let me first preface by saying I had to get my game face on for this one. There are slider sets and then there are slider sets. Everyone has their different take on how things work to the point where we tend to believe one person's best placebo effect the best. Some games that have sliders have sliders that work in

... Read More
The trend now amongst all of the sports games, is to automatically proclaim that a game, gamemode, or feature is broken. In some cases, these claims are found to be true. There are users who do, do the research and testing and end up exposing real flaws in gameplay. When done right, sensible, and constructive real issues can be found and fixed.

The problem however, is now we have a toxic situation where inexperienced gamers will throw out the "broken" tag on things that are not actually ... Read More
Saturday, October 1, 2016
10:34 AM - October 1, 2016. Written by Tomba
Hey Guys Tomba here.

Just wanted to update everyone on how I will start updating slider versions.

I feel that I want to have each version of a slider set follow a percentage of completion.

EX:

1.0 = 100% complete while say 0.7 makes it 70% complete.

Currently you will see my newest slider set of Fifa 17 at Version 0.7 which means it is 70% done.

Thread:

http://www.operationsports.com/forum...lider-set.html

... Read More
08:24 AM - October 1, 2016. Written by archangelkatana
(1)
If you play seasons on the mobile app, it is a good way to get the rep points for auctions to improve your team. After playing one season, I was given a couple thousand points. Then I went into auctions and was able to bid on 3 blue rare players. So that all 5 of my starters were rare. Before that I only had two rare starters from packs and draft picks after quick games. To do well in seasons, make sure you check it at least once per day to give your best players energy: the green lightning bolts. ... Read More
Friday, September 30, 2016
I experimented with both pro and all star levels for my expansion franchise. I have to say building an expansion team is fun. I got to customize my uniforms and my court and their are tons of graphics to choose from on the servers. I put my team in Anaheim and named them the Archangels. After the draft I found that if I played on pro I would smash the computer by 20+ points and it was boring. So I tried a few games on all star and at first I was getting crushed by 20 to 40 points. It was boring ... Read More